Đề kiểm tra chất lượng đại trà hè - Môn: Tiếng Anh 11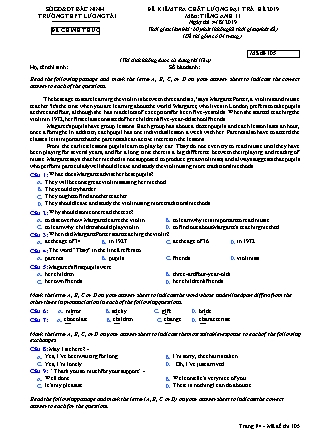 Read the following passage and mark the letter A, B, C, or D on your answer sheet to indicate the correct answer to each of the questions.
 'The best age to start learning the violin is between three and six,' says Margaret Porter, a violinist and music teacher. 'It's the time when you are learning about the world.' Margaret, who lives in London, prefers to take pupils at three and four, although she has made lots of exceptions for keen five-year olds. When she started teaching the violin in 1972, her first class consisted of her children's five-year-old school friends.
 Magaret's pupils have group lessons. Each group has about a dozen pupils and each lesson lasts an hour, once a fornight. In addition, each pupil has one individual lesson a week with her. Parents also have to attend the classes. It is important that the parents take an active interest in the lessons.
 From the earliest lessons pupils learn to play by ear. They do not even try to read music until they have been playing for several years, and for a long time there is a big difference between their playing and reading of music. Margaret says that her method is not supposed to produce great violinists, and always suggests that pupils who perform particularly well should leave and study the violin using more traditional methods.
Câu 1: What does Margaret advise her best pupils?
A. They will become great violinists using her method.
B. They could try harder.
C. They ought to find another teacher.
D. They should leave and study the violin using more traditional methods.
Câu 2: Why should someone read the text ?
A. to discover how Margaret learnt the violin B. to learn why it is important to read music
C. to learn why children should play violin. D. to find out about Margaret's teaching method
Câu 3: When did Margaret Porter start teaching the violin?
A. at the age of 34 B. in 1927 C. at the age of 36 D. in 1972
Câu 4: The word "They" in the line 8 refers to.
A. parents B. pupils C. friends D. violinists
Câu 5: Magaret's first pupils were.
A. her children B. three-and four-year-olds
C. her own friends D. her children's friends.
Bạn đang xem tài liệu "Đề kiểm tra chất lượng đại trà hè - Môn: Tiếng Anh 11", để tải tài liệu gốc về máy bạn click vào nút DOWNLOAD ở trên
SỞ GD&ĐT BẮC NINH
 TRƯỜNG THPT LƯƠNG TÀI
ĐỀ CHÍNH THỨC
ĐỀ KIỂM TRA CHẤT LƯỢNG ĐẠI TRÀ HÈ 2019
Môn: TIẾNG ANH 11
Ngày thi :4/ 8/ 2019
Thời gian làm bài: 60 phút (không kể thời gian phát đề)
(Đề thi gồm có 04 trang )
Mã đề 105
(Thí sinh không được sử dụng tài liệu)
Họ, tên thí sinh:..................................................................... Số báo danh: .............................
Read the following passage and mark the letter A, B, C, or D on your answer sheet to indicate the correct answer to each of the questions.
 'The best age to start learning the violin is between three and six,' says Margaret Porter, a violinist and music teacher. 'It's the time when you are learning about the world.' Margaret, who lives in London, prefers to take pupils at three and four, although she has made lots of exceptions for keen five-year olds. When she started teaching the violin in 1972, her first class consisted of her children's five-year-old school friends. 
 Magaret's pupils have group lessons. Each group has about a dozen pupils and each lesson lasts an hour, once a fornight. In addition, each pupil has one individual lesson a week with her. Parents also have to attend the classes. It is important that the parents take an active interest in the lessons. 
 From the earliest lessons pupils learn to play by ear. They do not even try to read music until they have been playing for several years, and for a long time there is a big difference between their playing and reading of music. Margaret says that her method is not supposed to produce great violinists, and always suggests that pupils who perform particularly well should leave and study the violin using more traditional methods. 
Câu 1: What does Margaret advise her best pupils?
A. They will become great violinists using her method.
B. They could try harder.
C. They ought to find another teacher.
D. They should leave and study the violin using more traditional methods.
Câu 2: Why should someone read the text ?
A. to discover how Margaret learnt the violin	B. to learn why it is important to read music
C. to learn why children should play violin.	D. to find out about Margaret's teaching method
Câu 3: When did Margaret Porter start teaching the violin?
A. at the age of 34	B. in 1927	C. at the age of 36	D. in 1972
Câu 4: The word "They" in the line 8 refers to................
A. parents	B. pupils	C. friends	D. violinists
Câu 5: Magaret's first pupils were.....................
A. her children	B. three-and four-year-olds
C. her own friends	D. her children's friends.
Mark the letter A, B, C or D on your answer sheet to indicate the word whose underlined part differs from the other three in pronunciation in each of the following questions.
Câu 6: 	A. mirror B. sticky C. gift	 D. bride
Câu 7: A. chocolate	B. children	 C. change	 D. characteristic
Mark the letter A, B, C, or D on your answer sheet to indicate the most suitable response to each of the following exchanges 
Câu 8: May I sit here ? - .....................................
A. Yes, I've been waiting for long	B. I'm sorry, the chair is taken
C. Yes, I'm lonely	D. . Oh, I've just arrived
Câu 9: "Thank you so much for your support" - ...........................................
A. Well done	B. Welcome! It's very nice of you
C. It's my pleasure	D. There is nothing I can do about it
Read the following passage and mark the letter (A, B, C or D) on your answer sheet to indicate the correct answer to each for the questions. 
The food we eat seems to have profound effects on our health. Although science has made enormous steps in making food more fit to eat, it has, at the same time, made many foods unfit to eat. Some research has shown that perhaps eighty percent of all human illnesses are related to diet and forty percent of cancer is related to the diet as well., especially cancer of the colon. People of different cultures are more prone to contract certain illnesses because of the characteristic foods they consume. 
 That food is related to illness is not a new discovery. In 1945, government researchers realized that nitrates and nitrites (commonly used to preserve color in meat) as well as other food additives caused cancer. Yet, these carcinogenic additives remain in our food, and it becomes more difficult all the time to know which ingredients on the packaging labels of processed food are helpful or harmful. 
 The additives that we eat are not all so direct. Farmers often give penicillin to cattle and poultry, and because of this, penicillin has been found in the milk of treated cows.
 Sometimes similar drugs are administered to animals not for medicinal purposes, but for financial reasons. The farmers are simply trying to fatten the animals in order to obtain a higher price on the market. Although the Food and Drug Administration (FDA) has tried repeatedly to control these procedures, the practices continue.
 A healthy diet is directly related to good health. Often we are unaware of detrimental substances we ingest. Sometimes well-meaning farmers or others who do not realize the consequences add these substances to food without our knowledge.
Câu 10: The word "additives" is closest in meaning to ________________.
A. dangerous substances 	B. benign substances 
C. natural substances	D. added substances 
Câu 11: The word "fit" is closest in meaning to _____________.
A. athletic 	B. suitable 
C. tasty	D. adaptable 
Câu 12: FDA means ____________.
A. Food and Drug Administration B. Federal Dairy Additives
C. Final Difficult Analysis D. Food Direct Additives
Câu 13: The word "carcinogenic" is closest in meaning to _____________.
A. cancer-causing 	B. money-making 
C. trouble-making 	D. color-retaining
Câu 14: How has science done a disservice to people?
A. The scientists have preserved the color of meats, but not of vegetables. 
B. As a result of scientific intervention, some potentially harmful substances have been added to our food 
C. It caused a lack of information concerning the value of food. 
D. Because of science, disease caused by contaminated food has been virtually eradicated.
Câu 15: All of the following statements are true EXCEPT_____________.
A. Researchers have known about the potential hazards of food additives for more than forty-five years.
B. Drugs are always given to animals for medical reasons 
C. Food may cause forty percent of the cancer in the world. 
D. Some of the additives in our food are added to the food itself and some are given to the living animals.
Câu 16: What are nitrates used for?
A. They preserve flavor in packaged foods B. They preserve the colour of meat
C. They are the objects of research D. They cause the animals to become fatter. 
Câu 17: What is the best title for this passage?
A. Avoiding Injurious Substances in Food. B. Harmful and Harmless Substances in Food 
C. Improving Health through a Natural Diet. D. The Food You Eat Can Affect Your Health 
Mark the letter A, B, c or D on your answer sheet to indicate the word(s) CLOSEST in meaning to the underlined word(s) in each of the following questions.
Câu 18: She failed to get into medical university.
A. passed B. qualified C. didn't succeed D. satisfied
Câu 19: A digital camera is more economical than a film camera since you don't have to buy rolls of films.
A. cheaper	B. safer	C. better	D. stronger
Mark the letter A, B, C or D on your answer sheet to indicate the word that differs from the other three in the position of primary stress in each of the following questions.
Câu 20: 	A. adventure	B. understand	C. hotel	D. expensive
Câu 21: .A. graduate	 B. develop 	C. consider	D. continue
Mark the letter A, B, C or D on your answer sheet to indicate the word(s) OPPOSITE in meaning to the underlined word(s) in each of the following questions.
Câu 22: A smartphone is too costly for him to even have a normal one.
A. economical B. expensive C. priceless D. valuable
Câu 23: The United Kingdom still faces challenges in gender equality.
A. equilibrium	B. fairness	C. inequality	D. evenness
Mark the letter A, B, C, or D on your answer sheet to indicate the underlined part that needs correction in each of the following questions.
Câu 24: Ducks are less susceptible to infection as other types of poultry
 A B C D
Câu 25: They announced that he has met a number of key figures the day before
 A B C D
Câu 26: He is a kind of person who job involves travelling a lot
 A B C D
Mark the letter A, B, C, or D on your answer sheet to indicate the sentence that is closest in meaning to each of the following questions. 
Câu 27: My house is as big as Peter's .
A. Peter's house is smaller than mine .	B. Peter's house is as small as mine .
C. Peter's house is the same size as mine .	D. My house is bigger than Peter's.
Câu 28: She started using this washing machine last year.
A. She has used this washing machine for a year.	B. She has used this washing machine since a year.
C. She used this washing machine for a year.	 D. She used this washing machine since a year.
Mark the letter A, B, C or D on your answer sheet to indicate the sentence that best combines each pair of sentences in the following questions.
Câu 29: Apple MacBook is portable and versatile. I cannot afford it.
A. If Apple MacBook isn't portable and versatile, I might afford it.
B. No matter how portable and versatile Apple MacBook is, I cannot afford it.
C. Because Apple MacBook is portable and versatile, I can afford it.
D. Although Apple MacBook is portable and versatile, I cannot afford it.
Câu 30: I gave you a book. It had many pictures
A. The book which I gave you had many pictures	B. The book I gave you had many pictures
C. Both A and B are correct	D. I gave you a book, that had many pictures
Câu 31: Women have to do too much work. They will be exhausted.
A. If women have to do too much work, they will be exhausted.
B. Unless women have to do too much work, they will be exhausted.
C. As long as women don't have to do too much work, they will be exhausted.
D. In case women have to do too much work, they won't be exhausted.
Read the following passage and mark the letter A, B, C, or D on your answer sheet to indicate the correct word or phrase that best fits each of the numbered blanks 
Just as computer play a central part in developing and applying scientific knowledge, they can also facilitate learning of science. It is, therefore, the position of the National Science Teachers Association that computer should have a major (32)................ in the teaching and laerning of science. Computers have become an essential classroom tool for the acquisition, analysis, presentation, and communication of data in ways which (33)................... students to become more active participants in search and learning. In the classroom, the computer offers the teacher (34).................. flexibility in presentation, better management of instructional techniques and easier record keeping. It offers students a very important (35)................ for learning the concepts and processes of science through simulations, graphics, sound, data manipulation, and model building. In the field, the (36)....................of the latop computer enables students to actively gather and analyze data and take it back to the classroom for in-depth study and the sharing of information. These capabilities can improve scientific learning and facilitate communication of ideas and concepts. In case the emphasis on computer is misunderstood, we assert immediately that computers should enhance, but not replace essential " hands on" laboratory activities.
Câu 32: 	A. duty	B. effect	C. role	D. factor
Câu 33: 	A. allow	B. let	C. suggest	D. have
Câu 34: 	A. most	B. fewer	C. more	D. less
Câu 35: 	A. product	B. tecnology	C. result	D. resource
Câu 36: 	A. portable	B. portably	C. portability	D. importable
Mark the letter A, B, C, or D on your answer sheet to indicate the correct answer to each of the following questions. 
Câu 37: The family, which consists of three or even four generations, is only popular in some regions today.
A. nuclear	B. extended	C. intended	D. small
Câu 38: Jim has stayed at home .................... last week.
A. for	B. as	C. when	D. since
Câu 39: We live at ......................third house from the church.
A. the	B. an	C. f	D. a
Câu 40: It's time we ................ this old car and bought a new one
A. will sell	B. had sold	C. have sold	D. sold
Câu 41: This athlete .................. a number of international awards since 1990.
A. have won	B. won	C. wins	D. has won
Câu 42: The digestive system lets us break down the food we eat and turn it .............. energy.
A. of	B. into	C. on	D. after
Câu 43: The ............... system controls the movement and emotion of our body.
A. nerve	B. generous	C. nervous	D. circulate
Câu 44: She kindly offer .............. me how ................ to the station
A. to show / to get	B. to show / get	C. showing / to get	D. showing / get
Câu 45: She is bored with her current job and .................. for a new one lately
A. looks	B. is looking	C. looking	D. has looked
Câu 46: When will you get the result ?- Either tomorrow ............... the day after
A. and	B. but	C. or	D. nor
Câu 47: The year .................. the first man travelled in space will never be forgotten
A. when	B. which	C. that	D. where
Câu 48: While he ............. the car, he ................. a big case in the boot
A. washed / was discovering	B. was washing / discovered
C. washed/ discovered	D. is washing / discovered
Câu 49: There ................. be a fire over there as I see smoke from here.
A. could	B. should	C. must	D. might
Câu 50: Several ..................... are known to cause cancer to develop.
A. chemicals	B. chemist	C. chemistry	D. chemical
-----------------------------------------------
----------- HẾT ----------

Tài liệu đính kèm:
de_kiem_tra_chat_luong_dai_tra_he_mon_tieng_anh_11.doc