Kiểm tra 45'- Học kỳ II - Môn: Tiếng Anh 11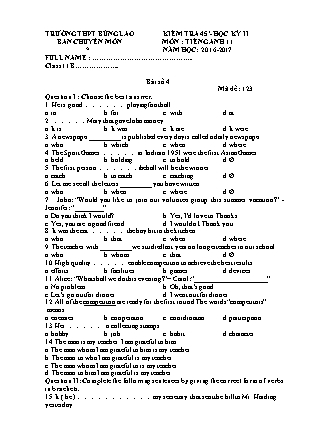 Question I : Choose the best answer.
1. He is good .playing football.
a. in b. for c. with d. at
2. Mary that gave John money.
a. It is b. It was c. It are d. It were
3. A newspaper _________ is published every day is called a daily newspaper
a. who b. which c. when d. where
4. The Sport Games .in India in 1951 were the first Asian Games.
a. held b. holding c. to hold d. Ø
5. The first person the ball will be the winner.
a. catch b. to catch c. catching d. Ø
6. Let me see all the letters _________ you have written.
a. who b. when c. where d. Ø
7. John: "Would you like to join our volunteer group this summer vacation?" - Jennifer: " ________"
a. Do you think I would? b. Yes, I'd love to. Thanks.
c. Yes, you are a good friend. d. I wouldn't. Thank you.
8. It was the cat .the boy hit in the kitchen.
a. who b. that c. when d. where
9. The teacher with _________ we studied last year no longer teaches in our school
a. who b. whom c. that d. Ø
Bạn đang xem tài liệu "Kiểm tra 45'- Học kỳ II - Môn: Tiếng Anh 11", để tải tài liệu gốc về máy bạn click vào nút DOWNLOAD ở trên
TRƯỜNG THPT BÚNG LAO KIỂM TRA 45'- HỌC KỲ II
 BAN CHUYÊN MÔN MÔN : TIẾNG ANH 11
 * NĂM HỌC: 2016-2017
FULL NAME : ..
Class 11B ..
 Bài số 4
 Mã đề : 123
Question I : Choose the best answer.
1. He is good .playing football.
a. in	b. for	c. with	d. at
2. Mary that gave John money.
a. It is	b. It was	c. It are	d. It were
3. A newspaper _________ is published every day is called a daily newspaper
a. who	b. which	c. when	d. where 
4. The Sport Games .in India in 1951 were the first Asian Games.
a. held	b. holding	c. to hold	d. Ø
5. The first person the ball will be the winner.
a. catch	b. to catch	c. catching	d. Ø
6. Let me see all the letters _________ you have written.
a. who	b. when	c. where 	d. Ø
7. John: "Would you like to join our volunteer group this summer vacation?" - Jennifer: " ________"
a. Do you think I would? 	b. Yes, I'd love to. Thanks. 
c. Yes, you are a good friend.	d. I wouldn't. Thank you.
8. It was the cat .the boy hit in the kitchen.
a. who	b. that	c. when 	d. where
9. The teacher with _________ we studied last year no longer teaches in our school
a. who	b. whom	c. that	d. Ø
10. High quality .enable competitors to achieve the best results.
a. efforts	b. facilities	b. games	d. devices
11. Alice: "What shall we do this evening?" – Carol: "_____________________"
a. No problem 	b. Oh, that's good	
c. Let's go out for dinner 	d. I went out for dinner
12. All of the competitors are ready for the first round. The words "competitors"
 means 
a. enemies 	b. cooperators 	c. coordinators 	d. participants 
13. Her ..is collecting stamps.
a. hobby	b. job	c. habit	d. character
14. The man is my teacher. I am grateful to him. 
a. The man whom I am grateful to him is my teacher. 
b. The man to who I am grateful is my teacher
c. The man whom I am grateful to is my teacher 
d. The man to him I am grateful is my teacher. 
Question II: Complete the following sentences by giving the correct form of verbs in brackets.
15. It ( be ) my secretary that sent the bill to Mr. Harding yesterday.
16.When I ( do ) the home work yesterday , my father watched TV.
17. He refused (help) ..me.
18. Yuri Gagarin was the first man (fly) ..into space.
19. It is English articles that (puzzle) ..me most.
20. The children (attend) .that school receive a good education.
Question III: Rewrite sentences
1. Rewrite following sentences using cleft sentence.
21. The president makes the important decisions.
22. Columbus sailed to America in 1492.
2. Combine sentences using relative clauses without relative pronouns.
23. The girl is from Britain. We are going to see her.
24. I like the diamon ring. Mary is wearing it.
Question IV: Find the mistake.
25. It was the dog whom grabbed at the piece of meat and ran away.
 A B C D
26. The last person leaving the room must turn off the lights.
 A B C D
27. The woman about who I am telling you teaches me English.
 A B C D
28. Aunt Joan, that is a bit deaf ,didn't hear the phone.
 A B C D
Question V: Read the passage below and choose the best answer to fill in each gap. 
Hobbies are important for many reasons, First, a hobby can be educational For example, if the hobby is stamp collecting,the .( 29 ) . can learn about the countries of the world and even some of their history. Second, .( 30 ) . in the hobby can lead to meeting people with the ..( 31 ) .. interests. Third, a person's free time is being used in positive way. The person has no time to be bored. Finally some hobbies can lead to a future job. A person . ( 32 ) . enjoys a hobby related job is more satisfied with life.
29. 	a. collector	b. collection	c. collect	d. collecting
30. 	a. engage	b. to engage	c.engaging	d. engaged
31. 	a. similar	b. same	c.familiar	d. original
32.	a. whom	b. whose	c. which	d. who	
Question VI : Read the passage below and choose the best answer for each question.
The Asian Games owes its origins to small Asian multi-sport competitions. The Far Eastern Championship Games were created to show unity and cooperation among three nations: Japan, the Philippines and China. The first games were held in Manila, the Philippines in 1931. Other Asian nations participated after it was organized.
After World War II, a number of Asian countries became independent. Many of the new independent Asian countries wanted to use a new type of competition where Asian dominance should not be shown by violence and should be strengthened by mutual understanding. In August 1948, during the 14th Olympic Game in London, India representative Guru Dutt Sondhi proposed to sports leaders of the Asian teams the idea of having discussions about holding the Asian Games. They agreed to form the Asian Athletic Federation. A preparatory was set up to draft the charter for the Asian amateur athletic federation. 
In February, 1949, the Asian athletic federation was formed and used the name Asian Games Federation. It was formed and used the name Asian Games Federation. It was decided to hold the first Asian Games in 1951 in New Delhi the capital of India. They added that the Asian Games would be regularly held once every four years.
33. How often are the Asian Games held ?
a. every year	b. once very five years
c. once every four years	d. twice every four years
24.The underlined word They in the passage refers to 
a. Asian countries	b. Asian multi-sport competitions
c. Asian nations	c.sports leaders of the Asian teams
35. When were the Asian Games Federation officially held ?
a. in August 1948	b. in February 1949	c. 1913	d. 1951
36. Where were the first Asian Games held ?
a. China	b. India	c. London	d. Japan
Question VII : Choose the word whose underlined part is pronounced from that of the others.
37. a. athlete	b.advance	c. aquatic	d. appreciate
38. a. stopped	b. played	c. robbed	d. lived
39. a. shops	b. books	c. restaurants	d. bribes
40. a. admire	b. avid	c. variety	d. while

Tài liệu đính kèm:
kiem_tra_45_hoc_ky_ii_mon_tieng_anh_11.doc