Tiếng Anh 11 - Unit 08: Celebrations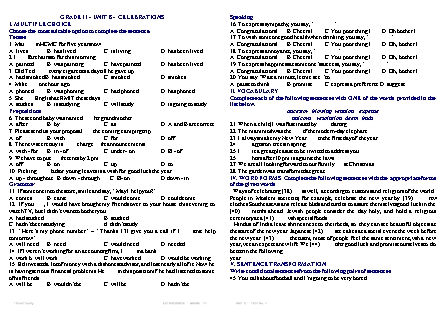 I. MULTIPLE CHOICE
Choose the most suitable option to complete the sentence.
Tenses
1. Mai.in HCMC for five years now.
A. lives B. has lived C. is living D. has been lived
2.I.four chairs so far this morning.
A. painted B. was painting C. have painted D. has been lived
3. Old Ted .twenty cigarettes a day till he gave up.
A. had smoked B. has smoked C. smoked D. smokes
4. Mike. one hour ago
A. phoned B. was phoning C. had phoned D. has phoned
5. She. English at RMIT these days.
A. studies B. is studying C. will study D. is going to study
Prepositions
6. The second baby was named.her grandmother.
A. after B. by C. as D. A and B are correct
7. Please send us your proposal. the coming camping trip.
A. of B. with C. for D. off
8. The new secretary is.charge.the announcements.
A. with - for B. in - of C. under - on D. Ø - of
9. We have to put.the tents by 2 pm.
A. off B. on C. up D. to
10. Picking .buds or young leaves is a wish for good luck the year.
A. up - throughout B. down - through C. Ø- on D.down - in
Grammar
11. If someone into the store, smile and say, "May I help you?"
A. comes B. came C. would come D. could come
12. If you., I would have brought my friends over to your house this evening to watch TV, but I didn't want to bother you.
A. had studied B. studied
C. hadn't been studying d. didn't study
13. "Here's my phone number." ~ "Thanks. I'll give you a call if I.some help tomorrow."
A. will need B. need C. would need D. needed
Bạn đang xem tài liệu "Tiếng Anh 11 - Unit 08: Celebrations", để tải tài liệu gốc về máy bạn click vào nút DOWNLOAD ở trên
GRADE 11 - UNIT 8 - CELEBRATIONS 
I. MULTIPLE CHOICE
Choose the most suitable option to complete the sentence.
Tenses
1. Mai.......in HCMC for five years now.
A. lives 	B. has lived 	C. is living	D. has been lived
2.I......four chairs so far this morning.
A. painted 	B. was painting 	C. have painted	D. has been lived
3. Old Ted .......twenty cigarettes a day till he gave up.
A. had smoked B. has smoked 	C. smoked	D. smokes
4. Mike....... one hour ago
A. phoned	B. was phoning 	C. had phoned	D. has phoned
5. She....... English at RMIT these days.
A. studies 	B. is studying 	C. will study 	D. is going to study
Prepositions
6. The second baby was named.......her grandmother.
A. after 	B. by 	C. as 	D. A and B are correct
7. Please send us your proposal....... the coming camping trip.
A. of 	B. with 	C. for 	D. off
8. The new secretary is.......charge.......the announcements.
A. with - for 	B. in - of 	C. under - on 	D. Ø - of
9. We have to put......the tents by 2 pm.
A. off	B. on 	C. up 	D. to
10. Picking .......buds or young leaves is a wish for good luck the year.
A. up - throughout B. down - through 	 C. Ø- on 	D.down - in
Grammar
11. If someone into the store, smile and say, "May I help you?"
A. comes 	B. came 	C. would come 	D. could come
12. If you......., I would have brought my friends over to your house this evening to watch TV, but I didn't want to bother you.
A. had studied 	B. studied
C. hadn't been studying 	d. didn't study
13. "Here's my phone number." ~ "Thanks. I'll give you a call if I.......some help tomorrow."
A. will need 	B. need 	C. would need 	D. needed
14. If I weren't working for an accounting firm, I .......in a bank.
A. work b. will work 	C. have worked 	D. would be working
15. Ed invested a lot of money with a dishonest advisor, and lost nearly all of it. Now he is having serious financial problems. He .......in this position if he had listened to some ofhis friends.
A. will be 	B. wouldn't be 	C. will be 	D. hadn't be
Speaking
16. To express sympathy, you say,' ..............'
A. Congratulations! 	B. Cheers! 	C. You poor thing! 	D. Oh bother!
17. To wish someone good health when drinking, you say,' ..............'.
A. Congratulations! 	B. Cheers! 	C. You poor thing! 	D. Oh, bother!
18. To express annoyance, you say,' ..............'.
A. Congratulations! 	B. Cheers! 	C. You poor thing! 	D. Oh, bother!
19. To express happiness at someone's success, you say,' ..............'.
A. Congratulations! 	B. Cheers! 	C. You poor thing! 	D. Oh, bother!
20. You say 'Wait a minute, let me see.' to ...............
A. pause to think 	B. promise	C. express a preference D. suggest
II. VOCABULARY
Complete each of the following sentences with ONE of the words provided in the list below.
ancestor blowing reunion expense
unicorn resolution deem buds
21. When a child, I was fascinated by.......dancing.
22. The mammoth was the.......of the modern-day elephant.
23. I always make my New Year.......on the first day of the year.
24. .......appear on trees in spring.
25. I....... it a great pleasure to be invited to address you.
25. .......horns after 10 pm is against the laws.
27. We are all looking forward to our family.......at Christmas.
28. The garden was transformed at great........
IV. WORD FORMS. Complete the following sentences with the appropriate forms of the given words.
 Ways of celebrating (38) .....as well, according to customs and religions of the world. People in Moslem societies, for example, celebrate the new year by (39) .......new clothes. Southeast Asians release bứds and turtles to assure themselves good luck in the (40)......months ahead. Jewish people consider the day holy, and hold a religious ceremony at a (41) .......with special foods.
 Hindus of India leave shrines next to their beds, so they can see beautiful objects at the start of the new year. Japanese (42) ......rice cakes at a social event the week before the new year. (43) .......thecustom, most of people feel the same sentiment,with a new year,we can expect anew life. We (44) .......other good luck and promise ourselves to do better in the following
year.
V. SENTENCE TRANSFORMATION
Write conditional sentences from the following pairs of sentences.
45. You talk about football and I'm going to be very bored.
 ........................................................
46. The baby didn't cry, so we had a good sleep.
 ........................................................
47. You may want a chat, so just give me a ring.
 ........................................................
48. Nig-el hasn't got satellite TV, so he can't watch the game.
 ........................................................
49. You go away and I'll miss you.
 ........................................................
50. I Was not rich then, so I didn't give up working long ago.
 ........................................................
51. She had to walk a long way because she ran out of petrol.
 ........................................................
52. Thzrow a stone into water and it sinks.
 ........................................................
53. There were not enough chairs. We had to stand during the lecture.
 ........................................................
58. Secondly/ it/ not true/ global warming/ receive/ too/ much/ publicity
 ........................................................
59. On/ contrary/ we/ need/ make/ public/ aware/ such/ danger
 ........................................................
60. We/ must/ all put/ pressure/ authorities/ if/ we/ want/ something/ do
 ........................................................
61. Lastly/ you/ seem/ suggest/ do nothing/ case/ scientist/ wrong
 ........................................................
62. Well/ if/ they/ right/ it/ too late/ by/ time/ we/ find / out
 ........................................................
VII. READINGCOMPREHENSION
Read the following passage and answer the questions.
 Vietnam is a country in the Eastern Hemisphere that was influenced by China for many years. Therefore, the Chinese New Year and Tet, the Vietnamese New Year have many similarities. Tet is the abbreviation of Tet Nguyen Dan which means the first morning of the first day of the new period. Tet marks the beginning of a new year on the lunar calendar, and the beginning of Spring. Vietnamese are constantly aware of the phases of the moon. All events are planned by the lunar calendar. The New Year begins on the first night ofthe first moon after the sun enters Aquarius. This is sometime between January 21st and February 19th On the solar calendar.
 On the 23rd day of thfEi twelfth month by the lunar calendar, there is a rite to see Tao Quan (Kitchen God) off. The rite to say goodbye to the old year is held on the 30th or 29th day (ifthat month has only 29 days) ofthe twelfth month by lunar calendar. VThe rite to welcome the New Year is held at midnight that day. The rite to see o ff ancestral souls to return to the other world is often held on the 3rd day ofthe first month by lunar calendar when the Tet holidays finish and everybody goes back to work. Tet is a huge 
celebration lasting three days. Families save money, store food, and plan far in advance for Tet, a major holiday in Vietnam. The Vietnamese take extreme care to start the New Year out right. They buy new clothes, paint and clean theứ homes, cooXc three days worth offood, pay offall debts and make amends to rid themselves all bad feelings. Cleaning is frowned on during Tet because one would not want to sweep out any good luck. Digging and drawing water is also not allowed, so the ground and water can
enjoy the holiday.
63. Why are the Chinese and Vietnamese New Year similar?
 ........................................................
64. What does the word 'Tet' stand for? What does it mean?
 ........................................................
65. When is the Vietnamese New Year celebrated?
 ........................................................
66. On what day do Vietnamese people see the Kitchen God off?
 ........................................................
67. When is the rite to welcome the New Year held?
 ........................................................
68. When do Vietnamese people see offancestral souls?
 ........................................................
69. How long does Tet celebration last?
 ........................................................
70. Why isn't cleaning allowed during Tet?
 ........................................................
The End
ANSWER KEY

Tài liệu đính kèm:
tieng_anh_11_unit_08_celebrations.doc