Giáo án Tiếng Anh Lớp 11 - Unit 1: Friendship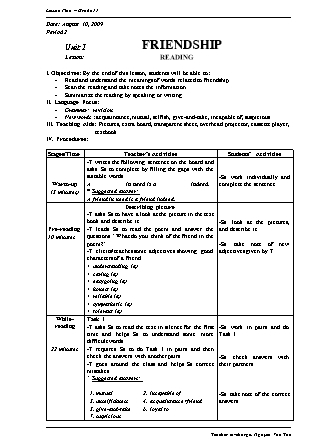 I. Objectives: By the end of this lesson, students will be able to:
- Read and understand the meanings of words related to friendship.
- Scan the reading and take notes the information.
- Summarize the reading by speaking or writing.
II. Language Focus:
- Grammar: revision
- New words: acquaintance, mutual, selfish, give-and-take, incapable of, suspicious . . .
III. Teaching Aids: Pictures, extra board, transparent sheet, overhead projector, cassette player,
 textbook . . .
Bạn đang xem tài liệu "Giáo án Tiếng Anh Lớp 11 - Unit 1: Friendship", để tải tài liệu gốc về máy bạn click vào nút DOWNLOAD ở trên
Date: August 10, 2009
Period 2
Unit 1	 FRIENDSHIP 
Lesson: 	READING
I. Objectives: By the end of this lesson, students will be able to:
Read and understand the meanings of words related to friendship. 
Scan the reading and take notes the information.
Summarize the reading by speaking or writing.
II. Language Focus:
Grammar: revision
New words: acquaintance, mutual, selfish, give-and-take, incapable of, suspicious . . . 
III. Teaching Aids: Pictures, extra board, transparent sheet, overhead projector, cassette player, 
	 textbook . . . 	
IV. Procedures:	
Stages/Time
Teacher's Activities
Students' Activities
Warm-up
(3 minutes)
-T writes the following sentence on the board and asks Ss to complete by filling the gaps with the suitable words.
A in need is a indeed. 
* Suggested answer:
A friend in need is a friend indeed. 
-Ss work individually and complete the sentence. 
Pre-reading
10 minutes
Describing picture
-T asks Ss to have a look at the picture in the text book and describe it.
-T leads Ss to read the poem and answer the questions "What do you think of the friend in the poem?"
-T elicits/teaches some adjectives showing good characters of a friend.
+ understanding (a)
+ caring (a)
+ easygoing (a)
+ honest (a)
+ reliable (a)
+ sympathetic (a)
+ tolerant (a)
-Ss look at the pictures, and describe it. 
-Ss take note of new adjectives given by T. 
While-reading
22 minutes
Task 1
-T asks Ss to read the text in silence for the first time and helps Ss to understand some more difficult words.
-T requires Ss to do Task 1 in pairs and then check the answers with another pairs. 
-T goes around the class and helps Ss correct mistakes.
* Suggested answers:
1. mutual
2. incapable of
3. unselfishness
4. acquaintance /friend
5. give-and-take
6. loyal to
7. suspicious
Task 2
-T asks Ss to scan the text.
-Teachers asks Ss to discuss in pairs to find out the correct choice that most adequately sums up the ideas of the whole passage. 
-T goes around the class and give a help.
-T asks Ss to compare their answer with others.
-T gives out the correct answer
* Suggested answer:
B. Conditions of true friendship
= = = = = = = = = = = = = = = = = = = = =
Task 3 (Handout)
-T asks Ss to go through the reading text and find:
a.The reason why a selfish person can't have a true friendship.
b. Qualities which can spoil a true friendship. 
-T asks Ss to work in groups of four and discuss the above information.
-T check their answers in front of the class.
-T gives the correct answers.
* Suggested answers:
a. Because friendship is two-sided affair: it lives by give-and-take. A friendship which is all give on side and all take on the other cannot last long.
b. Changeable, suspicious, talkative . . . 
-Ss work in pairs and do Task 1.
-Ss check answers with their partners.
-Ss take note of the correct answers.
-Ss read the reading again & do Task 2 in pairs.
-Ss compare their answers with each other.
-Ss take note the correct answer
= = = = = = = = = = = = = 
-Ss read the passage silently.
-Ss discuss the matters in groups. 
-Ss present their answers.
-Ss take note of the correct answers. 
Post- reading
7 minutes
-T asks Ss to work in groups to discuss the following question.:
 "What does the text tell you about a true friendship?"
-T goes around the class and helps Ss.
-T asks a representative of each groups to present in front of the class. 
-Ss discuss in groups and then present their ideas. 
Homework
3 minutes
-T asks Ss to write short paragraphs about their close friend. 
-Ss listen and take notes. 
Date: August 12, 2009
Period: 3
Unit 1(cont.) 	 FRIENDSHIP 
Lesson: 	 SPEAKING
I. Objectives: By the end of this lesson, students will be able to:
describe physical characteristics
discuss personalities and talk about a famous friend. 
II. Language Focus:
Grammar: revision
New words: revision
III. Teaching Aids: An extra board, pictures in the textbooks. 	
IV. Procedures:	
Stages/Time
Teacher's Activities
Students' Activities
Warm-up
(5 minutes)
-T gives some pictures of famous people and some pieces of papers on which there are some adjectives.
-T asks Ss to stick the right words on some piecies of paper to the picture of a famous person to describe him or her.
-T asks Ss to work in groups and then check their answers in front of the class.
-Ss work in groups to describe famous people in the pictures given by T. 
Pre-speaking
12 minutes
Task 1+2
-T introduces useful language for parts of body.
-T gives out useful expression to describe a person. 
+ He is in his early /mid / late forties.
+ He has got a sqa\uare face with . . . 
+ He is of medium height.
+ She wears her hair in a bun / ponytail.
+ Her long hair hangs down to her shoulder.
-T models a conversation with a S and then asks Ss to work in pair like the model.
* Suggested conversation:
T: Could you tell me something about your
 friend? What is he like?
S: Oh, he is very friendly. He is the kind of
 person who is always willing to give help.
T: What does he look like?
S: Tall and good-looing. 
-Ss listen and take note of useful language describing people. 
-Ss work in pair and make conversations. 
While-speaking
18 minutes
Task 3 - Talk about a famous friend
-T asks Ss to work in pairs to make questions or facts about a famous friend based on the suggestions in the textbook.
-T explains some useful language and goes around the class to help Ss.
-T invites some pairs to stand up and give out their talks.
-T gives feedback.
* Suggested questions:
+ What's his name? Can you tell me his name?
+ What's his date of birth? When was he born?
+ What's he like?What does he look like?Is he . . 
+ What's his hobby? What does he do in his free
 time?
+ Why is he so interested in Maths?
+ How long does it take him to study Math? 
+ What made him so successful? . . . . 
-Ss work in pairs
-Ss work in pairs and present their talk in front of the class. 
Post- speaking
7 minutes
-T asks work in group and discuss "What is a good friend like?"
-T goes around the class and helps Ss.
-T invites some Ss to present their ideas the rest of the class. 
-T gives feedback.
-Ss work in groups and then present in front of the class. 
Homework
3 minutes
- T asks Ss to write 5 sentences to describe their best friend.
-Ss listen and take notes.
Date: August 16, 2009
Period 4
Unit 1(cont.) 	 FRIENDSHIP 
Lesson: 	 LISTENING
I. Objectives: By the end of this lesson, students will be able to:
listen and understand daily routine of a labourer. 
listen and number the pictures in the correct order. 
listen and choose the right information. 
II. Language Focus:
Grammar: 
New words: 
III. Teaching Aids: pictures in the textbook, cassette . . . 	
IV. Procedures:	
Stages/Time
Teacher's Activities
Students' Activities
Warm-up
(5 minutes)
-T asks Ss some questions about friendship to lead into the lesson. 
+ Who is your best friend?
+ How did you meet him / her?
+ How long have you known each other?
+ What qualities do you admire in your friend? 
-T can asks Ss to work in pairs or T can asks questions and Ss answers them. 
-T gives feedback.
-Ss work in pairs.
Pre-listening
(5 minutes)
-T introduces some words in Listen and repeat. 
-T asks Ss to pronounces them and understand the meanings of each word /phrase.
-Ss take note. 
While-listening
15minutes
Task 1 
TALK A
-T elicits some new words that Ss will hear in the listening exercise.
+ living quarter
+ to have things in common
+ to help someone out of difficulties.
-T plays the tape once for Ss to do the task.
-T asks Ss to write their answers on the board.
-T plays the tape the second time for Ss to check their answers.
-T gives the correct answers.
* Suggested answers:
1. F 2. F 3. T 4. F 5. T 6. F
= = = = = = = = = = = = = = = = = = = = =
TALK B
-T plays the tape once for Ss to do the task.
-T asks Ss to write their answers on the board.
-T plays the tape the second time for Ss to check their answers.
-T gives the correct answers.
* Suggested answers:
1. F 2. F 3. T 4. T 5. T 6. F
-Ss work individually and listen to the tape.
-Ss work in pairs to check their answers. 
-Ss work individually and listen to the tape.
-Ss work in pairs to check their answers. 
10 minutes
Task 2
-T asks Ss to look through Task 2.
-T let Ss listen to the tape for the first time.
-T checks if any Ss can answer the questions.
-T plays the tape the second time / the third time for Ss to answer and check with their partners.
-T gives the correct information about Lan and Long. 
* Suggested answers:
How and where did they meet?
What do they like about their friends?
Lan
-They used to live in the same apartment building in Hanoi.
-Lan went on a holiday to Do Son and Ha went there to help her.
-Ha is very friendly and helpful.
-Ha's sociable. She's got many friends in Do Son and she introduced Lan around.
Long
- They met in college.
- Minh played the guitar.
- Long was a singer.
-They worked together.
-Minh has a sense of humour.
-Minh likes to go for plays and movies.
-Minh is a good listener.
-Minh is friendly and helpful. 
-Ss work individually and listen to the tape.
-Ss work in pairs to check their answers. 
Post- listening
7 minutes
Talking
-T asks Ss to work in groups and take turns to ask and answer about how they can make friends with each other. Lan and Ha, Long and Minh. 
-T goes around the class and helps Ss when necessary. 
-T invites some Ss to present their preparation. 
-T take notes of Ss' mistates for later correction. 
-Ss work in groups of four.
-Ss present in front of the class. 
Homework
3 minutes
- T asks Ss to write a short paragraph (in not more than 100 words) about how they have best friends. 
-Ss listen and take notes
Date: August 20th, 2009
Period 5
Unit 1(cont.) 	 FRIENDSHIP 
Lesson: 	 WRITING
I. Objectives: By the end of this lesson, students will be able to:
write a short paragraph about their friends.
II. Language Focus:
Grammar: revision
New words: revision
III. Teaching Aids: An extra board. 	
IV. Procedures:	
Stages/Time
Teacher's Activities
Students' Activities
Warm-up
(5 minutes)
Play a game – Expanding sentnece
-T write the word "FRIEND" on the board and asks Ss to expand it by adding the beginning or the end of what is already written to make a meaningful sentence.
-T calls on some Ss to go to the board and write their sentences.
-T remarks the sentences on the board in front of the class.
* Suggested sentences:
+ I like a friend who is friendly.
+ Friendship is very necessary in life . . . 
-Ss work individually. 
Pre-writing
10 minutes
Task 1 (Handouts)
- T delivers handouts to Ss and then asks Ss to read the passage describing a person and say which sentences describe:
* the person's character
* the person's appearance
* likes and dislikes
* her/his habits
-T asks Ss to work in groups, trying to find out information for each character given above.
-T goes around the class and helps Ss to do the task.
-T gives feedback and correction.
-Ss work in groups and do the task. 
While-writing
20 minutes
Task 2
-T asks Ss to work individually and write about a friend, real or imaginary, following the guidelines in the textbook.
-T can introduces some useful language to helps Ss write more easily.
+ to be in her/his early/middle/late fifties.
+ He/she has got a . . . 
+ In character, he/she like his/her father.
+ He/she has straight black hair/curly short hair. .
. . . . 
-T goes around and helps Ss, taking note of mistakes for later correction. 
-T asks Ss to exchage their writing and check.
-Ss work individually.
-Ss work in pairs. 
Post- writing
7 minutes
-T asks Ss to work in groupsof three or four to describe a famous person in local region. 
-T goes around the class and helps Ss.
-T feedbacks and correct mistakes. 
-Ss work in groups.
Homework
3 minutes
-T asks Ss to continue their writing at home. 
-T asks Ss to prepare Language Focus.
-Ss listen and take notes
Date: August 20th, 2009
Period 6
Unit 1(cont.) 	 FRIENDSHIP 
Lesson: 	 LANGUAGE FOCUS
I. Objectives: By the end of this lesson, students will be able to:
pronounce exactly and fluently the sounds / dʒ/ and / t∫/ in words and its sentences.
Review infinitive with to and infinitive without to
II. Language Focus:
Grammar: infinitive with to and infinitive without to
New words: revision
III. Teaching Aids: Cassette player, textbook.	
IV. Procedures:	
Stages/Time
Teacher's Activities
Students' Activities
Warm-up
(5 minutes)
Giving names of things in the class room
-T asks Ss to close their books and give the names of things in the classroom or things shown in the pictures.
For examples:
+ chairs, jeans, cheese, chewing gum, jail, July
-T requires Ss to read the words they have just given out. 
-Ss work individually and in pairs. 
Pro-nunciation
7minutes
Activity 1 – Listen and repeat
-T writes two sounds / dʒ/ and / t∫/ on the board, reads twice first.
-T explains the differences between the two sounds.
-Tguides Ss to practise pronouncing. 
Activity 2 – Practise these sentences
-T reads the sentences first as model.
-T asks Ss to pay much more attention to stressed syllables.
- T asks Ss to work in pairs, picking out the words containing the sounds / dʒ/ and / t∫/ .
-T asks them to take peer correction.
 -Ss observe and listen to T's guide.
- Ss listen. 
- Ss practise individually.
- Ss listen carefully and work in pairs to do the task. 
Grammar 
Vocabulary
15minutes
15minutes
Exercise 1
-T sets a situation and asks Ss to make questions to remark the use of "to infinitive" in the sentence.
A: Would you like to go to the cinema with me?
B: I'd love to but I can't because there is a lot of 
 work to do tonight. 
* "To infinitive" is used to express a purpose. 
- Teacher explains more if necessary. 
Practice
-T asks Ss to do the Exercise 1
-T goes around to observe and gives helps if necessary.
- T gives the feedback and correct answers.
* Suggested answers: 
1. Who wants something to eat?
2. I have some letters to write.
3. I am /was delighted to hear the news.
4. My mother has some shopping to do.
5. You always have too much to talk about.
6. It's lovely to see you again.
7. I am happy to know that you have passed the
 exams.
= = = = = = = = = = = = = = = = = = = = = = = =
Exercise 2 
-T sets a situation and introduce how to use infinitive without to.
A: Where is Nam?
B: I saw him go out a minute ago.
A: What's wrong with him?
B: I heard him say to Lan he had a stomach upset 
-T can call on some Ss to remark the sentences above.
-Then T asks Ss to rewrite the sentences given in the textbook.
-T goes around to observe and gives helps if necessary.
- T gives the feedback and correct answers.
* Suggested answers: 
1. The police watched them get out of the car.
2. They let him write a letter to his wife.
3. I heard them talk in the next room.
4. The customs officer made him open the
 briefcase.
(To be continued) 
-Ss work individually, in pairs to do the exercise. 
-Ss work individually, in pairs to do the exercise. 
Homework
3 minutes
-T asks Ss to make questions for the responses.
1. I saw the boy throw a stone through the glass window.
2. Nothing. I think we have to eat out today.
3. Too tired go to now.
4. Why not? Let's join them.
5. Oh, he's old enough. 
- T asks Ss to prepare Unit 2 – READING 
-Ss listen and take notes

Tài liệu đính kèm:
giao_an_tieng_anh_lop_11_unit_1_friendship.doc