Ôn thi học kì I lớp 11 - Môn: Tiếng Anh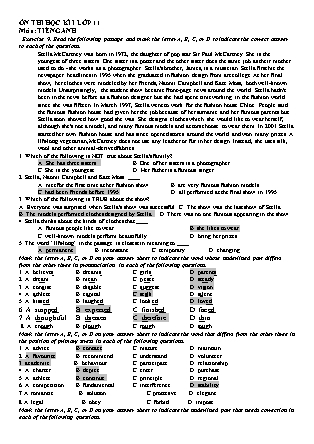 ÔN THI HỌC KÌ I LỚP 11
Môn: TIẾNG ANH
 Exercise 9. Read the following passage and mark the letter A, B, C, or D to indicate the correct answer to each of the questions.
Stella McCartney was born in 1972, the daughter of pop star Sir Paul McCartney. She is the youngest of three sisters. One sister is a potter and the other sister does the same job as their mother used to do - she works as a photographer. Stella's brother, James, is a musician. Stella first hit the newspaper headlines in 1995 when she graduated in fashion design from art college. At her final show, her clothes were modeled by her friends, Naomi Campbell and Kate Moss, both well-known models. Unsurprisingly, the student show became front-page news around the world. Stella hadn't been in the news before as a fashion designer but she had spent time working in the fashion world since she was fifteen. In March 1997, Stella went to work for the fashion house Chloe. People said the famous fashion house had given her the job because of her surname and her famous parents but Stella soon showed how good she was. She designs clothes which she would like to wear herself, although she's not a model, and many famous models and actors choose to wear them. In 2001 Stella started her own fashion house and has since opened stores around the world and won many prizes. A lifelong vegetarian, McCartney does not use any leather or fur in her design. Instead, she uses silk, wool and other animal-derived fabrics.
1. Which of the following is NOT true about Stella's family?
A. She has three sisters. B. One of her sisters is a photographer.
C. She is the youngest. D. Her father is a famous singer.
2. Stella, Naomi Campbell and Kate Moss ____.
A. met for the first time at her fashion show B. are very famous fashion models
C. had been friends before 1995 D. all performed at the final show in 1995
3. Which of the following is TRUE about the show?
A. Everyone was surprised when Stella's show was successful. C. The show was the last show of Stella
B. The models performed clothes designed by Stella. D. There was no one famous appearing in the show.
Bạn đang xem tài liệu "Ôn thi học kì I lớp 11 - Môn: Tiếng Anh", để tải tài liệu gốc về máy bạn click vào nút DOWNLOAD ở trên
ÔN THI HỌC KÌ I LỚP 11
Môn: TIẾNG ANH 
 Exercise 9. Read the following passage and mark the letter A, B, C, or D to indicate the correct answer to each of the questions. 
Stella McCartney was born in 1972, the daughter of pop star Sir Paul McCartney. She is the youngest of three sisters. One sister is a potter and the other sister does the same job as their mother used to do - she works as a photographer. Stella's brother, James, is a musician. Stella first hit the newspaper headlines in 1995 when she graduated in fashion design from art college. At her final show, her clothes were modeled by her friends, Naomi Campbell and Kate Moss, both well-known models. Unsurprisingly, the student show became front-page news around the world. Stella hadn't been in the news before as a fashion designer but she had spent time working in the fashion world since she was fifteen. In March 1997, Stella went to work for the fashion house Chloe. People said the famous fashion house had given her the job because of her surname and her famous parents but Stella soon showed how good she was. She designs clothes which she would like to wear herself, although she's not a model, and many famous models and actors choose to wear them. In 2001 Stella started her own fashion house and has since opened stores around the world and won many prizes. A lifelong vegetarian, McCartney does not use any leather or fur in her design. Instead, she uses silk, wool and other animal-derived fabrics.
1. Which of the following is NOT true about Stella's family?
A. She has three sisters. 	B. One of her sisters is a photographer. 
C. She is the youngest.	D. Her father is a famous singer. 
2. Stella, Naomi Campbell and Kate Moss ____.
A. met for the first time at her fashion show 	B. are very famous fashion models 
C. had been friends before 1995	D. all performed at the final show in 1995 
3. Which of the following is TRUE about the show?
A. Everyone was surprised when Stella's show was successful. C. The show was the last show of Stella
B. The models performed clothes designed by Stella. D. There was no one famous appearing in the show.
4. Stella thinks about the kinds of clothes that ____.
A. famous people like to wear 	B. she likes to wear 
C. well-known models perform beautifully	D. bring her prizes 
5. The word "lifelong" in the passage is closest in meaning to ____.
A. permanent 	B. inconstant 	C. temporary 	D. changing 
Mark the letter A, B, C, or D on your answer sheet to indicate the word whose underlined part differs from the other three in pronunciation in each of the following questions.
1. A. believes	B. dreams	C. girls	D. parents
2. A. dream 	B. mean	C. peace	D. steady 
3. A. consist 	B. disable	C. suggest	D. vision
4. A. athlete 	B. capital 	C. stalk	D. talent
5. A. kissed	B. laughed	C. looked	D. loved
6. A. stopped	B. expected	C. finished	D. faced
7. A. thoughtful	B. threaten	C. therefore	D. thin
8. A. enough	B. plough	C. rough	D. tough
Mark the letter A, B, C, or D on your answer sheet to indicate the word that differs from the other three in the position of primary stress in each of the following questions.
1. A. advice	B. contact	C. mature	D. maintain
2. A. favourite	B. recommend	C. understand	D. volunteer
3. academic 	 B. behaviour 	C. participate 	D. relationship 
4. A. charter 	B. depict	C. enter	D. purchase 
5. A. athlete 	B. continue 	C. principle 	D. regional 
6. A. competition 	B. fundamental 	C. interference 	D. stability
7.A. romantic B. solution	C. protective D. elegant
8.A. legal B. obey	C. forbid D. impose
Mark the letter A, B, C, or D on your answer sheet to indicate the underlined part that needs correction in each of the following questions.
1. I will leave the party early because I must studying for my exam. 
	 A	 B	 C	 D
2. We ought to not play football as it's raining outside.
	 A	 B	 C	 D
3. You mustn't to drive a car if you don't have a driving licence.
	 A	 B	 C	 D
4. Because of his poverty, he has to struggling to make ends meet.
	A	 B	 C	D
5. We shouldn't make an appointment with this doctor. You can see him whenever you want.
	 A	 B	 C	D
6. This competition is optional, so we not have to take part in it.
	 A	 B	 C	 D
7. It is his dishonesty what I dislike the most. 
 A	 B	 C	 D
8. My students are not so good at Mathematics but they study English good.
	A	 B	C	 D
9. They are accustomed to share every sorrow and mirth with each other.
	 A	B	 C	D
Mark the letter A, B, C, or D on your answer sheet to indicate the correct answer to each of the following questions.
1. I live in a/an ____ with my parents and my elder sister in the coastal area.
A. extended family	B. nuclear family C. extended house	D. nuclear house
2. One advantage of living in a/an ____ is to strengthen relationship between young children and adults.
A. nuclear family	B. nuclear house C. extended family	D. extended house
3. In my opinion, family members are responsible for ____.
A. the housework 	B. the chores	C. homework	D. A and B
4. Generation ____ is the difference in the thoughts and viewpoints amongst generations living together. 
A. distance 	B. gap	C. space. 	D. All are correct 
5. My parents don't let me get married until I graduate from university and they never ____ their mind about 
that. A. keep 	B. impose 	C. focus	D. change 
6. I wish I could do something to reduce financial ____ on my parents. 
A. capital 	B. burden	C. limit 	D. gap 
7. All students ____ wear uniforms at school because it is a rule.
A. should	B. have to 	C. ought to 	D. must
8. You ____ finish your homework before you go to bed. 
A. must 	B. have to 	C. should	D. ought to 
9. This drink isn't beneficial for health. You ____ drink it too much.
A. should 	B. ought to not 	C. ought not to 	D. mustn't 
10. The children ____ spend too much time playing computer games.
A. mustn't 	B. ought to not	C . shouldn't 	D. Both B and C 
11. You look totally exhausted. You ____ take a rest instead of working overtime. 
A. should 	B. ought	C. must	D. has better 
12. When playing or swimming in the pool, children ____ be accompanied by their parents. 
A. should 	B. must	C. don't have to 	D. have to 
13. We ____ go to work by car. Sky train is a wise choice during rush hour. 
A. ought to 	B. mustn't	C. shouldn't 	D. have to
14.Their close friendship ____ a romantic relationship. 
A. brings about 	B. puts up	C. takes over 	D. turns into 
15. Parents are always willing to lend a sympathetic ____ to their children when they have problems. 
A. hand 	B. ear	C. eye	D. paw 
16. If you are lucky, it will be love at first ____.
A. look 	B. see 	C. sight	D. site
17. What's the matter? You look ____.
A. happily 	B. sadly	C. unhappy 	D. unhappily 
18. She said she would become a ____ singer ____.
A. famous/quick	B. famous/quickly 	C. famously/quick	D. famously/quickly 
19. Although my best friend now lives in Da Nang, we still try to keep in touch ____ each other. 
A. for 	B. on 	C. up to	D. with 
20. Healthy relationships allow both partners to feel supported and connected but still feel ____.
A. dependence 	B. dependent 	C. depending 	D. independent 
21. ASEAN includes ten member states, but may get bigger because other countries have applied to join the ____.
A. bloc 	B. group	C. gang	D. trôp	
22. The ____ is a legal agreement among the ten ASEAN member states.
A. charter	B. motto	C. policy	D. principle
23. Lao PDR stands ____ Lao People's Democratic Republic. 
A. by 	B. for 	C. on	D. with 
24. ASEAN ____ of ten Southeast Asian countries, namely: Brunei. Cambodia, Indonesia, Laos, Malaysia, Myanmar, Philippines, Singapore, Thailand, and Viet Nam.
A. consists 	B. contains 	C. includes 	D. involves 
25. It is no use ____ a girl that she doesn't need to lose any weight.
A. convince 	 B. convincing 	C. to convince	D. to convincing 
26. I have much homework that I ought ____.
A. do 	B. to doing 	C. doing	D. to do
27. She did a funny little curtsy which Josh and Silver couldn't help ____ at.
A. laugh 	B. laughing 	C. to laugh 	D. to laughing 
28. We are looking forward ____ out at the weekend. 
A. go . 	B. going	C. to go	D. to going 
29. You should give up ____ your sister. 
A. being bullied	B. bullied 	C. bullying	D. to bully 
30. She apologised ____ waiting so long.
A. for keeping me 	B. for me 	C. for me keeping	D. to me for 
31. Her mother prevented her ____ going out tonight. 
A. about 	B. against 	C. at	D. from 
32. She insisted ____ talking to her lawyer. 
A. in 	B. for	C . on	D. of 
33. He is not good ____ maths. He is incapable ____ calculating.
A. at – of	B. for – of 	C.on - for 	D. on - of
 34. I was tired and couldn't .on doing my research project properly.
 A. concentrate B. look C. pay attention	D. take notice
 35. We started .out together before we realised we were in love.
A. asking	B. eating	C. going	D. hanging
36. I've __________ the same job at the same company for more than 20 years.
A. do
B. doing
C. did
D. been doing
37. If I won the lottery, I __________ have to learn English.
A. won't
B. don't
C. didn't
D. wouldn't
38. I am studying English because I need __________ it for my job.
A. speak
B. speaking
C. to speaking
D. to speak
9.Understanding the impacts of dating on teen years can help parents in their.......................with teens
A. access	B.expression	C.communication	D.behaviour
10. The cake tastes . .	
A. good B. goodly	C. well D. badly
Mark the letter A, B, C, or D on your answer sheet to indicate the most suitable response to complete each of the following exchanges.
1. I've been awarded a scholarship to Harvard University. 
A. Just kidding!	B. It's up to you. 	C. Good job!	D. Same to you. Thanks!
2. Don't forget to finish your homework before class.
A. I'll do it later. 	B. Not much. 	 C. It's quite difficult.	D. Thank you for reminding me.
3. Thanks a lot for helping me fix the car yesterday. 
A. I'd love to.	B. You're welcome. 	C. Of course not.	D. I like it.
4. What's about going to the waterpark? 
A. That's a good idea.	B. That's right. 	C. Of course!	D. I'm sorry I can't. 
5. "What's wrong with you?" – "____"
A. Thank you.	 B. I'm having a headache. 
C. You are welcome.	D. Yes, I was tired yesterday. 
6. "Why don't we talk to Mr Green first? I think he can help." – "____"
A. Good idea. 	B. I understand. 	C. Yes, thanks.	D. You are wrong. 
7. Are you ready? The school bus is leaving." – "Yes, just a minute. ____"
A. No longer. 	B. I'm coming. 	C. I'd be OK. 	D. I'm leaving. 
8. "It's so stuffy in here." – "____"
A. Do I have to open the window? 	B. Must I open the window?
C. Shall I open the window? 	D. Would you like to open the window?
9. "Merry Christmas!" – "____"
 A. Happy Christmas to you! B. Same for you! C. The same to you!D. You are the same! 
10. "I will pick you up around 7:30. The movie starts at 8:00." – "____"
 A. No, you don't	B. OK. See you then. C. I don't like waiting.	D. Thanks, no big deal. 
11. "____ going on a picnic this weekend?" - "That's great!" 
 A. How about 	B. Let's	C. Why don't we 	D. Would you like 
12. "Mr Green had an accident. He's been in hospital for a week." – "____"
A. How terrific	B. Oh, is he? 	C. Poor it.	D. Poor him. 
Mark the letter A, B, C, or D on your answer sheet to indicate the word(s) CLOSEST in meaning to the underlined word(s) in each of the following questions.
1. Despite being a kid, Tuan always helps his mother do the chores every day. 
A. homework 	B. works	C. housework 	D. house duties 
2. Mary has a strong desire to make independent decisions.
A. dependent 	B. self-confident 	C. self-confessed 	D. self-determining 
3. I always look at this matter from a different viewpoint.
A. point of view	B. view from point 	C. idea	D. opinion 
4. Consuming too much junk food increases the risk of obesity. 
A. decrease 	B. reduce	C. rise	D. raise 
5. I feel extremely depressed as conflict occurs frequently amongst generations in my family. 
A. comes on 	B. comes up 	C. comes in 	D. comes into
6. I was shocked to find out my boyfriend had cheated on me. 
A. angry 	B. pleased 	C. upset	D. worried 
7. He was furious with himself for letting things get out of control. 
A. angry 	B. confused 	C. sad	D. surprised 
8. Mary and John have a lot in common. 
A. live together	B. spend lots of time together 
C. share similar ideas	D. share accommodation 
9. The major shortcoming of ASEAN as an organisation is the inability to go through many declarations, agreements, and instruments that they have proliferated over the years.
A. advantage 	B. benefit 	C. drawback 	D. success 
10. The scholarship is renewed annually and may be stopped if the students have poor academic records or bad behaviours.
A every day 	B. every month 	C. every week 	D. every year 
11. In Thailand, it's against the law to litter on the pavement. If you are caught, you can be fined up to $2000 Baht. 
A evil 	B. illegal	C. immoral 	D. wrong 
12. The beautiful sights in Sa Pa, Mui Ne and Ha Noi all contribute to the country's magic charm. A. beauty 	B. fame 	C. image	D. value
Mark the letter A, B, C, or D on your answer sheet to indicate the word(s) OPPOSITE in meaning to the underlined word(s) in each of the following questions.
1. Viet Nam is famous for World Heritage Sites like Ha Long Bay and Hoi An Ancient Town. 
A. honoured 	B. popular	C. well-known	D. unknown
2. The country's continued prosperity is dependent on the opportunities and achievements of all its residents. 
A. poverty 	B. inflation 	C. insecurity	D. Wealth
3. If you live in an extended family, you'll have great joy and get support of other members. 
A. close family	B. traditional family 	C. nuclear family	D. large family
4. Our mother encourages us to be open-minded about new opinions and experiences
A. optimistic 	B. elegant 	C. close-knit 	D. narrow-minded 
5. I can't concentrate on my work because of the noise caused by my children. 
A. focus	B. abandon 	C. neglect 	D. allow 
6. We greatly respect my teacher for all of the best things that she brought to us.
A. look up to 	B. look forwards 	C. look for 	D. look down on 
7. With his remarkable ability, Lam can deal with this problem effectively.
A. uneffectively	B. inefficiently 	C. ineffectively	D. unefficiently
8. My parents seemed fully satisfied with the result of my entrance exam.
A. pleased 	B. contented 	C. disappointed 	D. joyful 
9. After a long time working incessantly, all my efforts ended in failure.
A. success 	B. collapse 	C. breakdown 	D. loser 
Mark the letter A, B, C, or D on your answer sheet to indicate the sentence that is closest in meaning to each of the following questions. 
1. Nobody in the class is as tall as Mike.
 A. Everybody in the class is taller than Mike. B. Somebody in the class may be shorter than Mike. 
 C. Mike is the tallest student in the class. D. Mike may be taller than most students in the class.
2. I haven't got enough money to buy a new car.
 A. I need more money to buy a new car. B. I don't want to spend more money on a new car. 
 C. A new car is not something I really need. D. Money is not the most essential issue to buy a new car. 
3. I have to take the responsibility.
A. It's I am that responsible.	B. It is I who am responsible. 
C. It is me who am responsible. 	D. It's that me is responsible. 
4. It was her story that made me cry. 
A. I was made crying by her story. 	B. I was made to cry by her story.
C. Her story made me crying. 	D. Her story made me to cry. 
5. It is unlikely that he will come on time.
A. He is unlikely to come early. 	B. It is likely that he will not come too late. 
C. It looks as if he will come late.	D. It seems that he will come lately. 
6. She is an honest person. She is also a very friendly one.
A. She is an honest but friendly person. 
B. She is not only an honest but also a very friendly person. 
C. Though she is a honest person, she is friendly. 
D. Being honest is necessary to become friendly.
7. I said that she should see a doctor.
A. I advised her seeing a doctor. 	B. I advised her should see a doctor.
C. I advised her to see a doctor. 	D. I advised to see a doctor. 
8. Ireland doesn't allow people to smoke in bars.
A. Ireland doesn't enjoy smoking in bars. 	B. Ireland hates smoking in bars. 
C. Smoking in bars is banned in Ireland.	D. You should not smoke in bars in Ireland. 
9. Working on the computer is not what she feels like.
A. She doesn't feel like work on the computer. B. She doesn't feel like working on the computer. 
C. She doesn't feel like to work on the computer. D. She doesn't feel like to working on the computer. 
10. California doesn't permit people to fish without a fishing license.
A. California can't stand fishing without a fishing license. 
B. California doesn't allow fishing without a fishing license. 
C. California doesn't encourage fishing without a fishing license.
D. California doesn't mind fishing without a fishing license. 
11. "Why don't we go for a walk?" Mary said.
A. Mary advised to go for a walk. 	B. Mary asked going for a walk.
C. Mary suggested going for a walk. 	D. Mary would like going for a walk. 
Read the following passage and mark the letter A, B, C, or D to indicate the correct word or phrase that best fits each of the numbered blanks. 
Fathers in today families are spending more time with their children than at any point in the past 100 years. (106) ____ the number of hours the average woman spends at home with her children has declined since the early 1900s, as more and more women enter the workforce, there has been a decrease in the number of children per family and an increase in (107) ____ attention to each child. As a result, mothers today in the United States, (108) ____ those who work part- or full-time, spend almost twice as much time with each child as mothers did in the 1920s. People (109) ____ raised children in the 1940s and 1950s typically report that their own adult children and grandchildren communicate far better with their kids and spend more time (110) ____ with homework than they did. 
America's children are also safer today than they've (111) ____ been. An infant was four times more likely to die in the 1950s than today. A parent then was 27 per cent more likely to lose an older teen (112) ____ death. 
If we look back over the last millennium, we can see that families have always been diverse. In each period, families have solved one set of problems only to face new (113) ____. What works for a family in one economic and cultural setting doesn't work for a family in another. What's helpful (114) ____ one stage of a family's life may be (115) ____ at the next stage. If there is one lesson to be (116) ____ from the last millennium of family history, it's that families always have to (117) ____ with a changing world.
106. A. Although 	B. However 	C. Unless	D. Besides 
107. A. isolated 	B. individual 	C. unique	D. single 
108. A. adding 	B. counting 	C. taking	D. including 
109. A. whom 	B. which 	C. who	D. when 
110. A. helping 	B. to help 	C. help	D. on help 
111. A. never 	B. already 	C. ever	D. just 
112. A. in	B. for 	C. to	D. with 
113. A. challanger 	B. challenges 	C. challenging 	D. challenged 
114. A. at	B. for 	C. in	D. by 
115. A. destruction 	B. destroying	C. destroyed 	D. destructive 
116. A. drawing 	B. drawn 	C. draw	D. drew 
117. A. put up 	B. live up 	C. go up	D. catch up

Tài liệu đính kèm:
on_thi_hoc_ki_i_lop_11_mon_tieng_anh.docx