Ôn tập unit 1 - English 11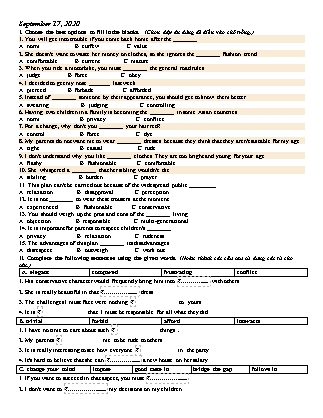 I. Choose the best options to fill in the blanks. (Chọn đáp án đúng để điền vào chỗ trống.)
1. You will get into trouble if you come back home after the ________.
A. norm B. curfew C. value
2. She doesn't want to waste her money on clothes, so she ignores the ________ fashion trend.
A. comfortable B. current C. mature
3. When you ride a motorbike, you must ________ the general road rules.
A. judge B. force C. obey
4. I decided to get my nose _______ last week.
A. pierced B. forbade C. afforded
5. Instead of ________ someone by their appearance, you should get to know them better.
A. swearing B. judging C. controlling
6. Having two children in a family is becoming the ________ in some Asian countries.
A. norm B. privacy C. conflict
7. For a change, why don't you ________ your hair red?
A. control B. force C. dye
8. My parents do not want me to wear ________ dresses because they think that they aren't suitable for my age.
A. tight B. casual C. rude
9. I don't understand why you like ________ clothes. They are too bright and young for your age.
A. flashy B. fashionable C. comfortable
Bạn đang xem tài liệu "Ôn tập unit 1 - English 11", để tải tài liệu gốc về máy bạn click vào nút DOWNLOAD ở trên
September 17, 2020
I. Choose the best options to fill in the blanks. (Chọn đáp án đúng để điền vào chỗ trống.)
1. You will get into trouble if you come back home after the ________.
A. norm B. curfew C. value
2. She doesn't want to waste her money on clothes, so she ignores the ________ fashion trend.
A. comfortable B. current C. mature
3. When you ride a motorbike, you must ________ the general road rules.
A. judge B. force C. obey
4. I decided to get my nose _______ last week.
A. pierced B. forbade C. afforded
5. Instead of ________ someone by their appearance, you should get to know them better.
A. swearing B. judging C. controlling
6. Having two children in a family is becoming the ________ in some Asian countries.
A. norm B. privacy C. conflict
7. For a change, why don't you ________ your hair red?
A. control B. force C. dye
8. My parents do not want me to wear ________ dresses because they think that they aren't suitable for my age.
A. tight B. casual C. rude
9. I don't understand why you like ________ clothes. They are too bright and young for your age.
A. flashy B. fashionable C. comfortable
10. She whispered a ________ that her sibling wouldn't die.
A. sibiling B. burden C. prayer
11. This plan can't be carried out because of the widespread public _________.
A. relaxation B. disapproval C. perception
12. It is not ________ to wear these trousers at the moment.
A. experienced B. fashionable C. conservative
13. You should weigh up the pros and cons of the ________ living.
A. objection B. responsible C. multi-generational
14. It is important for parents to respect children's ________.
A. privacy B. relaxation C. rudeness
15. The advantages of this plan ________ its disadvantages.
A. disrespect B. outweigh C. work out
II. Complete the following sentences using the given words. (Hoàn thành các câu sau sử dụng các từ cho sẵn.)
A. elegant
compared
frustrating
conflict
1. His conservative character would frequently bring him into ?................. with others.
2. She is really beautiful in that ?..................... dress.
3. The challenges I must face were nothing ? to yours.
4. It is ? .that I must be responsible for all what they did.
B. trivial
forbid
afford
interacts
1. I have no time to care about such ? things.
2. My parents ? ..me to be rude to others.
3. It is really interesting to see how everyone ? in the party.
4. It's hard to believe that she can ?................... a new house on her salary.
C. change your mind
impose
good taste in
bridge the gap
follows in
1. If you want to succeed in that aspect, you must ?........................
2. I don't want to ?........................ my decisions on my children.
3. Open communication can ? between parents and children.
4. She ?........................... her mother's footsteps, becoming a doctor.
5. The fashion designer has exercised ? .her use of various colors and patterns.
D. state-owned
open-minded
work out
financial burden
homestay
1. She must shoulder the ? ..after her husband's death.
2. Scientists are discussing to ? the best solution to this problem.
3. We recommend ? for students who want to live with local families.
4. Parents tend to be more ? ..about the children's hairstyles.
5. After graduating from his university, he wants to have a job in a ? company
III. Match the advice with the suitable situation.(Nối lời khuyên với tình huống tương ứng.)
I don't feel well.
All fruits on the tree are ripe.
I have a toothache.
I have a test tomorrow.
I can't speak English well.
You ought to pick them up immediately.
You ought to review all lessons tonight.
You should go to a doctor.
You ought to go to the dentist.
You should practice English every day
IV. Find ONE mistake in each sentence and fill in the blank with the correct word.
(Tìm 1 lỗi sai trong mỗi câu và điền từ đúng vào chỗ trống.)
You must eats more fruit and vegetables every day. 
I have to tidied my room before my mother comes back home. She can't stand a messy house. 
She should go out late at night because of danger. 
She have to speak English well because her current job needs it. 
He musts save up his money so as to buy a new house next year. 
He oughtn't to find another solution to this problem if he doesn't want to get fired. 
They can arrive at the airport at 5 so as not to miss their flight at 6. 
I have to submit my essay last night. My teacher set the deadline on that day. 
You ought to stay up at night, which is not good for your health. 
We haven't to buy souvenirs for Sally. She doesn't like them.
V. Choose one of the two bold words which best completes the sentences.
It's cold. You should/shouldn't turn on the fan.
You ought not to/ought to do homework before you go out with your friends.
You should/shouldn't eat plenty of fruit or vegetables every day in order to keep healthy.
You must/mustn't eat in the class.
You ought to/ought not to drink a lot of water every day.
I must/have to submit my homework before 12 o'clock because the deadline is 12 o'clock.
I must/have to stay at home to take care of my children.
My friend says: "You don't have to/mustn't drink champagne. You can have a coke or fruit juice instead.
You don't have to/mustn't drink if you're going to drive afterwards.
You don't have to/mustn't pick up Tom at the airport because Judy will pick him up.
VI. Rewrite each sentence using the word(s) in the brackets, without changing its meaning.
(Hãy viết lại câu sử dụng từ cho trong ngoặc sao cho nghĩa không đổi.)
If I were you, I would spend more time talking with my children. (should)
John doesn't get permission to use that computer. (mustn't)
It is necessary that people who work here leave by 6 p.m. (must)
Every staff isn't allowed to smoke or eat in the office. (mustn't)
Customers are advised to check their luggage before leaving the airport. (ought to)
It is forbidden for students to cheat in the exam. (mustn't)
Ms. Ly is in charge of cleaning the floor every day. (has to)
You are not allowed to take photographs in the museum. (mustn't)
It would be a good idea for you to share the housework with your mother. (ought to)
It is not necessary for Jack to call Ben today. (doesn't have to)
VII. Fill in the gaps with "must" and "have to". Use the negative form if necessary.
(Hoàn thành chỗ trống với "must" và "have to". Sử dụng dạng phủ định nếu cần thiết.)
Tomorrow is Mai's birthday. I buy a present for her.
We might leave earlier than we expected.
If you feel better, you take medicine any more.
I leave home at 6:00 because I have an appointment at 7:00.
You eat a lot before doing the exercise. If you do, you might get into some trouble with your stomach.
We couldn't find a better present so we choose this one.
If you are a member of the club, you pay to use these facilities because they are included in the membership fee.
I had the flu, so I stay in the bed for two days.
If you are under 18 years old, you ride a motorbike.
All students wear uniforms on Mondays.
VIII. Luyện đọc
Family conflict
The generation gap, which refers to a broad difference between one generation and another, especially between young people and their parents, usually leads to numerous conflicts. Such family conflicts can seriously threaten the relationship between parents and children at times. It goes without saying that, however old their children are, parents still regard them as small kids and keep in mind that their offspring are too young to protect themselves cautiously or have wise choices. Therefore, they tend to make a great attempt to help their children to discover the outside world. Nevertheless, they forget that as children grow up, they want to be more independent and develop their own identity by creating their own opinions, thoughts, styles and values about life.
One common issue that drives conflicts is the clothes of teenagers. While teens are keen on wearing fashionable clothes which try to catch up with the youth trends, parents who value traditional clothes believe that those kinds of attire violate the rules and the norms of the society. It becomes worse when the expensive brand name clothes teens choose seem to be beyond the financial capacity of parents.
Another reason contributing to conflicts is the interest in choosing a career path or education between parents and teenagers. Young people are told that they have the world at their feet and that dazzling future opportunities are just waiting for them to seize. However, their parents try to impose their choices of university or career on them regardless of their children's preference.
Indeed, conflicts between parents and children are the everlasting family phenomena. It seems that the best way to solve the matter is open communication to create mutual trust and understanding.
A. Decide whether the following statements are True, False or Not Given.
(Xác định xem những câu dưới đây là Đúng, Sai hay Không được đề cập đến.)
T
F
NG
According to the passage, the relationship between parents and children is not easily destroyed by the family conflicts.
As children get older, parents let them live on their own way and do what they are interested in.
Teenagers try to please their parents by wearing traditional clothes.
Parents want children to follow their wishes in deciding the education and future jobs.
Some parents indulge their children with expensive brand name clothes.
In order to bridge the gap between the old generation and the younger one, open communication to promote mutual understanding is the vital key.
B. Choose the best anwers for the following questions.
(Chọn đáp án đúng trả lời cho những câu hỏi sau.)
1. Why do most parents still treat their teenage children like small kids?
 A. Because children usually make mistakes
 B. Because they think that children are too young to live independently.
 C. Because they think that children can't protect themselves well.
2. The word "offspring" in the second paragraph refers to________.
 A. parents B. children C. mind
3. What do parents usually do to help their children as they are young?
 A. They prepare everything for their children.
 B. They take care of their children carefully.
 C. They encourage their children to explore the outside world.
4. Which kinds of clothes do teenagers want to wear?
 A. latest fashionable clothes
 B. casual clothes
 C. shiny trousers and tight tops
5. According to the passage, what are parents' viewpoints about the teenagers' clothes?
 A. Teenagers' clothes get the latest teen fashion trends.
 B. Teenagers' clothes are too short and ripped.
 C. Teenagers' clothes are contrary to the accepted standards and values of the society.
6. Why do teenagers want to choose their university or career?
 A. They want to explore the world on their own.
 B. They want to decide their future by themselves.
 C. Both A and B are correct.
7. The word "seize" in the fourth paragraph is closest in meaning to________.
 A. catch B. choose C. find
8. Which can be the best title for the passage?
 A. Where do parent-child conflicts come from?
 B. How are children different from their parents?
 C. How do we bridge the generation gap?
I. Choose the best options to fill in the blanks.(Chọn đáp án đúng để điền vào chỗ trống.)
1.You will get into trouble if you come back home after the ________.B. curfew
Nghĩa của câu này là "Bạn sẽ gặp rắc rối nếu bạn về nhà sau giờ giới nghiêm."
2.She doesn't want to waste her money on clothes, so she ignores the ________ fashion trend.B. current
Nghĩa của câu này là "Cô ấy không muốn lãng phí tiền vào trang phục, nên cô ấy không quan tâm đến xu hướng thời trang hiện tại."
3.When you ride a motorbike, you must ________ the general road rules.C. obey
Nghĩa của câu này là "Khi đi xe máy bạn phải tuân thủ những quy tắc giao thông đường bộ chung."
4.I decided to get my nose _______ last week.A. pierced
Với câu này, ta có thể dịch là "Tuần trước, tôi đã quyết định xâu khuyên mũi."
5.Instead of ________ someone by their appearance, you should get to know them better.B. judging
Câu này có thể được dịch là "Thay vì đánh giá ai đó qua ngoại hình, bạn nên tìm hiểu họ kĩ hơn."
6.Having two children in a family is becoming the ________ in some Asian countries.A. norm
Câu này có nghĩa là "Mỗi gia đình có hai con đang trở thành chuẩn mực xã hội ở một số nước châu Á."
7.For a change, why don't you ________ your hair red?C. dye
Nghĩa của câu này là "Để thay đổi, tại sao bạn không nhuộm tóc màu đỏ nhỉ?"
8.My parents do not want me to wear ________ dresses because they think that they aren't suitable for my age.A. tightNghĩa của câu này là "Bố mẹ tôi không cho phép tôi mặc những bộ váy bó sát cơ thể vì họ nghĩ rằng chúng không phù hợp với tuổi của tôi."
9.I don't understand why you like ________ clothes. They are too bright and young for your age.A. flashy Câu này có thể được dịch là "Tôi không hiểu tại sao bạn lại thích những bộ quần áo sặc sỡ này. Chúng quá sáng và quá trẻ so với tuổi của bạn."
10.She whispered a ________ that her sibling wouldn't die.C. prayer
Với câu này, ta có thể dịch là "Cô ấy đã cầu nguyện rằng anh/ em/ chị của cô ấy không qua đời."
II. Complete the following sentences using the given words.
(Hoàn thành các câu sau sử dụng các từ cho sẵn.)
1. His conservative character would frequently bring him into ?conflict with others.Nghĩa của câu này là "Tính bảo thủ của anh ta thường tạo ra những cuộc xung đột giữa anh ta và người khác."
2.She is really beautiful in that ?elegant dress.Câu này có thể được dịch là "Cô ấy trông thực sự xinh đẹp trong chiếc váy thanh lịch đó."
3.The challenges I must face were nothing ?compared to yours.Với câu này, ta có thể dịch là "Những thử thách mà mình gặp phải không là gì so với những thử thách mà bạn phải đương đầu."
4.It is ?frustrating that I must be responsible for all what they did.Nghĩa của câu này là "Thật là khó chịu khi tôi phải chịu trách nhiệm cho tất cả những gì mà họ đã làm."
1.I have no time to care about such ?trivial things.
Với câu này, ta có thể dịch là "Tôi không có thời gian để quan tâm đến những thứ nhỏ nhặt như vậy."
2.My parents ?forbid me to be rude to others.
Nghĩa của câu này là "Bố mẹ mình nghiêm cấm mình cư xử thô lỗ với người khác."
3.It is really interesting to see how everyone ?interacts in the party.
Câu này có thể được dịch là "Thật thú vị khi nhìn thấy cách mọi người giao tiếp trong bữa tiệc."
4.It's hard to believe that she can ?afford a new house on her salary.
Ta có thể dịch câu này là "Thật khó mà tin được rằng cô ấy có thể mua một căn nhà mới chỉ dựa vào lương của cô ấy."
1. If you want to succeed in that aspect, you must ?change your mind.
Câu này có thể được dịch là "Nếu bạn muốn thành công trong lĩnh vực đó, bạn phải thay đổi suy nghĩ của bạn."
2.I don't want to ?impose my decisions on my children.
Nghĩa của câu này là "Tôi không muốn áp đặt quyết định của mình vào các con."
3.Open communication can ?bridge the gap between parents and children.
Ta có thể dịch nghĩa câu này là "Những cuộc nói chuyện cởi mở có thể giúp làm hàn gắn khoảng cách giữa bố mẹ và con cái."
4.She ?follows in her mother's footsteps, becoming a doctor.
Nghĩa của câu này là "Cô ấy nối nghiệp mẹ cô ấy, trở thành một bác sĩ."
5.The fashion designer has exercised ?good taste in her use of various colors and patterns.
Với câu này, ta có thể dịch là "Nhà thiết kế thời trang đã thể hiện khiếu thẩm mĩ tuyệt vời của cô ấy trong việc sử dụng rất nhiều màu sắc và hoa văn."
1.She must shoulder the ?financial burden after her husband's death.
Với câu này, ta có thể dịch là "Sau cái chết của chồng cô ấy, gánh nặng tài chính đặt trên vai cô ấy."
2.Scientists are discussing to ?work out the best solution to this problem.
Nghĩa của câu này là "Những nhà khoa học đang thảo luận để tìm ra cách giải quyết tốt nhất cho vấn đề này."
3.We recommend ?homestay for students who want to live with local families.
Câu này có thể được dịch là "Chúng tôi đề nghị kiểu du lịch nghỉ tại nhà dân cho những học sinh, sinh viên muốn sống với những gia đình địa phương.".
4.Parents tend to be more ?open-minded about the children's hairstyles.
Ta có thể dịch nghĩa câu này là "Cha mẹ có xu hướng cởi mở hơn với những kiểu tóc của con cái."
5.After graduating from his university, he wants to have a job in a ?state-owned company.
Nghĩa của câu này là "Sau khi tốt nghiệp từ trường đại học, anh ấy muốn có một công việc trong công ty nhà nước."
Match the advice with the suitable situation.
(Nối lời khuyên với tình huống tương ứng.)
(Hướng dẫn: Bạn hãy kéo miếng ghép màu xanh với miếng ghép màu cam tương ứng, hoặc click lần lượt vào hai miếng ghép đó để tạo thành đáp án đúng.)
1
I don't feel well.
2
All fruits on the tree are ripe.
3
I have a toothache.
4
I have a test tomorrow.
5
I can't speak English well.
You ought to pick them up immediately.
2
You ought to review all lessons tonight.
4
You should go to a doctor.
1
You ought to go to the dentist.
3
You should practice English every day.
5
Find ONE mistake in each sentence and fill in the blank with the correct word.
(Tìm 1 lỗi sai trong mỗi câu và điền từ đúng vào chỗ trống.)
(Hướng dẫn: Bạn hãy click vào từ để chọn sau đó sửa lỗi sai bằng cách viết từ đúng vào ô trống cuối câu.)
1.
You must eats more fruit and vegetables every day. eat
Sau "must" là một động từ nguyên thể nên câu này sai ở "eats" và cần được sửa thành "eat".
2.
I have to tidied my room before my mother comes back home. She can't stand a messy house. tidy
Sau "have to" là một động từ nguyên thể nên câu này sai ở "tidied" và cần được sửa thành "tidy".
3.
She should go out late at night because of danger. should not
Câu này sai ở "should" vì không hợp nghĩa và cần được sửa lại thành "shouldn't/ should not". Nghĩa của câu sau khi sửa lại là "Cô ấy không nên đi ra ngoài vào buổi tối bởi vì nó rất nguy hiểm.".
4.
She have to speak English well because her current job needs it. has
Không giống như các động từ khuyết thiếu khác, "have to" phụ thuộc vào chủ ngữ và thì của câu nên câu này sai ở "have" và cần được sửa thành "has" vì chia theo chủ ngữ ngôi thứ ba số ít "she" và đây là thì hiện tại đơn.
5.
He musts save up his money so as to buy a new house next year. must
Vì "must" là một động từ khuyết thiếu nên câu này ta không chia "must" theo chủ ngữ "he". Ta sửa "musts" thành "must".
6.
He oughtn't to find another solution to this problem if he doesn't want to get fired. ought
Câu này sai ở "oughtn't" vì xét về nghĩa chúng ta cần dùng "ought". Nghĩa của câu khi sử dụng "ought" là "Anh ta nên tìm giải pháp khác cho vấn đề này nếu anh ta không muốn bị sa thải."
7.
They can arrive at the airport at 5 so as not to miss their flight at 6. have to
Vì việc họ phải đến sân bay lúc 5 giờ là mang tính bắt buộc khách quan do chuyến bay cất cánh lúc 6 giờ nên không thể sử dụng "can" trong trường hợp này, thay vào đó ta nên sử dụng "have to".
8.
I have to submit my essay last night. My teacher set the deadline on that day. had
Không giống như các động từ khuyết thiếu khác, "have to" phụ thuộc vào chủ ngữ và thì của câu nên câu này sai ở "have" bởi vì "last night" dùng cho thì quá khứ đơn nên "have" cần được sửa lại thành "had".
9.
You ought to stay up at night, which is not good for your health. oughtn't
Câu này sai ở "ought" vì xét về nghĩa chúng ta cần dùng "oughtn't". Nghĩa của câu khi sử dụng "oughtn't" là "Bạn không nên thức khuya, điều này không có lợi cho sức khỏe của bạn.".
10.
We haven't to buy souvenirs for Sally. She doesn't like them. don't have
Dạng phủ định của "have to" là "don't/ doesn't/ didn't have to/ ..." phụ thuộc vào chủ ngữ và thì của động từ trong câu. Vậy, câu này sai ở "haven't". Do động từ trong câu được chia ở hiện tại đơn nên "haven't" được sửa lại thành "do not have/ don't have"
Must/Have to, Should/Ought to - Bài tập 4
Click on one of the two bold words which best completes the sentences.
(Nhấp chuột chọn một trong hai từ in đậm để hoàn thành câu.)
1.
It's cold. You should/shouldn't turn on the fan.
Câu này mang ý nghĩa phủ định - người nghe không nên bật quạt khi trời lạnh nên ta dùng "shouldn't".
2.
You ought not to/ought to do homework before you go out with your friends.
Ta dùng "ought to" vì câu này khuyên người nghe làm bài tập về nhà trước đi chơi với bạn.
3.
You should/shouldn't eat plenty of fruit or vegetables every day in order to keep healthy.
Ta dùng "should" vì câu này khuyên người nghe ăn nhiều rau và hoa quả mỗi ngày để có sức khỏe tốt.
4.
You must/mustn't eat in the class.
Câu này mang ý nghĩa phủ định diễn tả người nghe không được ăn trong lớp học nên ta dùng "mustn't".
5.
You ought to/ought not to drink a lot of water every day.
Ta dùng "ought to" vì câu này người nói khuyên người nghe uống nhiều nước mỗi ngày.
6.
I must/have to submit my homework before 12 o'clock because the deadline is 12 o'clock.
Trong trường hợp này, ta phải dùng "have to" bởi vì có sự tác động của ngoại cảnh là hạn cuối lúc 12 giờ.
7.
I must/have to stay at home to take care of my children.
Trong trường hợp này người nói tự yêu cầu mình cần phải ở nhà để chăm sóc con của cô ấy nên ta dùng "must".
8.
My friend says: "You don't have to/mustn't drink champagne. You can have a coke or fruit juice instead.
Ta dùng "don't have to" trong câu này bởi vì người bạn bảo người nghe không nhất thiết phải uống rượu sâm panh. Thay vào đó người nghe có thể uống cô-ca hoặc nước hoa quả.
9.
You don't have to/mustn't drink if you're going to drive afterwards.
Ta dùng "mustn't" vì trong câu này người nói bảo người nghe không được uống rượu vì sau đó còn phải lái xe.
10.
You don't have to/mustn't pick up Tom at the airport because Judy will pick him up.
Ta dùng "don't have to" trong câu này bởi vì người nghe không nhất thiết phải đón Tom ở sân bay.
Must/Have to, Should/Ought to - Bài tập 6
Rewrite each sentence using the word(s) in the brackets, without changing its meaning.
(Hãy viết lại câu sử dụng từ cho trong ngoặc sao cho nghĩa không đổi.)
1.
If I were you, I would spend more time talking with my children. (should)
You should spend more time talking with your children.
If I were you, I would + V = S + should + V: Ai đó nên làm gì.
2.
John doesn't get permission to use that computer. (mustn't)
John mustn't use that computer.
S + do not (don't)/ ... + get permission to V = S + mustn't + V: Ai đó không được làm gì.
3.
It is necessary that people who work here leave by 6 p.m. (must)
People who work here must leave by 6 p.m.
It + to be + necessary + that + S + V = S + must + V: Ai đó cần thiết làm gì.
4.
Every staff isn't allowed to smoke or eat in the office. (mustn't)
Every staff mustn't smoke or eat in the office.
S + to be + not + allowed + to V = S + mustn't + V: Ai đó không được làm gì.
5.
Customers are advised to check their luggage before leaving the airport. (ought to)
Customers ought to check their luggage before leaving the airport.
S + to be + advised + to V = S + should/ ought to + V: Ai đó nên làm gì.
6.
It is forbidden for students to cheat in the exam. (mustn't)
Students mustn't cheat in the exam.
It + to be + forbidden + for sb + to V = Sb + mustn't + V: Ai đó không được phép làm gì.
7.
Ms. Ly is in charge of cleaning the floor every day. (has to)
Ms. Ly has to clean the floor every day.
S + to be + in charge of + V-ing: Ai đó có bổn phận làm gì = S + have to/ has to/ ... + V: Ai đó cần thiết phải làm gì.
8.
You are not allowed to take photographs in the museum. (mustn't)
You mustn't take photographs in the museum.
S + to be + not + allowed + to V = S + mustn't + V: Ai đó không được phép làm gì.
9.
It would be a good idea for you to share the housework with your mother. (ought to)
You ought to share the housework with your mother.
It would be a good idea + for sb + to V = Sb + ought to + V : Ai đó nên làm gì.
10.
It is not necessary for Jack to call Ben today. (doesn't have to)
Jack doesn't have to call Ben today.
It + to be + not + necessary + for sb + to V = Sb + do not (don't)/ does not (doesn't)/... + have to + V: Ai đó không cần làm gì.
Decide whether the following statements are True, False or Not Given.
(Xác định xem những câu dưới đây là Đúng, Sai hay Không được đề cập đến.)
1.According to the passage, the relationship between parents and children is not easily destroyed by the family conflicts.Câu này sai vì trong đoạn văn thứ nhất có thông tin rằng mối quan hệ giữa bố mẹ và con cái thường bị đe dọa nghiêm trọng "seriously threaten" bởi các cuộc xung đột chứ không phải là không dễ dàng bị phá hủy "not easily destroyed" giống như câu đã đưa ra.
2.As children get older, parents let them live on their own way and do what they are interested in.Dựa vào thông tin nằm ở toàn đoạn văn số hai "... however old their children are, parents still regard them as small kids ... Therefore, they tend to make a great attempt to help their children to discover the outside world. Nevertheless, they forget that as children grow up, they want to be more independent ...", các em có thể 3.Teenagers try to please their parents by wearing traditional clothes.Bài đọc không đề cập tới việc những thanh thiếu niên cố gắng mặc những bộ quần áo truyền thống để làm hài lòng cha mẹ họ nên đáp án cho câu này là Not Given.
4.Parents want children to follow their wishes in deciding the education and future jobs.Trong bài có thông tin "However, their parents try to impose their choices of university or career on them regardless of their children's preference." nên đáp án cho câu này là True bởi vì "want somebody to" = "impose somebody on" đều mang nghĩa là muốn ai đó làm theo ý mình.
5.Some parents indulge their children with expensive brand name clothes.Trong bài đọc có thông tin về "expensive brand name clothes" - "It becomes worse when the expensive brand name clothes teens choose seem to be beyond the financial capacity of parents." nhưng không đề cập đến việc bố mẹ nuông chiều con cái bằng việc mua quần áo hàng hiệu đắt tiền nên đáp án cho câu này là Not Given.
6.In order to bridge the gap between the old generation and the younger one, open communication to promote mutual understanding is the vital key.Câu này trùng với câu "It seems that the best way to solve the matter is open communication to create mutual trust and understanding." trong đoạn văn cuối. Cả hai đều mang nghĩa là để hàn gắn khoảng cách giữa các thế hệ thì cha mẹ và con cái cần có những cuộc nói chuyện cởi mở giúp tăng cường sự tin tưởng và hiểu biết lẫn nhau, vì vậy True là đáp án đúng.
Choose the best anwers for the following questions.(Chọn đáp án đúng trả lời cho những câu hỏi sau.)
1.Why do most parents still treat their teenage children like small kids?Theo đoạn văn thứ hai, việc cha mẹ vẫn coi con của họ là những đứa trẻ bởi vì họ nghĩ rằng chúng "too young to protect themselves cautiously or have wise choices" nên đáp án đúng cho câu này là C.
2.The word "offspring" in the second paragraph refers to________.Trong câu "It goes without saying that, however old their children are, parents still regard them as small kids and keep in mind that their offspring are too young to protect themselves cautiously or have wise choices." có nhắc đến hai từ "parents" và "children" nên từ "their offspring" muốn đề cập tới "their children". Vậy câu này đáp án đúng là B.
3.What do parents usually do to help their children as they are young?Đoạn văn thứ hai đề cập thông tin "they tend to make an attempt to help their children to discover the outside world" tương tự nghĩa với câu C nên C là đáp án đúng.
4.Which kinds of clothes do teenagers want to wear?Đáp án đúng cho câu này là đáp án A bởi vì tác giả nói rằng "teens are keen on wearing fashionable clothes which try to catch up with the youth trends". Từ "catch up with the youth trends" tương đương nghĩa với từ "latest" trong trường hợp này.
5.According to the passage, what are parents' viewpoints about the teenagers' clothes?Trong đoạn số ba có đề cập đến ý kiến của bố mẹ về quần áo của con cái họ là "violate the rules and the norms of the society". Câu này có nghĩa tương tự như câu C, vậy đáp án C là đáp án đúng.
6.Why do teenagers want to choose their university or career?Đáp án C là đáp án đúng bởi vì trong đoạn văn số bốn có đề cập "Young people are told that they have the world at their feet and that dazzling future opportunities are just waiting for them to seize". Câu này có nghĩa là những người trẻ muốn tự khám phá thế giới và nắm bắt những cơ hội tương lai.
7.The word "seize" in the fourth paragraph is closest in meaning to________.Từ "seize" xuất hiện trong câu "Young people are told that they have the world at their feet and that dazzling future opportunities are just waiting for them to seize." có nghĩa là "bắt lấy, túm lấy" bằng nghĩa với từ "catch" nên đáp án đúng là A.
8.Which can be the best title for the passage?Nội dung của bài chủ yếu đề cập tới những lí do tại sao xảy ra xung đột giữa bố mẹ và con cái nên đáp án A là đáp án đúng.
Fill in the gaps with "must" and "have to". Use the negative form if necessary.
(Hoàn thành chỗ trống với "must" và "have to". Sử dụng dạng phủ định nếu cần thiết.)
1.Tomorrow is Mai's birthday. I must buy a present for her.
Người nói tự thấy mình cần phải mua món quà cho Mai nên ta dùng "must" trong trường hợp này.
2.We might have to leave earlier than we expected.
Vì "might" chỉ đi với "have to" chứ không đi với "must" nên trong trường hợp này, ta dùng "have to".
3.If you feel better, you do not have to/ don't have to take medicine any more.
Trong trường hợp này, người nói khuyên người nghe không cần thiết uống thuốc nếu cảm thấy khỏe hơn rồi nên ta dùng "do not have to/ don't have to".
4.I have to leave home at 6:00 because I have an appointment at 7:00.
Vì có ngoại cảnh tác động là cuộc hẹn lúc 7:00 nên người nói
Tài liệu đính kèm:
on_tap_unit_1_english_11.docx