Giáo án Tiếng Anh Lớp 11 - Unit 5: Illiteracy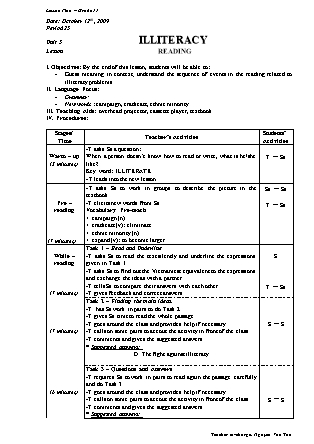 Warm – up
(3 minutes) -T asks Ss a question:
When a person doesn't know how to read or write, what is he/she like?
Key word: ILLITERATE
-T leads into the new lesson.
T  Ss
Pre –
reading
(7 minutes) -T asks Ss to work in groups to describe the picture in the textbook.
-T elicits new words from Ss.
Vocabulary Pre-teach
+ campaign (n)
+ eradicate (v): eliminate
+ ethnic minority (n)
+ expand (v): to become larger Ss  Ss
T  Ss
While – reading
(7 minutes) Task 1 – Read and Underline
-T asks Ss to read the text silently and underline the expressions given in Task 1.
-T asks Ss to find out the Vietnamese equivalent to the expressions and exchange the ideas with a partner.
-T tells Ss to compare their answers with each other.
-T gives feedback and correct answers.
S
T  Ss
(7 minutes) Task 2 – Finding the main ideas.
-T has Ss work in pairs to do Task 2.
-T gives Ss time to read the whole passage.
-T goes around the class and provides help if necessary.
-T calls on some pairs to act out the activity in front of the class.
-T comments and gives the suggested answers.
* Suggested answers:
D. The fight against illiteracy
S  S
Bạn đang xem tài liệu "Giáo án Tiếng Anh Lớp 11 - Unit 5: Illiteracy", để tải tài liệu gốc về máy bạn click vào nút DOWNLOAD ở trên
Date: October 12th, 2009
Period 25
Unit 5	 ILLITERACY
Lesson 	 READING
I. Objectives: By the end of this lesson, students will be able to:
Guess meaning in context; understand the sequence of events in the reading related to illiteracy problems. 
II. Language Focus:
Grammar: 
New words: campaign, eradicate, ethnic minority . . . 
III. Teaching Aids: overhead projector, cassette player, textbook . . . .
IV. Procedures:	
Stages/
Time
Teacher's Activities
Students' Activities
Warm – up
(3 minutes)
-T asks Ss a question:
When a person doesn't know how to read or write, what is he/she like? 
Key word: ILLITERATE
-T leads into the new lesson. 
T 1 Ss
Pre –
reading
(7 minutes)
-T asks Ss to work in groups to describe the picture in the textbook. 
-T elicits new words from Ss.
Vocabulary Pre-teach
+ campaign (n)
+ eradicate (v): eliminate 
+ ethnic minority (n)
+ expand (v): to become larger 
Ss 1 Ss
T 1 Ss
While – reading
(7 minutes)
Task 1 – Read and Underline 
-T asks Ss to read the text silently and underline the expressions given in Task 1.
-T asks Ss to find out the Vietnamese equivalent to the expressions and exchange the ideas with a partner.
-T tells Ss to compare their answers with each other. 
-T gives feedback and correct answers. 
S
T 1 Ss
(7 minutes)
Task 2 – Finding the main ideas. 
-T has Ss work in pairs to do Task 2. 
-T gives Ss time to read the whole passage. 
-T goes around the class and provides help if necessary.
-T calls on some pairs to act out the activity in front of the class.
-T comments and gives the suggested answers. 
* Suggested answers:
D. The fight against illiteracy
S 1 S
(6 minutes)
Task 3 – Questions and Answers
-T requires Ss to work in pairs to read again the passage carefully and do Task 3.
-T goes around the class and provides help if necessary.
-T calls on some pairs to act out the activity in front of the class.
-T comments and gives the suggested answers. 
* Suggested answers:
1. 94% of the population.
2. The campaign for illiteracy eradication
3. 600 students in 2000 / 800 students in 2001
4. They voluntarily spent their summer vacations teaching illiterate people to read and write.
5. Illiteracy will soon be eradicated. 
S 1 S
S 1 S
Post – reading
(7 minutes)
Group discussion
-T has Ss work in groups and asks them to discuss the matter presented in the textbook.
Imagine that there are some illiterate people living in your neighborhood, what should you do to help them read and write? 
-T goes around class and helps Ss if necessary.
-T calls on some groups' representatives to report their ideas.
-T asks other Ss to give their remarks.
-T gives feedback.
Ss 1 Ss
T 1 Ss
Homework
(3 minutes)
-T summarises the main points in the lesson. 
-T asks Ss to learn all of the new words by heart 
 and prepare SPEAKING for the next period. 
T 1 Ss
Date: October 19th, 2009
Period 26
Unit 5(cont.) ILLITERACY
Lesson 	 SPEAKING
I. Objectives: By the end of this lesson, students will be able to:
talk about illiteracy problems
offer solutions to the problems
II. Language Focus:
Grammar: 
New words: 
III. Teaching Aids: textbooks, pictures . . . .
IV. Procedures:
Stages/Time
Teacher's Activities
Students' Activities
Warm – up
(5minutes)
Brainstorming
-T asks Ss to brainstorm the problems they often encounter at school / classes.
+ making noise / cheating / teasing / forgetting / doing exercises / homework / cutting classes . . .
-T asks Ss " Do you meet with these problems in your class? – How do you solve them?" 
-T leads into the new lesson. 
T 1 Ss
Pre – speaking
(6 minutes)
Task 1 – Matching – up 
-T asks Ss to work in pairs and do Task 1.
-T goes around and helps Ss when necessary.
-T can explains some difficult words if necessary. 
-T calls on some Ss to present their answers.
-T gives feedback.
* Suggested answers:
1. b / g
2. a / e
3. d / f
4. c / j
5. h / i
S 1 S
While – speaking
(20 minutes)
Task 2
-T asks Ss to work in pairs to talk about problems and offer solutions, using suggestions in Task 1.
-T can work with a student to give a model.
T: Many student cannot buy all the required books. What do you think we should do to help them?
S: I think we should ask the school head-master to provide free textbooks for students from low income family.
T: We should also collect used textbooks for school library. 
-T goes around the class to control and provides help when necessary.
-T asks some pairs to role play in front of the class. 
-T gathers feedbacks and gives out the correct answer. 
T 1 S
S 1 S
Post – speaking
(12 minutes)
Task 3 - Coloured Topics
-T prepares cards with four different colours.
-T assigns each topic to each color.
Exmaple:
Red = making
Blue = teasing
Green = playing truant (cutting classes) 
Yellow = breaking school regulations.
-T divides the class into groups of four or five.
-T asks each group to take one card at random.
-T requires Ss in each group to talk about the problem presented in the card they have choosen and offer solutions.
-T goes around the class and provides help when necessary.
-T invites some Ss to present their talks in front of the class.
-T gives feedback and comments
T 1 Ss
Ss1 Ss
Homework
(2 minutes)
-T summarise the main points in the lesson. 
-T asks Ss to find out other probples and offer solutions to them.
-T requires Ss to prepare LISTENING for the next period. 
T 1 Ss
Date: October 20th, 2009
Period 27
Unit 5(cont.) 	 ILLITERACY
Lesson 	 LISTENING
I. Objectives: By the end of this lesson, students will be able to:
listen for specific information
talk about condition for better learning
II. Language Focus:
Grammar: revision
New words: 
III. Teaching Aids: pictures in the textbook, cassette, extra board . . .	
IV. Procedures:	
Stages/Time
Teacher's Activities
Students' Activities
Warm – up
(5minutes)
Handouts
-T asks Ss to work in pairs and do the task designed on the handouts.
Go through the statements in the chart and decide if you agree or disagree with the solutions to help make effective school. 
What makes effective school?
Agree
Disagree
1. to look for ways of learning.
2. to set realistic goal for learning.
3. teachers should be motivated.
4. more clubs should be set up.
5. teachers should be interested in what students are doing.
6. learning should focus on writing and reading skills.
7. students should be allowed to give some input into school decision.
-T leads to the new lesson. 
S 1 S
Pre –listening
(6 minutes)
Pre-teaching vocabulary
-T can elicits or pre-teaches some new words.
+ self-respect (n): a feeling of pride in oneself that what one does, says, etc is right and good.
+ maturity (n)
+ weakness (n) ≠ strenght (n)
-T helps Ss to understand the meanings and pronunciation of the new words.
T 1 Ss
While-listening
(12 minutes)
Task 1 – Multiple-choice 
-T asks Ss to work individually and do Task 1.
-T plays the tape more than once if necessary.
-T asks Ss to compare the answers with their partners.
-T invites some Ss to explain their answers in front of the class. 
-T comments and gives out the correct answers.
* Expected answers: 
1 – D; 2 – B; 3 – B; 4 – C
S
S 1 S
(12 minutes)
Task 2 – Questions and Answers
-T asks Ss to work individually to listen to the tape again.
-T plays the tape again and asks Ss to do Task 2.
-T plays the tape several times if necessary. 
-T lets Ss discuss the answers with a partner. 
-T comments and gives correct answers.
* Expected answers:
1. The survey took place in Perth.
2. 80% of the students
3. They think they should be allowed to give some input into school decision making. 
S
S 1 S
Post- listening
(8 minutes)
Discussion 
-T asks Ss to work in groups of four to discuss the questions:
"What do you think is a condition for better learning – good teachers or good textbooks?"
 -T goes around the class and helps Ss.
-T invites representatives of some groups to talk about their ideas in front of the class. 
-T asks for comments from other Ss. 
-T gives out his remarks on Ss's presentation. 
Ss 1 Ss
Homework
(2 minutes)
-T asks Ss to write short passage to answer the question above. 
-T asks Ss to prepare WRITING for the next period. 
 T 1 Ss
Date: October 20th, 2009
Period 28
Unit 5(cont.) ILLITERACY
Lesson 	 WRITING
I. Objectives: By the end of this lesson, students will be able to:
describe information in a table
write a paragraph based on the information in the table
II. Language Focus:
Grammar: revision 
New words: revision
III. Teaching Aids: an extra board, textbook . . . 
IV. Procedures:	
Stages/Time
Teacher's Activities
Students' Activities
Warm-up
(5 minutes)
Game – Word Category 
-T divides the class into groups of four.
-T hangs on a chart with the words (as shown below)
-T asks Ss to close the books and sort these words into four groups: nouns, verbs, adjectives and adverbs.
-The groups whi first finishes will win the game. 
* Suggested words and expected answers:
Nouns
Verbs
Adjectives
Adverbs
increase
increase
sharp
sharply
drop
drop
gradual
gradually
rise
rise
slight
slightly
fall
fall
steady
steadily
decrease
decrease
-T leads in the new lesson. 
+ What do you do with these words? These words are usually used to describe information in a talbe. 
T 1 Ss
Ss 1 Ss
T 1 Ss
Pre-writing
(10 minutes)
Task 1 - Gap-filling
-T asks Ss to read the passage and choose a suitable word from the box to fill in each space of the passage.
-T tell Ss to compare the answers in pairs.
-T checks the answers with the class. 
* Suggested answers:
1. varied
2. rise
3. who
4. number
5. different
6. between
7. dramatically
8. for 
S
S 1 S
T 1 Ss
While-writing
(20 minutes)
Task 2 – Describing the table
-T asks Ss to work individually describe the information in the table, basing on the model in Task 1. 
-T goes around to give helps to Ss. 
-T gives feedback on what Ss have.
Ss 1 Ss
Post- writing
(8 minutes)
Peer Correction 
-T chooses one writing and asks Ss to hang it on the board. (use an extra board) 
-T asks the whole class to correct the mistakes.
-T gives feedback and comments. 
Ss 1 Ss
T 1 Ss
Homework
(2 minutes)
-T asks Ss to learn by heart the words used to describe information in a table. 
-T asks students to continue writing their descriptions if they haven't finished yet. 
-T asks students to prepare Language Focus for next period. 
T 1 Ss
Date: October 26th, 2009
Period 29
Unit 5(cont.) ILLITERACY
Lesson 	 LANGUAGE FOCUS
I. Objectives: By the end of this lesson, students will be able to:
practise pronunciation and distinguish the sounds / pl /, / pr /, / br / and / bl / 
understand and use reported speech with to-infinitive
II. Language Focus:
Grammar: as the above 
New words: 
III. Teaching Aids: Textbooks	
IV. Procedures:	
Stages/Time
Teacher's Activities
Students' Activities
Warm-up
(5minutes)
Game – Odd and Out
-T hangs on a chart with the following words:
1. wear
please
hair
2. bull
wool
prune
3. brandy
flower
hour
4. come
some
blame
-In the groups of three words, two words rhyme and one doesn't. So T asks Ss to work in pairs to circle the one that is different.
* Suggested answers:
1. please 2. prune 3. brandy 4. blame 
-T asks Ss to underline the initial consonant sounds of the words they have just circled.
-T introduces the sounds / pl /, / pr /, / br / and / bl / and goes to the new lesson. 
T 1 Ss
S 1 S
Pro-nunciation
(7 minutes)
Activity 1 – Listen and repeat
-T demonstrates the sounds / pl /, / pr /, / br / and / bl / by pronouncing them exactly and clearly.
-T instructs the ways to pronounce four sounds. 
-T asks Ss to pronounce the sounds several times.
-T makes sure that Ss are aware of the difference between the four sounds. 
Activity 2 – Practise these sentences
-T plays the tape and asks them to repeat. 
-T calls on some Ss to repeat the sounds clearly and slowly.
-T asks Ss to work in pairs and practise the sentences.
-T introduces peer correction.
-T goes around the class and provides help if necessary. 
T 1 Ss
T 1 Ss
S
Ss 1 Ss
Grammar
(10 minutes)
Presentation – Reported Speech with to-infinitive
-T hangs on the chart with the following sentences: 
1. A woman told me to turn left after the bridge.
2. I advised him to go to the doctor.
3. She asked me to help her.
4. Ann's daughter taught her to play the piano.
-T asks Ss to underline the reporting verbs in the sentences. 
-T elicits some more reporting verbs of this kind and present the structure.
* We often report orders, requests, warnings, advice, invitation using the structure: 
[ S + V + O + To-infinitive ]
Ex: "Get out of my room", she said
 ¦ She told me to get out of her room.
* We often report offers, promises, and threats using the stucture:
[ S + V + To-infinitive ]
Ex: "Can I help you?" ¦ She offered to help me.
 "I'll be careful" ¦ He promised to be careful.
 "I will hit you" ¦ He threatened to hit me. 
* Notes: Pronouns, possessive nouns, adverbs of time and places often change in reported speech. 
T 1 Ss
S
T 1 Ss
T 1 Ss
(10 minutes)
Activity 1 – Sentence transformation
-T requires Ss to work in pairs and do Exercise 1.
-T asks Ss to compare their answers with other pairs.
-T gives feedback and correct answers.
* Suggested answers:
1. They promised to come back again.
2. The lifeguard advised us not to swim too far from the shore.
3. John asked Peter to close the window.
4. The teacher encouraged Eric to join the football team.
(To be continued) 
T 1 Ss
S 1 S
(10 minutes)
Activity 2 – Reported Speech 
-T asks Ss to work in pairs and practise doing Exercise 2.
-T goes around and gives helps to Ss.
-T asks Ss to compare their results with others.
-T gives feeback and correct answers. 
* Suggested answers:
1. He advised me not to drink too much beer.
2. She invited me to come and see her whenever I wanted.
3. He asked me not to smoke in his car.
4. He told Sue to give him her phone number. 
(To be continued) 
T 1 Ss
S 1 S
Homework
(3 minutes)
- T asks Ss to continue doing the remaning exercises. 
- T asks Ss to prepare UNIT 6
T 1 Ss

Tài liệu đính kèm:
giao_an_tieng_anh_lop_11_unit_5_illiteracy.doc