Giáo án Tiếng Anh Lớp 11 (Thí điểm) - Unit 4: Caring for those in need - Lesson 4: Speaking - Năm học 2019-2020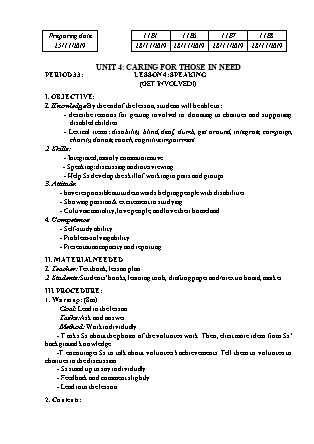 I. OBJECTIVE:
1. Knowledge: By the end of the lesson, students will be able to:
- describe reasons for getting involved in donating to charities and supporting disabled children
- Lexical items: disability, blind, deaf, dumb, get around, integrate, campaign, charity, donate, coach, cognitive impairment.
2. Skills:
- Integrated, mainly communicative
 - Speaking: discussing and interviewing
- Help Ss develop the skill of working in pairs and groups
3. Attitude:
 - have responsible attitude towards helping people with disabilities.
 - Showing passion & excitement in studying
 - Cultivate morality, love people, and love their homeland
4. Competence:
- Self-study ability
- Problem-solving ability
- Presentation capacity and reporting
Bạn đang xem tài liệu "Giáo án Tiếng Anh Lớp 11 (Thí điểm) - Unit 4: Caring for those in need - Lesson 4: Speaking - Năm học 2019-2020", để tải tài liệu gốc về máy bạn click vào nút DOWNLOAD ở trên
Preparing date
11B1
11B6
11B7
11B8
25/11/2019
28/11/2019
28/11/2019
28/11/2019
28/11/2019
UNIT 4: CARING FOR THOSE IN NEED
PERIOD 33: LESSON 4: SPEAKING 
(GET INVOLVED!)
I. OBJECTIVE:
1. Knowledge: By the end of the lesson, students will be able to: 
- describe reasons for getting involved in donating to charities and supporting disabled children
- Lexical items: disability, blind, deaf, dumb, get around, integrate, campaign, charity, donate, coach, cognitive impairment.
2. Skills:
- Integrated, mainly communicative
	 - Speaking: discussing and interviewing
- Help Ss develop the skill of working in pairs and groups 
3. Attitude: 
 - have responsible attitude towards helping people with disabilities.
	- Showing passion & excitement in studying
	- Cultivate morality, love people, and love their homeland
4. Competence: 
- Self-study ability
- Problem-solving ability
- Presentation capacity and reporting
II. MATERIAL NEEDED
1. Teacher: Textbook, lesson plan.
2. Students: Students' books, learning tools, drafting paper and/or extra board, marker
III. PROCEDURE: 
1. Warmup: (8m)
Goal: Lead in the lesson
Tasks: Ask and answer
Method: Work individually
 - T asks Ss about the photos of the volunteer work. Then, elicit more ideas from Ss' background knowledge.
 -T encourages Ss to talk about volunteer's achievements. Tell them to volunteer to charities in the discussion.
 - Ss stand up to say individually
 - Feedback and comment slightly
 - Lead into the lesson.
2. Contents: 
Teacher's activities
Students' activities
Activity 1: Read the following phrases. Write R if it expresses a reason why people volunteer and A if expresses a volunteer activity. (8m)
Aim: Ss get more words related to the topic
Method: Work individually
Have you ever taken part in campaigns to help people with disabilities?
Why do you volunteer to help people?
How can you help people in need?
T: Write Get involved! On the board and give Ss time to discuss the phrase.
Ask:
Explain the activity aims to differentiate between the notions "reason" and "activity"
Have Ss read the phrases, and check answers as a class
-Ss: Work individually to give answer.
-Discuss with the partner.
-Read the phrases.
Keys suggested.
1. R; 2. A; 3. R; 4. R; 5.A
Activity 2: (12m) Complete the interview
Aims: Ss understand about the principal school.
Methods: Work in pairs
T: Explain the context and ask Ss to read through the phrases in the box.
Have Ss work in pairs to fill the gaps in the interview.
Check answers as a class and give feedback.
Allow enough time for Ss to read the interview individually before they practice in pairs.
Monitor the activity and select some pairs to role-play the conversation in front of the class.
Ss: Read through the phrases in the box.
Work in pairs to fill the gaps in the interview.
Listen
Read the interview individually before they practice in pairs.
Role-play the conversation in front of the class.
Keys suggested.
volunteer position
special school
change people's lives
in the past
improve coordination
clearly and effectively
Activity 3: (12m) Make a similar interview
Aims: Ss know how to make a similar interview to give theirs opinion about the most important life skill.
Methods: Work in pairs
T: Ask Ss to read the instructions carefully, then have them go through the information about Nguyen Dinh Chieu School and Nhan Chinh School.
Ask sts to prepare the reason why they want to volunteer, and what they can do. Tell Ss that they can use suggestions in Activity 1.
Have Ss work in pairs to share their ideas and suggestions.
Choose one or two pairs to role-play their conversation in front of the class.
Ss: Read the instructions carefully, then have them go through the information about Nguyen Dinh Chieu School and Nhan Chinh School.
Prepare the reason why they want to volunteer, and what they can do. 
Work in pairs to share their ideas and suggestions.
One or two pairs to role-play their conversation in front of the class.
3. Consolidation and homework 
a. Consolidation: (3m)
- Summarize the main points: 
- Reasons for getting involved in donating to charities and supporting disabled children, what people can do for the society and people with disabilities.
- Lexical items: disability, blind, deaf, dumb, get around, integrate, campaign, charity, donate, coach, cognitive impairment.
b. Homework: (2m)
- Practice the tasks
- Prepare for the next lesson

Tài liệu đính kèm:
giao_an_tieng_anh_lop_11_thi_diem_unit_4_caring_for_those_in.docx