Giáo án Tiếng Anh Lớp 11 - Unit 3: A party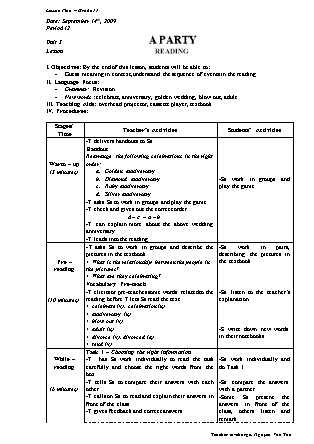 I. Objectives: By the end of this lesson, students will be able to:
- Guess meaning in context, understand the sequence of events in the reading.
II. Language Focus:
- Grammar: Revision
- New words: celebrate, anniversary, golden wedding, blow out, adult . . .
III. Teaching Aids: overhead projector, cassette player, textbook . . . .
Bạn đang xem tài liệu "Giáo án Tiếng Anh Lớp 11 - Unit 3: A party", để tải tài liệu gốc về máy bạn click vào nút DOWNLOAD ở trên
Date: September 14th, 2009
Period 12
Unit 3	 A PARTY
Lesson 	 READING
I. Objectives: By the end of this lesson, students will be able to:
Guess meaning in context, understand the sequence of events in the reading. 
II. Language Focus:
Grammar: Revision 
New words: celebrate, anniversary, golden wedding, blow out, adult . . . 
III. Teaching Aids: overhead projector, cassette player, textbook . . . .
IV. Procedures:	
Stages/
Time
Teacher's Activities
Students' Activities
Warm – up
(5 minutes)
-T delivers handouts to Ss.
Handout
Rearrange the following celebrations in the right order:
Golden anniversary
Diamond anniversary
Ruby anniversary
Silver anniversary
-T asks Ss to work in groups and play the game.
-T check and gives out the correct order.
 d – c – a – b 
-T can explain more about the above wedding anniversary. 
-T leads into the reading. 
-Ss work in groups and play the game. 
Pre –
reading
(10 minutes)
-T asks Ss to work in groups and describe the pictures in the textbook
+ What is the relationship between the people in the pictures?
+ What are they celebrating?
Vocabulary Pre-teach
-T elicits or pre-teaches some words related to the reading before T lets Ss read the text. 
+ celebrate (v), celebration (n)
+ anniversary (n)
+ blow out (v)
+ adult (n) 
+ divorce (v), divorced (a)
+ tend (v) 
-Ss work in pairs, describing the pictures in the textbook.
-Ss listen to the teacher's explanation. 
-S write down new words in their notebooks. 
While – reading
(6 minutes)
Task 1 – Choosing the right information 
-T has Ss work individually to read the task carefully and choose the right words from the box. 
-T tells Ss to compare their answers with each other. 
-T calls on Ss to read and explain their answers in front of the class. 
-T gives feedback and correct answers. 
* Suggested answers: 
1. Birthdays
2. Both
3. Both
4. Birthdays
5. Wedding Anniversary
6. Wedding Anniversary
7. Birthdays
-Ss work individually and do Task 1. 
-Ss compare the answers with a partner. 
-Some Ss present the answers in front of the class, others listen and remark.
(7 minutes)
Task 2 – Finding out the wrong words in the sentences. 
-T has Ss work in pairs to do Task 2. 
-T goes around the class and provides help if necessary.
-T calls on some pairs to act out the activity in front of the class.
-T comments and gives the suggested answers. 
* Suggested answers:
1. eighth à seventh
2. makes à eats
3. food à presents
4. anniversary à ages
5. months à years
6. 5th à 50th
7. silver à golden
-Ss work in pairs.
-Ss present their answers in front of the class. 
-Ss listen T's comment and write down the correct answers. 
Post – reading
(7 minutes)
Group discussion
-T keeps Ss in groups and asks them to discuss the questions presented in the textbook.
+ Where do you prefer to celebrate your
 birthday, 
 at home or in the restaurant? Why?
+ Do you parents celebrate their wedding
 anniversary?
+ Are you going to celebrate your wedding
 anniversary in the future?
-T calls on some Ss to give short talks on the given topic.
-Ss work in groups 
-Ss present in front of the class. 
Homework
(3 minutes)
-T summarises the main points in the lesson. 
-T asks Ss to learn all of the new words by heart 
 and prepare SPEAKING for the next period. 
- Ss listen and take notes. 
Date: September 16th, 2009
Period 13
Unit 3(cont.) A PARTY
Lesson 	 SPEAKING
I. Objectives: By the end of this lesson, students will be able to:
talk about parties and how to plan parties. 
II. Language Focus:
Grammar: 
New words: 
III. Teaching Aids: textbooks, pictures . . . .
IV. Procedures:
Stages/Time
Teacher's Activities
Students' Activities
Warm – up
(7 minutes)
-T asks Ss to work in groups and complete the word map with words from the box and add two more words to each category.
coloured lights, dancing, dress, milk, pizzas
Decoration
Activites
Special food & drink 
Clothes
Parties
* Suggested answers:
Decoration: flowers, balloons, coloured lights. . .
Activities: singing, playing games, dancing . . . 
Clothes: suit, skirt, jeans, T-shirt, dress . . . 
Special food/drink: fruit juice, mineral water, coke, meat, hot-dog, bread, milk, pizza
-Ss work in groups 
Pre – speaking
(10 minutes)
Task 1
-T asks Ss to work individually and do Task 1.
-T goes around and helps Ss when necessary.
-T calls on some Ss to present their answers.
-T gives feedback.
-Ss work in pairs and do Task 1.
While – speaking
(7 minutes)
Task 2
-T asks Ss to work in pairs to tell their partners about the party. 
-T goes around the class and provides help when necessary.
-T asks some pairs to present the conversation in front of the class. 
-T gathers feedbacks and gives out the correct answer. 
-Ss work in pairs.
(8 minutes)
Task 3
-T asks Ss to work in groups of four to do Task 3.
-T helps Ss to make questions for the given information in the textbook.
+ budget: how much do you spend for your party?
+ date & time: when do you organise your party?
+ who to invite: who have been invited to your party/ how many people do you plan to invite who are they?
+ place: where do you organise your party?
+ formal and informal dress: what kinds of clothes do you wear at the party?
+ decorations: how do you decorate your party?
+ entertainment: what activities will be taken place?
+ food and drink: what foods and drinks will be served? 
Post – speaking
(10 minutes)
Task 4
-T asks Ss to work in groups of four, telling about their party and convincing them to come. 
-T goes around the class and provides help when necessary.
-T invites some Ss to present their talks in front of the class.
-T gives feedback and correct mistakes. 
-Ss work in groups. 
Homework
(3 minutes)
-T summarise the main points in the lesson. 
-T asks Ss to write a short paragraph in about 50 words to describe the party they have just organised.
-T requires Ss to prepare LISTENING for the next period. 
-Ss listen and take notes
Date: September 16th, 2009
Period 14
Unit 3(cont.) 	 A PARTY
Lesson 	 LISTENING
I. Objectives: By the end of this lesson, students will be able to:
better listening skill through Gap-filling and True – False exercises, ask and answer
II. Language Focus:
Grammar: revision
New words: revision 
III. Teaching Aids: pictures in the textbook, cassette, extra board . . .	
IV. Procedures:	
Stages/Time
Teacher's Activities
Students' Activities
Warm – up
(5 minutes)
-T has Ss have a look at the picture in the textbook and answer the following questions:
What celebrations are in the pictures?
(A birthday party and a Valentine party)
-T leads into the listening topic. 
-Ss work individually and answer T's questions. 
Pre –listening
(8 minutes)
Ask and answer the questions
-T asks Ss to work in pairs and then ask and answer the questions given in the textbook.
a. When would you like to organise your birthday party? In the day time or in the evening?
b. What foods and drinks are often served at your birthday party? 
c. What activities do you often have at your birthday party?
-T introduces some new words that will happen in the listening task.
+ gathering: coming together
+ decorated 
+ birthday cake (n)
+ restaurant (n)
+ slice (n)
+ icing (n)
+ clap: hit your open hands together
-T helps Ss pronounce these new words.
-Ss work in pairs. 
-Ss work individually to practise pronunciations. 
While-listening
(10 minutes)
Task 1 – True or Flase statements 
-T asks Ss to work individually and do Task 1.
-T plays the tape more than once if necessary.
-T invites some Ss to explain their answers in front of the class. 
-T comments and gives out the correct answers.
* Expected answers: 
1. F (about three in the afternoon) 
2. F (about 20 of us gathering in Mai's house)
3. F (at about 4.30 p.m)
4. T (sleeping)
5. F (only Mai, her mother and the writer) 
- Ss work individually to listen to the tapes and do Task 1 
-Ss give out the results after listening to the tape.
- Ss compare their answers with a friend and present them on the board. 
(10 minutes)
Task 2 – Answering questions
-T asks Ss to work individually to answer the questions about the party. 
-T plays the tape again and asks Ss to do Task 2.
-T plays the tape several times if necessary. 
-T lets Ss discuss the answers with a partner. 
-T comments and gives correct answers.
* Expected answers:
1. She was 16 years old.
2. Because it's noisy and expensive
3. She served them soft drinks and biscuits at the beginning of the party.
4. The birthday cake was brought out at about four thirty.
5. It was beautifully decorated with pink and white icing.
6. They clapped their hands eagerly and sang "Happy birthday".
7. About six in the evening. 
- Ss work in individual to listen to the tapes and do Task 2. 
-Ss give out the results after listening to the tape three times. 
- Ss compare their answers with a friend and present them on the board. 
Post- listening
(8 minutes)
Group-work project
-T asks Ss to work in groups to talk about Mai's birthday party. 
-T goes around the class and helps Ss.
-T invites representatives of some groups to talk about their ideas in front of the class. 
-T asks for comments from other Ss. 
-T gives out his remarks on Ss's presentation. 
-Ss work in groups. 
-Ss present their talk in front of the class. 
-Ss listen to T's remarks.
Homework
(3 minutes)
-T asks Ss to summarize Mai's birthday party. 
-T asks Ss to prepare WRITING for the next period. 
- Ss listen and take notes
Date: September 20th, 2009
Period 15
Unit 3(cont.) A PARTY
Lesson 	 WRITING
I. Objectives: By the end of this lesson, students will be able to:
write an informal letter of invitation. 
II. Language Focus:
Grammar: revision 
New words: revision 
III. Teaching Aids: an extra board, textbook . . . 
IV. Procedures:	
Stages/Time
Teacher's Activities
Students' Activities
Warm-up
(5 minutes)
-T asks Ss to work individually and do the exercise designed on the handouts.
Handouts
Read the following expressions and decide what type of letters can go with them
a. George and I are having a party on Saturday, and we'd love you to come.
b. Let us know if you can come.
* Suggested answers: 
Letter of invitation
-Ss close the books, doing the exercises. 
-Ss go to the board and write their sentence. 
Pre-writing
(7minutes)
Task 1+2
-T asks Ss to work in pairs, ask and answer the questions in the textbooks.
-Then T requires Ss to do Task 2, filling in the gaps with suitable information. 
-T goes around and helps Ss do the two tasks.
-T calls on some Ss to present their answers, while others remark.
-T corrects mistake and gives answers.
* Suggested answers:
1. at my house
2. to come
3. refreshments
4. to cook
5. winners
6. by Monday
-Ss work in pairs 
While-writing
(15minutes)
Task 3 - Writing a letter of invitation 
-T asks Ss to work individually, using the letter in Task 2 as a models and basing on the given questions in Task 3.
-T encourages Ss to try to find out the ideas to support the letter. 
-T asks Ss to take peer correction with others. 
-T goes around the class and provides help when necessary.
-T comments and gives out the models. 
-Ss work individually.
-Ss exchange their writing with other pairs. 
-Ss present their writing on extra boards. 
Post- writing
(15 minutes)
Telling story
-T has Ss work in groups of four to tell about a party they took part in. 
-T calls on some representatives of groups to present their discussion in front of the class. 
-T goes around the class, corrects mistakes and gives feedback. 
-Ss work in groups. 
Homework
(3 minutes)
-T summarise the main points in the lesson. 
-T asks students to continue writing their letters if it hasn't been finished yet. 
-T asks students to prepare Language Focus for next period. 
-Ss listen and take notes
Date: September 22nd, 2009
Period 16
Unit 3(cont.) A PARTY
Lesson 	 LANGUAGE FOCUS
I. Objectives: By the end of this lesson, students will be able to:
distinguish and pronounce the sound / l /, / r / and / h / correctly.
master the use of infinitive and gerund, passive infinitive and gerund fluently.
II. Language Focus:
Grammar: as the above 
New words: 
III. Teaching Aids: Textbooks	
IV. Procedures:	
Stages/Time
Teacher's Activities
Students' Activities
Warm-up
(5 minutes)
-T asks Ss to sing a song to make class fun before entering the new lesson. 
-Whole class 
Pro-nunciation
(7 minutes)
Activity 1 – Listen and repeat
-T demonstrates the sounds / l /, / r / and / h / by pronouncing them exactly and clearly.
-T instructs the ways to pronounce three sounds. 
-T asks Ss to pronounce the sounds several times.
-T makes sure that Ss are aware of the difference between the three sounds. 
Activity 2 – Practise these sentences
-T plays the tape and asks them to repeat. 
-T calls on some Ss to repeat the sounds clearly and slowly.
-T asks Ss to work in pairs and practise the sentences.
-T introduces peer correction.
-T goes around the class and provides help if necessary. 
 -Ss observe and listen to teacher's guidance. 
-Ss listen. 
-Ss practise pronuncation. 
-Ss listen carefully & work in pairs to read the sentences. 
Grammar
(10 minutes)
Exercise 1 – Infinitive and gerund
-T write many verbs on the board and then asks Ss to decide which verbs can be followed by "to infinitive"/ or "gerund"
-T requires Ss to work in pairs and do Exercise 1.
-T asks Ss to compare their answers with other pairs.
-T gives feedback and correct answers.
* Suggested answers:
1. having
2. getting
3. to tell
4. practising
5. to see
-Ss work in pairs and do exercise 1. 
(10 minutes)
Exercise 2 – Passive infinitive
-T helps Ss review passive infinitive and passive gerund.
1. I didn't expect to be invited to his party.
 passive infinitive
2. I appreciated being invited to his part.
 passive gerund
-T requires Ss to work in pairs and do Exercise 2.
-T asks Ss to compare their answers with other pairs.
-T gives feedback and correct answers.
* Suggested answers:
1. B; 2. A; 3. B; 4. B; 5. A
- Ss listen to teacher's explanations and take notes.(Whole class) 
-Ss work in pairs, doing the exercise, then exchange the results with a partner to take peer correction. 
- Ss listen and take notes.
(10 minutes)
Exercise 3 – Passive infinitive and gerund
-T asks Ss to work individually and practise doing Exercise 3.
-T goes around and gives helps to Ss.
-T asks Ss to compare their results with others.
-T gives feeback and correct answers. 
* Suggested answers:
1 – D; 2 – C; 3 – B; 4 – B; 5 – C
- Ss listen to teacher's explanations and take notes.(Whole class) 
-Ss work individually, doing the exercise, then exchange the results with a partner to take peer correction. 
- Ss listen and take notes.
Homework
(3 minutes)
- T asks Ss to continue doing the remaning exercises. 
- T asks Ss to prepare UNIT 4
-Ss listen and take notes

Tài liệu đính kèm:
giao_an_tieng_anh_lop_11_unit_3_a_party.doc