Giáo án Tiếng Anh 11 - Học kì I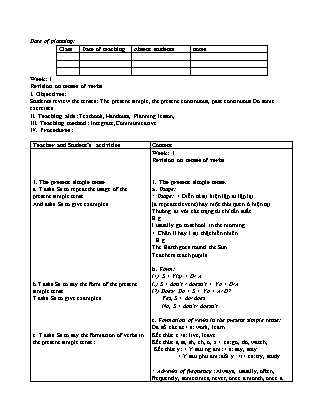 Revision on tenses of verbs
I. Objectives:
Students review the tenses: The present simple, the present continuous, past continuous.Do some exercises
II. Teaching aids: Textbook, Handouts, Planning lesson,
III. Teaching method: Integrate, Communicative
IV. Procedures:
Teacher and Student's activities Content
Bạn đang xem
20 trang mẫu
của tài liệu
"Giáo án Tiếng Anh 11 - Học kì I"
, để tải tài liệu gốc về máy bạn click vào nút
DOWNLOAD
ở trên
Date of planning:	 	
Class
Date of teaching
Absent students
notes
Week: 1	
Revision on tenses of verbs
I. Objectives:
Students review the tenses: The present simple, the present continuous, past continuous.Do some exercises
II. Teaching aids: Textbook, Handouts, Planning lesson,
III. Teaching method: Integrate, Communicative
IV. Procedures:
Teacher and Student's activities
Content
1. The present simple tense
a. T asks Ss to repeat the usage of the present simple tense.
And asks Ss to give examples.
b.T asks Ss to say the form of the present simple tense.
T asks Ss to give examples.
c. T asks Ss to say the formation of verbs in the present simple tense:
T asks Ss to give some adverbs of frequency.
T asks Ss to say the usage and position of adverbs of frequency.
T asks Ss to give examples.
T asks Ss to work in groups.
2. The present continuous tense
T asks Ss to say the usage of the present continuous tense.
T asks Ss to give examples.
T asks Ss to say the form of the present continuous tense.
T asks Ss to give examples.
T asks Ss to say the formation of verbs in the present continuous tense.
T asks Ss to give examples.
T asks Ss to work in groups.
T conducts the correction. 
Ss take notes and listen to the teacher, do the task
Week: 1
Revision on tenses of verbs
1. The present simple tense.
a. Usage:
* Usage: + Diễn tả sự kiện lặp đi lặp lại 
(a repeated event) hay một thói quen ở hiện tại. Thường đi với các trạng từ chỉ tần suất. 
E.g
I usually go to school in the morning.
+ Chân lí hay 1 sự thật hiển nhiên.
 E.g
The Earth goes round the Sun.
Teachers teach pupils.
b. Form:
(+) S + V(s) + O/ A
(.) S + don't / doesn't + Vo + O/A
(?) Does/ Do + S + Vo + A/ O?
 Yes, S + do/ does
 No, S + don't/ doesn't
c. Formation of verbs in the present simple tense:
Đa số các đt + s: work, learn
Kết thúc e +s: live, leave
Kết thúc s, ss, sh, ch, o, x + es: go, do, watch, 
 Kết thúc y: + Y sau ng.am: + s: say, stay
 + Y sau phu am: đổi y..>i+ es: try, study
* Adverbs of frequency: Always, usually, often, frequently, sometimes, never, once a month, once a year 
* Usage: chỉ mức độ thường xuyên của hành động.
 * Position: trước động từ thường và sau động từ to be.
E.g
I am sometimes fed up with learning English.
He usually gets up at 6.
. Ss work in groups.
* Exercise 1: Supply the correct form of the verbs in brackets.
1. The Sun (rise) ..in the east.
2. Bees (make) ..honey.
3. Vegetarians (not eat) meat.
4. We usually ( go) to school in the morning.
5. My mother never (get) .up late.
. Conduct the correction.
* Suggested answers:
rises / make /don't eat /goes /gets
2. The present continuous tense.
a. Usage:
+ Diễn tả hành động đang xảy ra tại thời điểm nói.
E.g
I am speaking English now.
+ Hành động xảy ra xung quanh thời điểm nói.
 E.g
They are watching an interesting film this month.
+ Kế hoạch trong tương lai.
E.g
We are leaving next week.
b. Form:
 (+) S + be + V.ing + O/ A
(.)S + be not + V.ing + O/ A
(?) Be + S + V.ing + A/ O?
 Yes, S + be
 No, S + be not
c. Formation of verbs in the present continuous tense.
. Đa số các đt + ing: work, learn
. Kết thúc e bỏ e + ing: live, leave
. Nhân đôi phụ âm cuối: run, swim .
* Ss give examples.
Exercise 2: Supply the correct form of the verbs in brackets.
1. "You (work) ..hard today."
2. I (look) for Jane. Do you know where is she?
3. We can't go out. It (rain) 
4. Hurry! The bus (come) ..I (not want) to miss it.
5. Listen! Somebody (sing) .
6. How often do you (read) a newspaper ?
7. The Sun always (rise) in the east. Look! It (rise) now.
8. I (hear). you: I know what you (say) ..
9. The concert (start) ..at 7.30 this evening.
10. An, we(go) to town this afternoon.
11. She (have) . ..coffee for breakfast every morning.
* Suggested answers:
1. are working 2. am looking
3. is raining 4. is coming. don't want
5. is singing 6. read
7. rises is rising 8. hear...are saying 
9. starts 10. are going
11. has
Home work: review tenses
Comment: 
Date of planning:	 	
Class
Date of teaching
Absent students
notes
Week: 2	Revision on tenses of verbs
I. Objectives:
Students review the tenses: The Past simple, past continuous.
Do some exercises
II. Teaching aids: Textbook, Handouts, Planning lesson,
III. Teaching method: Integrate, Communicative
IV. Procedures:
Teacher and Student's activities
Content
1. The simple past tense and the past perfect tense
T asks Ss to say the usage of the simple past tense the past perfect tense.
T asks Ss to give examples.
T asks Ss to say the form of the simple past tense, the past perfect tense.
T asks Ss to give examples.
T asks Ss to say the formation of verb in the simple past tense the past perfect tense.
T asks Ss to give examples.
T conducts the correction.
Ss take notes.
2. The past continuous tense
T asks Ss to say the usage of the past continuous tense.
T asks Ss to give examples.
T asks Ss to say the form of the past continuous tense.
T asks Ss to give examples.
T asks Ss to say the formation of verbs in the present continuous tense.
T asks Ss to give examples.
Ss work in groups.
T conducts the correction. 
Ss take notes.
Week: 2
Revision on tenses of verbs
1. The simple past tense and the past perfect tense.
a. Usage:
(QKĐ) + Diễn tả hành động xảy ra trong quá khứ và chấm dứt trong quá khứ.
E.g
He lived in Yen Thuy for 20 years.
I met her yesterday.
( QKHT) + Diễn tả hành động xảy ra trong quá khứ và chấm dứt trước 1 thời điểm hoặc một khoảng thời gian trong quá khứ.
E.g
When I came home he had gone to bed.
b. Form:
* QKĐ. 
(+) S + Ved/2 + O/ A
(.)S + did+not + Vo + O/ A
(?) Did + S + Vo + A/ O?
 Yes, S + did
 No, S +did + not
* QKHT 
(+) S +had + Ved/3 + O/ A
(.)S +had +not + Ved/3 + O/ A
(?) Had + S + Ved/3 + A/ O?
 Yes, S + had
 No, S + had + not
c. Formation of verbs in the simple past tense the past perfect tense.
* QKĐ. 
Đa số các đt + ed: work, learn
Kết thúc e + d: live, leave
Nhân đôi phụ âm cuối: stop, rob, beg 
Động từ bất quy tắc: write.wrote, read.read, run . ran 
* QKHT 
Như động từ ở thì HTHT.
 Ss give examples.
Ss work in pairs.
* Exercise 1: Supply the correct form of the verbs in brackets.
. Ask Ss to work in pairs.
1. I suddenly remembered I (leave) my wallet on the bus.
2. Yesterday I (thank) .her for what she (do) 
3. When I got to the office, I (realize) .. that I (forget) ..to lock the door.
4. When they (finish) ..their work, they (go) home.
5. I ( call) .you at 8 o'clock but you (just/ go) .out.
6. I took my family to Paris last year, I (be) ..as a student, so I (know ) . my way round.
7. When I (listen) .the news, I (go) to bed.
* Suggested answers:
1. had left/ 2. thanked . had done/ 3. realized – had forgot 
4. had finished . went/ 5. called – had just gone 
6. had been . knew/ 7. had listened – went
2. The past continuous tense.
a. Usage:
+ Diễn tả hành động đang xảy ra tại thời điểm xác định trong quá khứ.
E.g
I was speaking English at 7 a.m.
+ Hành động đang xảy ra thì một hành động khác xen vào.
 E.g
They were watching an interesting film when the light went out..
b. Form:
 (+) S + was/ were + V.ing + O/ A
(.)S + was/ were not + V.ing + O/ A
(?) Be + S + V.ing + A/ O?
 Yes, S + was/ were
 No, S + was/ were
c. Formation of verbs in the past continuous tense.
. Đa số các đt + ing: work, learn
. Kết thúc e bỏ e + ing: live, leave
. Nhân đôi phụ âm cuối: run, swim .
* Ss give examples.
* Exercise 2: Supply the correct form of the verbs in brackets.
T: . Ask Ss to work in groups.
1. Yesterday I (meet) ..Lan at the station. 
2. At 8 o'clock yesterday, my parents (read) ..books.
3. Two days ago, the pupils (pass) a difficult exam.
4. I'll introduce my girlfriend to my family when she (come) to visit me.
5. I (learn) ..how to ride a bicycle when I was 5 years old.
6. I met him on the stair as I (come) up.
 A. B. is coming C. came 
7. At 6 P.m , Bill sat down at the table and began to eat. He (eat) ..dinner at 6: 05
8. While Bill (eat) ..dinner, Alicia (come) ..through the door.
 9. While he (walk) ..to class, he (see) .Mrs. Smith.
10. John (write) ..his report last night.
* Suggested answers:
1. met/ 2. were reading/ 3. passed / 4. is coming/ 5. learnt 
6. was coming/ 7. was eating/ 8. was eating—came 
9. was walking—saw/ 10. wrote 
Home work: . Summarize the main points.
 Assign homework.
Comment: 
Date of planning:	 	
Class
Date of teaching
Absent students
notes
Week: 3
VERB PATTERNS
I. Objectives:
T introduces about verb patterns
II. Teaching aids: Textbook, Handouts, Planning lesson,
III. Teaching method: Integrate, Communicative
IV. Procedures:
Teacher and Students' activities
Board Display
T introduces some kinds of the verb patterns.
T gives the details of each kinds 
(form )
T asks Ss to give the examples
Ss listen to the T and take notes on the note-book 
Week: 3
VERB PATTERNS
TO-INFINITIVE ( To Vo)
Sau 1 số động từ: plan, decide, invite, hope,manage, refuse, fail, ect 
Sau tính từ .
BARE INFINITIVE (V o)
Make/let/had better/would rather, ect 
GERUND ( V-ing)
Sau: enjoy, deny, avoid, like, hate, love, ect 
Sau giới từ .
VERBS OF PERCEPTION(V giác quan, cảm giác)
see, hear, feel, smell, taste, notice, watch 
	S +	V	+ O + Inf (ám chỉ 1 việc đã hoàn thành )
	 V-ing (ám chỉ một việc còn đang tiếp diễn )
CAUSATIVE FORM( thể truyền khiến)- Have / get
Active: 	S + HAVE + someboby + V-Inf + something
 = S + GET + somebody + To-inf
Passive: 	S + HAVE + something + P.P
	 = S + GET + something + P.P
PARTICIPLES
START / BEGIN / CONTINUE + TO-INF/ V-ING	(no meaning change)
 HELP + O + TO-INF / INF(no meaning change)
ALLOW / PERMIT / RECOMMEND / ADVISE
 S + allow / permit / recommend / advise + O + To-Inf
	S + allow / permit / recommend / advise + V-ing
NEED
	Need + Inf / To-Inf 	(mang nghĩa chủ động)
Need + V-ing 	(mang nghĩa chủ động)
 Note: need / require / want + Ving = Passive voice
USED TO, BE USED TO 
 Used to + Inf : đã từng (thói quen trong quá khứ mà bây giờ không còn nữa)
	Be used to + V-ing: quen với (thói quen ở hiện tại)
	Get used to + V-ing: trở nên quen với 
	Be used to + Inf = Be used for + V-ing: được sử dụng để 
STOP – TRY – REMEMBER – FORGET - REGRET
- stop + V-ing: ngừng hẳn hành động đang làm
Ex: Stop making noise, please!
- stop + To-inf: ngừng lại để làm việc khác
Ex: She stopped to talk to him.
- try + V-ing: thử làm điều gì
Ex:He tries writing with his left hand.
- try + To-inf: cố gắng làm việc gì
Ex: We try to get high marks.
- remember +V-ing: nhớ đã làm gì
Ex: I remember locking the door before I left.
- remember + To-inf: nhớ phải làm gì
Ex: I remember to call him.
- forget + V-ing: quên điều gì đã làm
Ex: I forgot meeting her.
- forget + To-inf: quên làm điều gì 
Ex: I forgot to shut the window.
- regret + V-ing: hối tiếc điều gì đã làm
Ex: I regret talking to him so impolitely.
- regret + To-inf: hối tiếc phải làm gì 
Ex: I regret to tell you that you failed the exam.
 Date of planning:	 	
Class
Date of teaching
Absent students
notes
 Week: 4	
VERB PATTERNS
I. Objectives:
. Ss do more exercises about verb patterns
II. Teaching aids: Textbook, Handouts, Planning lesson,
III. Teaching method: Integrate, Communicative
IV. Procedures:
Teacher and Student's activities
Content
Grammar
T asks Ss to repeat the form of the verbs.
T gives the handouts
Ss do the exercise
T goes around and give the help
T corrects
Exercise:
I. Supply the correct verb form: 
1. Don't forget ......... (phone) your mother 
2. I love ......... (be) on my own and ......... (listen) to music 
3. Would you like ......... (go) to the beach this afternoon? 
4. I enjoy ......... (read) your letters very much 
5. We like ......... (live) here but we miss ......... (talk) to our old friends 
6. Mathew suggested .... (go) out for a meal but I wanted ......... (stay) at home 
7. She couldn't ......... (reply) because she didn't know what to say 
8. My friend let me ......... (drive) her car 
9. She doesn't allow ......... (smoke) in the house 
10. I wish that dog would ......... (stop) ......... (bark). It's driving me mad 
11. The film was very sad. It made me ......... (cry) 
12. Can you remind me ......... (buy) some coffee when we go out? 
13. I tried ......... (give) up ......... (take) sugar in my tea but I didn't like it 
14. I am hoping ......... (stop) ......... (work) at the factory soon 
15. Her mother makes her ......... (clean) her room 
II. Rewrite the second sentence in such a way that it has the same meaning as the one before it
1. I don't find it difficult to get up early in the morning
I am used
2. Please don't play your music so loudly
Would you mind . ?
3. Ba is interested in telling jokes
Ba enjoys
4. Don't let me forget to phone my sister
Remind
5. Would you mind turning the radio down?
Could you
6. Please don't interrupt me all the time
Would you mind 
7. We don't eat at home. We went to a restaurant instead
Instead of 
8. He looks order when he wears glasses
Glasses make
9. My father said I could use his car
My father allowed
10. Sue is excited about going to Spain on holiday
 Home work: .Ss do the rest of the handout
 Comment: 
Date of planning: 	 	
Class
Date of teaching
Absent students
Notes
Week: 5
GERUND and INFINITIVE
I. Objectives:
By the end of the lesson, Students will be able to review and use the gerund and infinitives.
II. Teaching aids: Textbook, Handouts, Planning lesson,
III. Teaching method: Integrate, Communicative
IV. Procedures:
Teacher's and Student's activities
Content
Grammar
-T asks Ss to repeat the form of gerund and infinitives and the use of them.
-T gives the handouts
-Ss do the exercise
-T corrects.
-Ss take notes
GERUND and INFINITIVE
I. TO-INFINITIVE:
1. Làm chủ ngữ: Ex: To visit her is all that I desired.
2. Làm bổ ngữ: Ex: What I like is to swim in the sea and then to lie on the warm sand.
3. Sau các động từ sau:V + To-Inf
Accept 
Agree
Arrange
Attempt
Decide
Deserve
Determine
Desire
Expect
Fail
Hesitate
Hope
Intend
Learn
Manage
Mean (có ý định)
Neglect
Offer
Plan
Prefer
Pretend
Prepare
Promise
Refuse
Seem
Threaten
Try (cố gắng)
Want
Wish
Would like
To-Inf cũng được sử dụng sau các ngữ động từ sau:
Make up one's mind (quyết định) + To-Inf	
Make sure (chắc chắn) + To-Inf
Have a chance + To-Inf = Have an opportunity + To-Inf
	V + O + To-Inf
Advise
Allow
Ask
Assume (thừa nhận)
Beg
Consider
Enable
Encourage
Expect
Forbid
Force
Invite
Order
Permit
Persuade
Prefer
Teach
Tell
Urge (thúc giục)
Warn 
4. Sau các tính từ:
	S + be + Adj + To-Inf
	It + be + Adj + (for sb) + To-Inf	
It's + adj + to V = Ving + to be + adj 
5. Sau những từ hỏi như: WHAT, WHO, WHERE, WHEN, WHY, WHICH 
6. được dùng để chỉ mục đích:
7. Được dùng trong các cấu trúc sau:
	It takes + somebody + (time) + To-inf
	S + V + TOO + adj/adv + (for sb) + To-inf
	S + V + adj/adv + ENOUGH + (for sb) + To-inf
S + V + ENOUGH + Noun + (for sb) + To-inf
II. V-ING
1. Làm chủ ngữ: Ex: Dancing bored him 
2. Làm bổ ngữ: Ex: Her hobby is painting 
3. Sau các động từ sau:
	V + V-ing
Admit
Avoid
Appreciate consider
delay
deny 
enjoy
finish 
mention 
mind
miss 
postpone practise 
quit 
recall
risk 
suggest imagine 
keep
like
dislike
love
hate
V + O + V-ing
call 
catch
Discover
find
imagine 
keep
leave
feel
hear 
Note: S + SPEND/WASTE + (time/money) + V-ing / on something.
 PREFER + V-ing + TO + V-ing = WOULD RATHER + Inf + THAN + Inf
4. Sau giới từ: 
a. Verbs + prep + V-ing : to thank for, to look forward to, to insist on, to give up, to put off, to forgive sb for, to prevent sb from, to succeed in, to appologize to sb for 
b. to be + adj + prep + Ving :to be busy with, to be afraid of , to be good at, to be bad at, to be interested in = to be fond of = to be keen on 
5. Sau các thành ngữ như:
It's no good + V-ing :(Chẳng tốt) 
be worth + V-ing
It's no use + V-ing :(Chẳng ích gì) 	 be busy + V-ing
can't bear + V-ing = can't stand + V-ing	have difficulty (in) + V-ing
can't help + V-ing
6. Sau các từ / cụm từ : when, while, before, after, without, because of, instead of, in spite of, despite 
7. Sau cấu trúc "go + Ving" 
III. Distinguish the infinitive and gerund
1.The to infinitive and ing never mean the same when we use after theses verbs:
Verb
Gerund
To.infinitive
1. to remember
Do it, then be aware of it
Think about it, and then do it
2. to forget 
Not remember doing sth 
Not remember to do sth 
3. to regret
Do it, then feel bad
Feel bad, but then do it. 
4. to try
Do sth as an experiment or test
Make an effort to do sth
5. to stop
To give up an action
To end an action to begin another
2.The to.inf and V.ing has the same meaning after some verbs
Begin start like dislike Love
IV. Exercise 
1. Supply the correct form of the word in brackets.
My brother stopped (go) ......... to the youth club because he is very busy.
She was late because she stopped (help) ........ some children cross the street. 
Where are the keys? I remember (lay) ........ them on this table this morning. 
Remember (visit) .......... me when you come here. 
I am sorry I have forgotten (do) ......... what you said to me this morning. 
I will never forget (work) ......... with you. You have helped me a lot. 
I regret (go) ......... out last night. 
I regret (inform) ......... you that your application hasn't been accepted. 
When I arrived, he was trying (start) ......... his new car, there was something wrong with the machine. He even tried (work) ......... it downhill twice, but that didn't work either.
I've lost my keys. Have you remember (see)........... them today?
2. Gerund and infinitive
If you go on (let) your dog (chase) cars he'll end by (be) run over.
I prefer (drive) to (be driven).
I advised you (start) (look) for a flat at once.
Would you mind (lend) me 5$? I forgot (cash) a cheque.
(Lie) on this beach is much more pleasant than (sit) in the office.
She likes her children (go) to the dentist every six months.
By (neglect) (take) ordinary precautions he endangered the life of his crew.
An instructor is coming (show) us how (use) the aqualung.
I have no intention of (go) to that film; I couldn't bear (see) my favourite actress in such a dreadful part.
I suggest (telephone) the hospital before (ask) the police (look) for him.
After (hear) the conditions I decide (not enter) for the competition.
Some people seem (have) a passion for (write) the newspaper.
He expects me (answer) by return but I have no intentions of (reply) at all.
I tried (explain) to him but he refused (listen) and went on (grumble).
By (offer) enormous wages he is persuading men (leave) their present jobs and (work) for him.
He postponed (make) a decision till it was too late (do) anything.
Image (have) (get) up at five a.m. everyday.
Try (forget) it; it isn't worth (worry) about.
There is no point in (remain) in a dangerous place if you can't do anything (help) the people who (stay) there.
The horse won't be well enough (run) in tomorrow's race. He doesn't seem (have recovered) from his long journey.
At first I enjoyed (listen) to him but after a while I got tired of (hear) the same story again and again.
It is usually easier (learn) a subject by (read) books than by (listen) to the lectures.
It wouldn't be safe (start) down now; we'll have (wait) till the mist clears.
After (discuss) the matter for an hour the committee adjourned without (have reached) any decision.
It's not much use (have) a bicycle if you don't know how (ride) it.
He didn't dare (leave) the house because he was afraid of (meet) someone who might (recognize) him.
When did you start (learn ) ..French
Do you like(work) .. in a team. 
I don't mind (help) you if you're tired.
Home work: .Ss do the rest of the handout
Comment: 
Date of planning: 	 	
Class
Date of teaching
Absent students
Notes
Week 6: 
GERUND and INFINITIVES In Pasive
I. Objectives:
By the end of the lesson, Students will be able to review and use the gerund and infinitives in pasive
II. Teaching aids: Textbook, Handouts, Planning lesson,
III. Teaching method: Integrate, Communicative
IV. Procedures:
Teacher and Students' activities
Board Display
Infinitives 
T introduces the form of passive infinitives .
T asks Ss to give the examples.
Ss listen, give eg and take notes
Gerund 
T introduces the form of passive gerund 
Ss listen, give eg and take notes
T gives exercises 
Ss work in pair and do the task 
GERUND and INFINITIVES In Pasive
Infinitives 
Active : TO Vinf
Pasive : To be PII
- to be going to do --> to be going to be done
- used to do --> used to be done
- to do have to do --> to have to be done 
- to want sb to do sth --> to want sth to be done
- to advise, recommend, urge, order + Direct Object + Infinitive
 --> advise that sb should + be done
 Example: He urged the council to reduce the rates.
 à He urged that the rates should be reduced.
 à The council was/ were urged to reduce the rates 
Gerund 
Active: Ving
Pasive : being PII or having been PII
For example: They suggested banning that advertisements for cigarettes on TV.
à They suggested that advertisements for cigarettes should be banned on TV.
Chú ý: NEED + V-ing /to be done.
 For example: These shoes need polishing
 These shoes need to be polished.
Exercises.
 I. Correct the verbs form. ( Passive Infintive and Gerund)
1. The rest of the money ..( send) to his parents.
2. He was always insisted on his ..(call) Dr.Tuner instead of Mr. Turner.
3. To fetch water before breakfast seemed to me a rule ( break)
4. The bird was lucky that it just missed (catch)
5. Please excuse my .(come) in without ( invite).
6. No one can prevent the plan .. (carry out)
7. This page needs ..( check) again.
8. When he heard the bad news, he stood there . (surprise)
9. The hotel ( build) now beside the park was designed by a group of young men.
10. "Do you have any clothes . ( wash) today?" the maid said.
11. Anne hope ( invite) to join the private club. She could make important business contact there.
12. People like ..( congratulate) when they have worked hard.
 II. Complete the sentences with the correct form GERUND or INFINITIVE.
1. The store ordered ( refund) the money I paid for the book I returned.
2. Don't pretend .( be) what you aren't.
3. I persuaded my brother –in – law not ...( buy) that old car.
4. Annie denied ( throw) the brick through the window.
5. My father expects me ..(get) high marks in school.
6. According to the sign on the restaurant door , all diners are required ..(wear) shirts and shoes.
7. We are planning .. ( visit) several historical sites in Moscow.
8. There appears . (be) no way to change our reservation for the play at this late date.
9. For some strange reasons, I keep .(think) to is Sunday.
10 All the members agreed ..( attend) the emergency meeting.
 III. Rewrite the following sentences.
1. She admitted that she has taken the necklace.
-> She admitted to 
2. I don't intend to tell you my plans.
-> I haven't no intention 
3. " You've stolen my money, Tam" 
-> She accused Tam .
4. Long found it difficult to concentrate on her lesson because of noise.
-> Long had difficulty 
5. " I'm sorry I broke your glass" Hai said.
-> Hai apologized .
6. He tried to escape but the police stopped him.
-> The police prevented him .
7. John began playing the piano ten years ago.
-> John has .
8. I can't possibly work in all this noise!
-> It is impossible 
9. Susan regrets not buying that house.
-> Susan wishes ..
10. Smoking is not allowed on the public buses.
 -> They don't .
Homework: finish all exercises 
Comment : 
Date of planning: 	 	
Class
Date of teaching
Absent students
Notes
Week7: 
GERUND and PRESENT PARTICIPLE
I. Objectives:
By the end of the lesson, Students will be able to review and use GERUND and PRESENT PARTICIPLE 
II. Teaching aids: Textbook, Handouts, Planning lesson,
III. Teaching method: Integrate, Communicative
IV. Procedures:
Teacher and Students' activities
Content
T introduces the form , functions of gerund and present participle 
Ss listen, give examples and take notes.
T gives exercises , Ss work in pairs and do the task
T has some Ss give the answers. T checks and gives remarks
Gerund and Present Participle
1. Gerund (danh đọng từ)- được cấu tào từ Verb+Ingà noun
 Chức năng:
Subject: Swimming in a swimming pool on a hot day is very interesting.
Object : He likes playing football
Complement :.Conservation is safeguarding and preservation of natural resources.
- cũng như danh từ khác, danh động từ đứng sau mạo từ, ttsh,
 Do you mind opening the door?
 The reclaiming is important for farmers.
 Thank you for your coming.
-Gerund đôi khi dùng để tành lập danh từ ghép
 a diving board, driving licence, landing car
2. Present Participle( phân từ hiện tại) được cấu tạo bởi đọng từ + Ing
_ Present participle (V_ing) sau To Be để diễn tả hành động đang xảy ra
 I am studying English now.
- Present Participle ( V_ing) thay thế 1 mđqh
The train arriving at the station is one hour late. ( The train which is arriving at the station is one hour late.)
Present Participle ( V-ing) miêu tả 2 hđ.
 + xảy ra cùng thời điểm, cùng chủ ngữ
 We sat in front of T.V, watching football.
 + xảy ra nối tiếp nhau, cùng chủ ngữ
Closing all the windows and the door carefully, she went to bed.
- Present participle ( V_ ing) dùng như 1 tính từ .
 running water, a boring story 
Present participle dùng trong c.trúc have + sb + V_ing 
 I had him cleaning his bike.
Present Participle.: sau "go"
 go swimming, go fishing.
Present participle ( V_ ing ) sau v giác quan, cảm giác­: see, hear, smell .
 I see him passing my house everyday.
 Present Participle ( V_ ing) sau catch, find, leave, object.
 I caught them stealing my apples.
 He found a tree lying across the road.
 I left her talking to my mother.
Exercises 
I. hoàn thành các câu sau và cho biêt chúng là Gerund hay Present Participle.
1. ( Feel) .. hungry , he went into the kitchen and opened the fridge.
2. My boss spends two hours a day ( travel) .to work
3. ( Swim) . is my favourite sport.
4. One of life's pleasure is ( have) .breakfast in bed.
5. ( Whistle) . to himself, he walked down the road.
6. In spite of ( miss) the train , we arrived on time.
7. They found the money .( lye) on the ground.
8. He was trapped in a (burn) .. house.
9. I'm tired of ( work) eight hours a day.
10. She always puts off (go) to the dentist.
Homework: finish all exercises 
Comment 
Date of planning: 	 	
Class
Date of teaching
Absent students
Notes
Week 8: 
PERFECT GERUND and PRESENT PARTICIPLE
I. Objectives:
By the end of the lesson, Students will be able to review and use perfect gerund and perfect present participle 
II. Teaching aids: Textbook, Handouts, Planning lesson,
III. Teaching method: Integrate, Communicative
IV. Procedures:
Teacher and Students' activities
Content
T introduces the form , functions of perfect gerund and present participle 
Ss listen, give examples and take notes.
T gives exercises , Ss work in pairs and do the task
T has some Ss give the answers. T checks and gives remarks
GERUND and PRESENT PARTICIPLE 
Perfect gerund được dùn thay cho dang hiện tại của đông từ khi chúng ta đề cập đến hành động trong quá khứ 
 The boy was accused of having stolen/ stealing her money.
She apologized for having broken / breaking my vase.
Perfect gerund thường dùng sau DENY
 He denied having stolen her money.
Perfect Participle.( phân từ quá khứ) : Having + PII . 
Dùng nhấn mạnh 1 hđ đã xảy ra và hoàn tất trc 1 hđ khác trong quá khứ
 Having finished all my exercises, I went to bed. 
Exercises 
I. cho dạng đúng của từ trong ngoặc Gerund ,Present Participle, perfect participle. 
She admitted ( kill) her husband.
I reget ( write) her that letter.
I enjoy ( play) tennis with my friends.
Martin denied (see) .. the accused man on the day of the crime.
( Tell) .. me that she would never speak to me again , she picked up her stuff and stormed out of the house.
– Will you enter for the next eloquence contest? 
- (Win) twice , I don't want to try again. Let's give chances to other.
( Improve ) . her English Pia's promotion prospects are much better. 
II. viết lai câu với PerfecParticiple mà nghĩa ko đổi.
1. We switched off the lights before we went to bed.
-> Having switched off the lights, we went to bed.
2. The boy asked his mother's permission and then went out to play.
> 
3. As he had drunk too much, he didn't drive home himself.
> 
4. We have done two tests today, so we are exhausted.
> 
5. She filled the washing machine and switched it on.
 > 
6. She had been to disco the night before and she overslept in the morning.
> 
7. We had worked in the garden all day and were sunburned in the evening.
> 
8. She had not slept for two days and therefore she wasn't able to concentrate.
> 
Homework: finish all exercises 
Comment 
Date of planning:	 	
Class
Date of teaching
Absent students
notes
Week: 9	
REPORTED SPEECH
I. Objectives:
By the end of the lesson, Students will be able to review reported speech.
II. Teaching aids: Textbook, Handouts, Planning lesson,
III. Teaching method: Integrate, Communicative
IV. Procedures:
Teacher's and Student's activities
Content
Grammar
-T repeats the structure by giving examples.
Ss listen and take notes
T delivers handouts, Ss do the exercise
-T corrects
REPORTED SPEECH: STATEMENT
Câu gián tiếp là câu dùng để thuât lại nội dung của lời nói trực tiếp
nếu V của mđ tường thuật dùng ở hiện tại thì khi đổi sang 
Tài liệu đính kèm:
giao_an_tieng_anh_11_hoc_ki_i.docx