Giáo án Tiếng Anh Lớp 11 - Chương trình học kì II - Năm học 2019-2020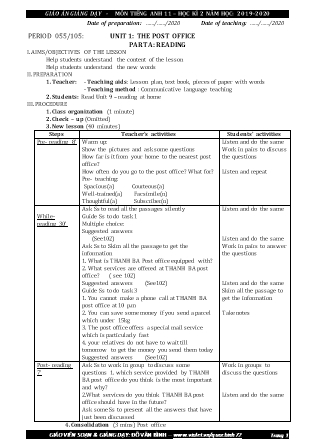 I. AIMS/OBJECTIVES OF THE LESSON
- Students will be able to improve their listening skill through multiple choice and answering questions exercises.
II. PREPARATION
1. Teacher: - Teaching aids: Lesson plan, text book, radio, tape
- Teaching method: Communicative language teaching
2. Students: - Read Unit 9 – listening at home
III. PROCEDURE
1. Class organization (1 minute)
2. Check – up (5 minutes)
3. New lesson (35 minutes)
Stages Teacher's Activities Students' Activities
Pre- Listening (5')
While- Listening
(25')
Post-Listening (10') - Ask students to work in pair and answer the following questions.
1. Is your family on the phone?
2. Does any member of your family have a cellphone? What make is it?
3. What do you think are the advantages and disadvantages of cellphone?
_ Introduce some new words :
 commune communal growth
 digit subscriber/ rural network/ capacity
TASK 1:
-Talk about the content of the passage students are going to listen:
You will hear some information about the development of Vietnam's telephone system over the past few years.
- Ask students to listen to the tape twice and choose the best answer (A, B, C or D).
- Ask students to work in pairs and discuss their answers.
- Play the tape again and give feedback.
TASK 2:
- Ask students to listen again and answer the questions.
- Play the tape twice.
- Ask students to listen and check their own answers, then compare with each other.
- Correct mistakes.
-- Ask representative of each group to talk in front of the class.
- Give remarks and correct mistakes.
Ask them to summarise the main ideas of the listening passage, using their own words. Discuss.
Give oral answers.
Listen and repeat the new words.
Read silently.
Answer key:
1. B 2. D 3.C 4. D 5. C
- Listen and do as instructions.
Answer key:
1. China has the highest growth in the number of telephone subscribers.
2. In the early 1990s, there were only
140,000 telephones in Vietnam.
3. In 1996, the fixed telephone numbers were changed from six to seven digits in Hanoi and Ho Chi Minh City as well as five to six digits in other provinces.
4. In 2001.
5. There are 6,014 communal post offices in Vietnam.
Work in group.
Bạn đang xem
20 trang mẫu
của tài liệu
"Giáo án Tiếng Anh Lớp 11 - Chương trình học kì II - Năm học 2019-2020"
, để tải tài liệu gốc về máy bạn click vào nút
DOWNLOAD
ở trên
Date of preparation: / /2020 	Date of teaching: / /2020
 PERIOD 055/105: UNIT 1: THE POST OFFICE
PART A: READING
I. AIMS/OBJECTIVES OF THE LESSON
Help students understand the content of the lesson
Help students understand the new words
II. PREPARATION
1. Teacher:	- Teaching aids: Lesson plan, text book, pieces of paper with words	- Teaching method: Communicative language teaching
2. Students: Read Unit 9 – reading at home
III. PROCEDURE
1. Class organization (1 minute)
2. Check – up (Omitted)
3. New lesson (40 minutes)
Steps
Teacher's activities
Students' activities
Pre- reading 8'
Warm up:
Show the pictures and ask some questions
How far is it from your home to the nearest post office?
How often do you go to the post office? What for?
Pre- teaching:
 Spacious(a) Courteous(a)
Well-trained(a) Facsimile(n)
Thoughtful(a) Subscriber(n)
Listen and do the same
Work in pairs to discuss the questions
Listen and repeat
While- reading 30'
Ask Ss to read all the passages silently 
Guide Ss to do task 1
Multiple choice:
Suggested answers
 (See102)
Ask Ss to Skim all the passage to get the information 
1. What is THANH BA Post office equipped with?
2. What services are offered at THANH BA post office? ( see 102)
Suggested answers (See102)
Guide Ss to do task 3
1. You cannot make a phone call at THANH BA post office at 10 p.m
2. You can save some money if you send a parcel which under 15kg
3. The post office offers a special mail service which is particularly fast
4. your relatives do not have to wait till tomorrow to get the money you send them today
Suggested answers (See102)
Listen and do the same
Listen and do the same
Work in pairs to answer the questions
Listen and do the same
Skim all the passage to get the information 
Take notes
Post- reading 7'
Ask Ss to work in group to discuss some questions 1. which service provided by THANH BA post office do you think is the most important and why?
2.What services do you think THANH BA post office should have in the future?
Ask some Ss to present all the answers that have just been discussed
Work in groups to discuss the questions
Listen and do the same
4. Consolidation (3 mins) Post office
5. Homework: (1 min)	- New words and phrases
- Talk about the post office
- Read Unit 9 – Speaking at home
IV. SELF-EVALUATION: ..
	----------------------------------------------------------------------------------------------
Date of preparation: / /2020 	Date of teaching: / /2020
 PERIOD 056/105: UNIT 9: THE POST OFFICE
PART B: SPEAKING
I. AIMS/OBJECTIVES OF THE LESSON
By the end of the lesson, students will be able to talk about the services of post office.
Help student practice their speaking skill by working in pairs or groups to solve the given exercises.
II. PREPARATION
1. Teacher:	- Teaching aids: - Lesson plan, text book
- Teaching method: Communicative language teaching
2. Students:	- Read Unit 9 – speaking at home
III. PROCEDURE
1. Class organization (1 minute)
2. Check – up (5 minutes)	- Some Ss go to the board to – write down new words
3. New lesson (35 minutes)
STAGES
TEACHER'S ACTIVITIES
STUDENTS' ACTIVITIES
PRE-SPEAKING
(10')
WHILE –SPEAKING
(20')
POST-SPEAKING 
(15')
WARM-UP :
Give some eliciting questions :
Where do you go when you want to send a letter?
What other services can you get there? 
Can you give the names of some post offices in HCM city?
PRESENTATION :
Introduce the aim of the lesson (practice students' speaking skill with exercises in the topic : services of post office) 
Present new words : (explain the meanings of words and ask Ss to repeat) 
fax (n,v) à fax number 
clerk (n)
install (v) à installation (n) 
fee à monthly fee 
subscribe (v) à subscriber (n)
Flower Telegram Services 
Controlled practice : 
Explain the requirements of provided exercises in text book.
Task 1: Asking and Answering 
Ask Ss to practice in pairs with the given dialogue (one ask – one answer then exchange their role) 
Go around to control their activities.
Ask some pairs to report their work in front of the class. (upgrade the effect of lesson by asking Ss not use their text book to practice the dialogue) 
Correct the mistakes occasionally 
Task 2: Completing a conversation. 
Ask Ss to make new pairs and try to complete the conversation with suggested cues (recommend Ss to work with their own information)
Ask Ss to practice their results with their friends. (exchanging role is necessary) 
Go around to control their activities and help Ss to solve problems.
Call on some pairs to report their work in front of the class. encourage Ss to use their memories 
Correct the mistakes occasionally 
Free practice: Instruct Ss to make a dialogue by themselves. 
Present two situations : 
Subscribing a daily newspaper 
Using Flower Telegram Service to send a greetings card or a bunch of flower on a friend's birthday.
Ask Ss to work in pairs, try to build a conversation for the situation they chose. T should give some suggested information for making a dialogue such as :
Name / demands / address / time / fee ( and Ss should use their own information in building their conversation ) 
Ask Ss to practice the dialogue with their friends.
Call on some pairs to report their work in front of the class. ( encourage Ss to report by their memories ) 
Correct the mistakes occasionally and comment on students' reports 
answer orally 
Take note and repeat 
Work in pair 
Report their work orally.
Work in pairs 
Report their work orally 
Work in pairs 
Report their work orally
4. Consolidation: (3mins) How to describe a person
5. Homework: (1min) 	- Describe your best friend
- Read Unit 2 – Listening at home
IV. SELF-EVALUATION: 
	----------------------------------------------------------------------------------------------
Date of preparation: / /2020 	Date of teaching: / /2020
 PERIOD 057/105: UNIT 9: THE POST OFFICE
PART C: LISTENING
I. AIMS/OBJECTIVES OF THE LESSON
- Students will be able to improve their listening skill through multiple choice and answering questions exercises.
II. PREPARATION
1. Teacher:	- Teaching aids: Lesson plan, text book, radio, tape
- Teaching method: Communicative language teaching
2. Students:	- Read Unit 9 – listening at home
III. PROCEDURE
1. Class organization (1 minute)
2. Check – up (5 minutes)	
3. New lesson (35 minutes)
Stages
Teacher's Activities
Students' Activities
Pre- Listening (5')
While- Listening
(25')
Post-Listening (10')
- Ask students to work in pair and answer the following questions.
1. Is your family on the phone?
2. Does any member of your family have a cellphone? What make is it?
3. What do you think are the advantages and disadvantages of cellphone?
_ Introduce some new words :
 commune communal growth
 digit subscriber/ rural network/ capacity
TASK 1:
-Talk about the content of the passage students are going to listen:
You will hear some information about the development of Vietnam's telephone system over the past few years.
- Ask students to listen to the tape twice and choose the best answer (A, B, C or D).
- Ask students to work in pairs and discuss their answers.
- Play the tape again and give feedback.
TASK 2:
- Ask students to listen again and answer the questions.
- Play the tape twice.
- Ask students to listen and check their own answers, then compare with each other.
- Correct mistakes.
-- Ask representative of each group to talk in front of the class.
- Give remarks and correct mistakes.
Ask them to summarise the main ideas of the listening passage, using their own words.
Discuss.
Give oral answers.
Listen and repeat the new words.
Read silently.
Answer key:
1. B 2. D 3.C 4. D 5. C
- Listen and do as instructions.
Answer key:
1. China has the highest growth in the number of telephone subscribers.
2. In the early 1990s, there were only
140,000 telephones in Vietnam.
3. In 1996, the fixed telephone numbers were changed from six to seven digits in Hanoi and Ho Chi Minh City as well as five to six digits in other provinces.
4. In 2001.
5. There are 6,014 communal post offices in Vietnam.
Work in group.
4. Consolidation (3 mins) Vietnam's telephone system over the past few years.
5. Homework: (1 min)	- words and phrases
- write at least 100 words to describe your best friend.
IV. SELF-EVALUATION: 
	----------------------------------------------------------------------------------------------
Date of preparation: / /2020 	Date of teaching: / /2020
 PERIOD 058/105: UNIT 9: THE POST OFFICE
PART D: WRITING
I. AIMS/OBJECTIVES OF THE LESSON
1. Educational aim: - Students study how to write a short letter to express satisfaction or dissatisfaction. In this kind of letter, they often talk about the services that the post office provided.
2. Knowledge - General knowledge: Students learn about the organization of the content on the letter.
 - Language: express satisfaction or dissatisfaction and tenses.
3. Skills: Writing a letter to the post office to express satisfaction or dissatisfaction II)
II. PREPARATION
1. Teacher:	- Teaching aids: Lesson plan, text book
- Teaching method: Communicative language teaching
2. Students:	- Read Unit 1– writing at home
III. PROCEDURE
1. Class organization (1 minute)
2. Check – up (5 minutes)- Some Ss go to the board, describe a person they know
3. New lesson (35 minutes)
Time
Teacher's activities
Students' activities
ÞToo late / too early...
ÞGood/ bad /poor quality/ needs repairing...
Þgood/ poor security condition/no one to keep motorcycles or bicycles/pickpokets...
Þpolite/helpful/rude/arrogant.
Þlow/high/reasonable..
Þalways/never punctual/sometimes late/letters and newspapers are lost
3ms
7ms
25ms
8ms
2ms
Warm-up
Teacher asks sts some questions
And lets them works in pair
1 have you ever used any services that the post office provided? 
2. What are they?
Express money transfer
3. How do you think about them?
Or do you satisfy with them? Why? Why not?
 TASK ONE:(pair work)
Pre-writing 
Task two
T gives sts the layout of a letter
	Writer's
	adress
	greeting 
 body of the letter
	closing
	signature 	While writing
T teaches sts simple past tense
-T asks sts to write to the post office to express satisfaction or dissatisfaction by using some sentences they have discussed in task one
-T walks around the class and offers help when necessary. Then T selects a few students to write their letters on the board.
Post-writing:
Teacher gives suggestions and corrections.
	Teacher collect Sts' letters and alternates them to their classmates.
	T's feedback and corrections.
Homework:
*write a letter to express satisfaction or dissatisfaction with some services that they have used
*prepare new lesson
Sts list some services that they have learnt in the reading section
Mail and parcel service
Phone calls and faxes
Post office services
Press distribution
Students learn some new words from task one
Students sit in pairs and discuss some post office services they have satisfied or dissatisfied.
Ex1 the post office opens too late.
Ex2the quality of the equipment is bad
Ex3 no one keeps our bicycles.
Ex4 the prices of the services are high.
Ex5 the postman sometimes loses our letters.
Sts use the given layout to write a letter in which they express their satisfaction or dissatisfaction to the post office by using some information in task one.
 Sts take some useful notes for notes for writing
Sts take some useful notes for writing
Selected students write their letters on the board
Sts take some notes about their mistakes
4. Consolidation (3mins)	- Words and phrases
5. Homework: (1min)	- Words and phrases
- Complete the writing at home
- Read Unit 9 – Language focus at home
IV. SELF-EVALUATION: 
	----------------------------------------------------------------------------------------------
Date of preparation: / /2020 	Date of teaching: / /2020
 PERIOD 059/105: UNIT 9: THE POST OFFICE
PART E: LANGUAGE FOCUS
I. AIMS/OBJECTIVES OF THE LESSON
Students know how to pronounce the sounds: /sp/ - /st/ - /sk/. 
Students will be able to communicate by using relative clauses (defining and non-defining) 
II. PREPARATION
1. Teacher:	- Teaching aids: Lesson plan, text book
- Teaching method: Communicative language teaching
2. Students:	- Read Unit 9 – language focus at home
III. PROCEDURE
1. Class organization (1 minute)
2. Check – up (5 minutes)	- Some Ss go to the board, read out their description again
3. New lesson (35 minutes)
Stages / time
Teacher's activities
Students' activities
Pronunciation
(8)
Grammar 
Exercise 1 
(8)
Exercise 2
(8)
Exercise 3
(8)
Exercise 4.
(10)
Homework
(3)
Listen and repeat
Teacher read the sounds. 
Teacher read the words 
write on board:
1
2
3
/sp/
/st/
/sk/
 Call one St to the board and read word after word. 
Point out every word reading. 
Practice reading the dialogue 
Read sentences once or twice. 
T asks sts to practice the dialogue in pair. 
Review relative clauses
Show the pictures on board and ask to complete the table 
Subject
object
person
thing
possession
place
time
reason
Person+
thing
Teacher corrects mistakes. 
Ask Ss to copy down 
T asks: 
"what is an architect?"
Have Sts copy down the sentence model and do the exercise 1
T writes these sentences on board 
What is the name of the man?
You borrowed his car.
Ask Sts to combine these sentences using relative clauses.
Have Ss copy down and do the exercise 2. 
Teacher corrects mistakes. 
Ask Sts to read the example on page 109 and do exercise 3
Ask sts to compare the following sentences: 
All my students who study hard have passed the exam. 
(I have 60 students. 40 of them study hard and have passed the exam.) 
All my students, who study hard, have passed the exam. 
(I have 60 students. All of them 
study hard and have passed the exam.)
DEFINING
A Defining Clause is essential to the meaning of the sentence. It defines or restricts a noun in the main clause. 
NON-DEFINING
A Non-defining Clause adds to our information but it is not necessary. Without non-defining clause, the main clause still makes sense.
NOTE that Non-defining Clause are placed between commas /, /; dashes / - / or parentheses / ( ) /. 
Ask Sts to prepare lesson 10 and do exercises 1, 2, 3, 4, 5 on pages 59, 60, 61 (exercise book) 
Listen carefully. 
Repeat each word.
Listen and write every word in the correct column. 
Listen and repeat. 
Listen and repeat.
work in pair. 
Look at the picture and complete the table:
Subject
Object 
person
Who
Whom
Thing
Which
Which
possession
Whose
Place
Where
Time
When
Reason
Why
Person+
thing
that
An architect is someone who designs buildings.
Copy down and do exercise1.
KEY
 A burglar is someone who breaks into a house to steal things. 
A customer is someone who buys something from a shop. 
A shoplifter is someone who steals from a shop.
A coward is someone who is not brave. 
A tenant is someone who pays rent to live in a house or flat. 
What is the name of the man whose car you borrowed?
Copy down and do exercise1.
KEY 
 A pacifist is a person who believes that all wars are wrong. 
An orphan is a child whose parents are dead. 
I don't know the name of the woman who/whom I met yesterday. 
This school is only for children whose first language is not English. 
The woman who/whom I wanted to see was away on holiday. 
Read and do exercise1.
KEY
 The man who answered the phone told me you were away. 
The waitress who served us was very impolite and impatient. 
The building which was destroyed in the fire has now been rebuilt. 
The people who were arrested have now been released. 
The bus which goes to the airport runs every half an hour. 
Work in pair to find out the differences and definition of the defining and non – defining relative clauses. 
 Copy down and do exercise 4
KEY
 Peter, who has never been abroad, is studying French and German. 
You've all met Micheal Wood, who is visiting us for a couple of days. 
We are moving to Manchester, which is in the north-west. 
I'll be staying with Adrian, whose brother is one of my closest friends. 
John Bridge, who has just gone to live in Canada, is one of my oldest friends. 
4. Consolidation (3mins)	Infinitive with to and without to
5. Homework: (1min)	- Words and phrases
- Revise the pronunciation of /dƷ/ and /t⨜/, the use of infinitive with to and without to.
- Read Unit 2 – Reading at home
IV. SELF-EVALUATION: 
	----------------------------------------------------------------------------------------------
Date of preparation: / /2020 	Date of teaching: / /2020
 PERIOD 060/105: TEST YOURSELF C
I. AIMS/OBJECTIVES OF THE LESSON
By the end of the less, the students will be able to:
	- Distinguish the sounds /gl/, /fl/ /θr/ and /dr/
	- Use defining and non-defining relative clauses appropriately.
	-Writing a paragraph what you like or don't like about our Tet holiday.
II. PREPARATION
1. Teacher:	- Testing aids: Lesson plan, text book
- Testing method: Communicative language teaching
2. Students:	- Read Test yourself C at home
III. PROCEDURE
1. Class organization (1 minute)
2. Check – up (5 minutes)	- Some Ss go to the board, revise infinitive and gerund
3. New lesson (35 minutes)
Activity 2: The use relative clauses
- Ask Ss to do the following exercise individually.
Decide if there are any commas missing from these sentences. If the sentence is correct, put a tick after it. If there are commas missing, put them in.
Ex: - Students who get below- average exam results do not have the best prospects.
- Only about 70 people live on Lundy Island which lies off the coast of Devon.
1. I'm having a visit from my favorite aunt who lives in London.
2. This is the room that we've just decorated.
3. The people who visited in the company have all lost their money.
4. The match will be played at Lord's which is the home of English cricket
5. Accidents that happen at night usually involve fewer people.
6. Marian Evans who wrote under the name of George Eliot was a great novelist.
7. People who live in glass houses shouldn't throw stones.
- Ask Ss to compare their answers with their partners
- go over the answers with the Ss
Expected answers:
1. I'm having a visit from my favorite aunt, who lives in London
2.ü
3. ü
4. The match will be played at Lord's, which is the home of English cricket.
5.ü
6. Marian Evans, who wrote under the name of George Eliot, was a great novelist
7. The new college, which cost ₤80 million to build, opens this week.
Activity 3: Sentence connection (handouts)
- Tell Ss to do the following exercises individually
1. I was sitting in a chair. It suddenly collapsed.
2. Marry and Margaret are twins. You met them yesterday.
3. The student is from China. He sits next to me.
4. The professor is excellent. I'm taking his course
5. I saw a lot of people and horses. They went to market
6. This doctor is famous. You visited him yesterday.
7. Shakespeare was born at Stratford on Avon. He is the world's greatest dramatist and poet.
- Call on 7 Ss to write their answers on the board.
- Give corrections if necessary.
Expected answer:
1. I was sitting in a chair which suddenly collapsed
2. Mary and Margaret, whom you met yesterday, are twins.
3. The student who sits next to me is from china.
4. the professor whose course I'm taking is excellent.
5. I saw a lot of people and horses that went to market.
6. This doctor, whom you visit yesterday, is famous.
7. Shakespeare, who is the world's greatest dramatist and poet, was born at Stratford on Avon.
Writing : Going home : Write a paragraph about what you like or dislike your Tet holiday
4. Consolidation (3mins)	- Vocabulary in units 1,2,3
- Verb tenses	- Infinitive and Gerund
5. Homework: (1min)	- Do the writing part again at home
- Read Unit 4 -Reading
IV. SELF-EVALUATION: 
	----------------------------------------------------------------------------------------------
Date of preparation: / /2020 	Date of teaching: / /2020
 PERIOD 061/105: UNIT 10: NATURE IN DANGER
PART A: READING (P1)
I. AIMS/OBJECTIVES OF THE LESSON
1. Language focus	- To provide Ss with new words and phrases related to the topic 
personal experiences
2. Skills	- To help Ss develop their reading skills: skimming for general ideas and scanning for specific information
3. Attitudes	- To encourage Ss work in pairs and groups
II. PREPARATION
1. Teacher: 	- Teaching aids: Lesson plan, text book, pieces of with new words
- Teaching method: Communicative language teaching
2. Students:	- Read Unit 2 – reading at home
III. PROCEDURE
1. Class organization (1 minute)
 2. Check – up (5 minutes) - Some Ss go to the board to revise the pronunciation of /dƷ/ and /t⨜/, the use of infinitive with to and without to.
 3. New lesson (35 minutes)
TEACHER'S ACTIVITIES
STUDENTS' ACTIVITIES
 1.Warm up 
Asks Ss to put a tick on what they have experienced/ break the traffic law
go to school late/ lose your money
have a road accident/ watch a fire
Asks them to put the verbs in past form.
Do as appointed 
2.Before you read 
Asks Ss to look at the pictures, order them and then guess what happened?
Do as appointed
d, b, f, e, a, c
3.While you read 
Asks Ss to read the passage individually for the first time and pick out some new words and phrases
Asks Ss to guess the meaning of the words, explains if necessary
Task 1
Ask Ss to do task 1 individually then compare the answer with their partner.
Checks the answer 
Explains some lexical items if necessary
Task 2
Ask Ss to read the passage again and do task 2 in pairs
Task 3
Asks Ss to work in pairs to answer the questions
Checks the answers.
Do as appointed
1 glanced 
2 make a fuss
3 embarrassing 
4 idols 
5 sneaky
d, b, f, e, a, c
4. After you read 
Asks Ss to work in pairs and discuss the question
Why do we need to have friends?
Asks Ss to report the results of discussion to the class.
- She had to find the boy, return him the money and say sorry.
- She had put a note at school board, get on the same bus the next day and look for the boy.
4. Consolidation (3 mins)	- Personal experience
5. Homework: (1 min)	- New words and phrases
- Talk about the girl's embarrassing experience
- Read Unit 2 Speaking at home
IV. SELF-EVALUATION: 
	----------------------------------------------------------------------------------------------
Date of preparation: / /2020 	Date of teaching: / /2020
 PERIOD 063/105: UNIT 10: NATURE IN DANGER
PART B: SPEAKING
I. AIMS/OBJECTIVES OF THE LESSON
1. Language focus	- Provide Ss with words & phrases related to personal experiences	- To review past form of the verbs and lexical items for a story 
2. Skills - To help learners practise speaking skill for telling personal experiences
3. Attitudes - To encourage Ss work in pairs and groups
II. PREPARATION
1. Teacher:	- Teaching aids: - Lesson plan, text book
- Teaching method: Communicative language teaching
2. Students:	- Read Unit 2 – speaking at home
III. PROCEDURE
1. Class organization (1 minute)
2. Check – up (5 minutes)	- Some Ss go to the board to – write down new words
 	- talk about the girl's embarrassing experience
3. New lesson (35 minutes)
TEACHER'S ACTIVITIES
STUDENTS' ACTIVITIES
1. Warm up 
Gives some verb, asks Ss to give their past form
Do as appointed 
2. Presentation and practice
Task 1
Explains words and phrases
Checks understanding
Asks Ss to work in pairs and do task 1 
Task 2
Asks Ss to do task 2 in pairs, order the conversation then practice it.
Asks some pairs to present.
Work in pairs , do as appointed
1. d 2 c 3 a 4 b 5 e
Do as appointed
b, d, h, a, e, g, c, f.
3. Production 
Task 3
Asks Ss to work in pairs 
Gives some suggestions so that Ss can make a new dialogue 
Do as appointed
4. Consolidation: (3mins)	- Making dialogue based on guidelines
5. Homework: (1min)	- Talk about one of your personal experiences
- Read Unit 2 Listening at home 
IV. SELF-EVALUATION: 
	----------------------------------------------------------------------------------------------
Date of preparation: / /2020 	Date of teaching: / /2020
 PERIOD 064/105: UNIT 10: NATURE IN DANGER
PART C: LISTENING
I. AIMS/OBJECTIVES OF THE LESSON
1. Language focus	- To help learners develop their listening skill for general and specific information of Christina's interview 
- Words and phrases: fire, memorable, gas stove, terrified, escaped, be replaced, protected
2. Skills	- To help learners develop their listening skill for general and specific information about personal experience
3. Attitudes	- To encourage Ss work in pairs and groups
II. PREPARATION
1. Teacher:	- Teaching aids: Lesson plan, text book, radio, tape
- Teaching method: Communicative language teaching
2. Students:	- Read Unit 2 – listening at home
III. PROCEDURE
1. Class organization (1 minute)
2. Check – up (5 minutes)- Some Ss go to the board, talk about their personal experiences
3. New lesson (35 minutes)
TEACHER'S ACTIVITIES
STUDENTS' ACTIVITIES
1. Warm up
Asks Ss these questions
Have you ever witnessed a fire?
How did it happen?
Answer the question freely
2. Before you listen
Asks Ss to look at the picture and describe it 
Asks Ss to read out some words and phrases
Do as appointed 
We can see a fire; some firemen; a woman and her daughter who have just escaped from the blazing house. 
3. While you listen
Task 1
Asks Ss to read out all the statements.
Checks understanding
Plays the tape twice
Asks Ss to complete task 1
Let Ss to listen again.
Task 2
Asks Ss to guess the information and fill in the table
Play the tape again
Ask Ss to check the answers
Do as appointed
1. T 2. F 3. F 4. F 5. T
Listen and complete their answers then compare them with their partners
1. small 2. everything
3. family 4. replaced
5. took 6. appreciate
4. After you listen
Asks Ss to work in pairs, take turns to discuss the idea "family is more important than things"
Work in pairs, do as appointed
4. Consolidation (3 mins)
5. Homework: (1 min)	- What do you think about the idea "family is more important than things"
- Read Unit 2 Writing at home
IV. SELF-EVALUATION: 
	----------------------------------------------------------------------------------------------
Date of preparation: / /2020 	Date of teaching: / /2020
 PERIOD 065/105: UNIT 10: NATURE IN DANGER
PART D: WRITING
I. AIMS/OBJECTIVES OF THE LESSON
1. Language focus	- To provide Ss with new words and phrases
- To give Ss the opportunity to master their writing, describing one's personal experience
2. Skills	- To help Ss develop their writing skills to describe an experience
3. Attitudes	- To encourage Ss work in pairs and groups
II. PREPARATION
1. Teacher:	- Teaching aids: Lesson plan, text book
- Teaching method: Communicative language teaching
2. Students:	- Read Unit 2– writing at home
III. PROCEDURE
1. Class organization (1 minute)
2. Check – up (5 minutes)	- Some Ss go to the board, retell Christina's story
3. New lesson (35 minutes)
TEACHER'S ACTIVITIES
STUDENTS' ACTIVITIES
1. Warm up: (3 mins)
Asks Ss to revise the form of an informal letter 
Do as appointed
 Address of the writer
 Date of writing
Dear ...,
 Yours
 Best Wishes
 All of love
2. Presentation 
Asks Ss to choose the experience to write about.
Asks them to give out the idea according to the guidelines
Do as appointed
 116 Tich Son Vinh Yen 
 25th September 2011
Dear Lan,
Thank you for your letter which I received last week. I'm very happy to know that you are ok. Everything is a bit difficult for me. I failed my last English test and I will have to retake it. 
I regret now that I didn't prepare well for my test. I watched an interesting musical live show on TV the night before, so I forgot to revise the old lessons for my English test the next morning. That was the reason why I couldn't answer most of the questions.
My parents were worried about my studying and they were very sad. Besides, my English teacher said she was disappointed by my result
I felt really embarrassed and didn't know what to say.
Now I am studying hard before I retake the exam. I hope that I will get a good mark. I think that will be the best way to say sorry to my parents and my English teacher. Do you think so? 
Please write soon and let me know what you think
Yours
Mai
3. Practice and production
Asks Ss to write a draft
Exchanges the papers
Asks Ss to correct their partner's paper
Do as appointed
Asks Ss to finish the writing.
Check some writing if necessary.
4. Consolidation (3mins)	- Words and phrases
- How to describe an experience
5. Homework: (1min)	- Words and phrases
- Complete the writing at home
- Read Unit 2 – Language Focus at home
IV. SELF-EVALUATION: 
	----------------------------------------------------------------------------------------------
Date of preparation: / /2020 	Date of teaching: / /2020
 PERIOD 066/105: UNIT 10: NATURE IN DANGER
PART E: LANGUAGE FOCUS
I. AIMS/OBJECTIVES OF THE LESSON
1. Language focus	- To help learners revise some phonetic and lexical items. 
- For phonetics, that is the pronunciation of consonants /m/ /n/ and /ŋ/. 
- For grammar, that is the verb tense revision
2. Skills	- To help Ss develop their practice skills
3. Attitudes	- To encourage Ss work in pairs and groups
II. PREPARATION
1. Teacher:	- Teaching aids: Lesson plan, text book
- Teaching method: Communicative language teaching
2. Students:	- Read Unit 2 – language focus at home
III. PROCEDURE
1. Class organization (1 minute)
2. Check – up (5 minutes)	- Some Ss go to the board, read out their letters
3. New lesson (35 minutes)
TEACHER'S ACTIVITIES
STUDENTS' ACTIVITIES
1. Pronunciation
Reads out the two columns of w
Tài liệu đính kèm:
giao_an_tieng_anh_lop_11_chuong_trinh_hoc_ki_ii_nam_hoc_2019.doc