Giáo án Tiếng Anh Lớp 11 - Unit 5: Technology and you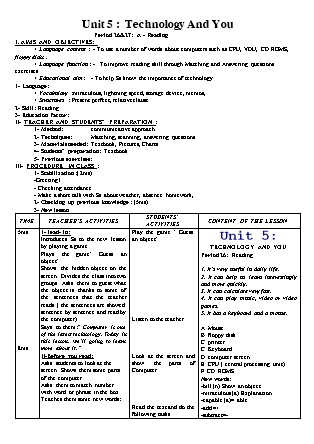 1. AIMS AND OBJECTIVES:
+ Language content : - To teach Ss new words relating to the latest inventions.
 - To develop Ss' speaking skill.
+ Language function: - To give Ss some ways of asking and answering about the use of modern inventions.
 - To enable Ss to express their ideas about the modern inventions.
+ Educational aim: - To help Ss be aware of importance of modern inventions.
1- Language:
+ Vocabulary : fax machine, air conditioner, electric cooker, performance.
+ Structures : be + used to , What for?
2- Skill: speaking
3- Education factor:
II- TEACHER AND STUDENTS' PREPARATION:
1- Method: communicative approach
2- Techniques: repetition, using pictures, filling the chart, filling the blank.
3- Materials needed:
4- Students' preparation:
5- Previous exercises:
III- PROCEDURE IN CLASS:
1- Stabilization:( 2ms)
 -Greeting!
 - Checking attendance
 - Make a short talk with Ss about weather, absence. homework,.
2- Checking up previous knowledge: (5ms)
3- New lesson
Bạn đang xem tài liệu "Giáo án Tiếng Anh Lớp 11 - Unit 5: Technology and you", để tải tài liệu gốc về máy bạn click vào nút DOWNLOAD ở trên
Unit 5 : Technology And You
	 Period 26&27: A - Reading 	
1. AIMS AND OBJECTIVES:
+ Language content : - To use a number of words about computers such as CPU, VDU, CD ROMS, floppy disks 
+ Language function: - To improve reading skill through Matching and Answering questions exercises.
+ Educational aim: - To help Ss know the importance of technology. 
1- Language:
+ Vocabulary :miraculous, lightning speed, storage device, memos, 
+ Structures : Present perfect, relative clause.
2- Skill: Reading
3- Education factor:
II- TEACHER AND STUDENTS' PREPARATION:
1- Method:	communicative approach
2- Techniques:	Matching, scanning, answering questions.
3- Materials needed: Textbook, Pictures, Charts.
4- Students' preparation: Textbook
5- Previous exercises:
III- PROCEDURE IN CLASS:
1- Stabilization:( 2ms)
	-Greeting!
	- Checking attendance
	- Make a short talk with Ss about weather, absence. homework,..
2- Checking up previous knowledge: (5ms)
3- New lesson
TIME
TEACHER'S ACTIVITIES
STUDENTS' ACTIVITIES
CONTENT OF THE LESSON
5ms
8ms
17ms
6ms
5ms
1- lead- in:
Introduces Ss to the new lesson by playing a game.
Plays the game" Guess an object"
Shows the hidden object on the screen. Divides the class into two groups. Asks them to guest what the object is thanks to some of the sentences that the teacher reads ( the sentences are showed sentence by sentence and read by the computer)
Says to them:" Computer is one of the latest technology. Today in this lesson, we'll going to learn more about it."
II-Before you read:
Asks students to look at the screen. Shows them some parts of the computer.
Asks them to match number with word or phrase in the box 
Teaches them some new words:
III-While you read:
Asks them to read the text then do the following task
Asks students to read the Text, check what the computer can do and then read the sentences bellows to odd some sentences that are not related with the Text out
"Odd them out"
Asks them to work in pair to match word or phrase in A with the definition I B ( task 1 in the book)
Asks them to work individually by reading again the text then choose the best title for the passages.
IV-After you read:
Asks them to listen to fill in the Grids
Listening guide
The computer has been in use since 1946. It can work many times faster than any person can. It can help you to learn foreign languages effectively, play music and play video games. Although the computer can do a lot but it cannot replace human brain. It cannot think like the way we do. It can not speak as well.
+Asks them to work in pairs to ask and answer the questions
1-What can the computer do to help us in our daily lives?
2-Why is computer a miraculous device?
II. Consolidation
Asks students to play the game " What is it?"
Says some sentences then asks students to speak out the devices. 
Play the game " Guess an object"
Listen to the teacher.
Look at the screen and show the parts of Computer.
Read the text and do the following tasks.
Unit 5:
TECHNOLOGY AND YOU
Period 26: Reading 
1. It's very useful in daily life.
2. It can help us learn interestingly and more quickly.
3. It can calculate very fast.
4. It can play music, video or video games.
5. It has a keyboard and a mouse.
A. Mouse
B. floppy disk
C. printer 
C. Keyboard
D. computer screen
E. CPU ( central processing unit)
F. CD ROMS
New words:
-bill (n) Show an object
-miraculous (a) Explanation
-capable (a)= able
-add =+
-subtract=-
-multiply= x
- divide= :
-lighting speed= very fast
While you read
Computer can sing a song.
-We read newspapers on computer
-Computer can drink coffee. 
-You can relax with computer games.
-It can divide slowly.
-You can print every documents with the help of computers.
What can the computer help us?
Can (help)	Cannot (help)
1-It will print any documents . It is a _________ ( PRINTER)
2-You can store a lot of songs and games into ___ ( CD ROMS)
3-You type letters to the computer by using a ______ ( KEYBOARD)
4-Everying will appear on the ______( COMPUTER SCREEN)
 V. Homework: (2ms)
 	-Asks students to learn the lesson and prepare for the next part.
 VI. Self – evaluation: 
Unit 5 : Technology And You
	 Period 28: B - Speaking 
1. AIMS AND OBJECTIVES:
+ Language content : - To teach Ss new words relating to the latest inventions.
	- To develop Ss' speaking skill.
+ Language function: - To give Ss some ways of asking and answering about the use of modern inventions.
 - To enable Ss to express their ideas about the modern inventions.
+ Educational aim: 	- To help Ss be aware of importance of modern inventions.
1- Language:
+ Vocabulary : fax machine, air conditioner, electric cooker, performance.
+ Structures : be + used to , What for?
2- Skill:	speaking 
3- Education factor:
II- TEACHER AND STUDENTS' PREPARATION:
1- Method:	communicative approach
2- Techniques: 	repetition, using pictures, filling the chart, filling the blank. 
3- Materials needed:
4- Students' preparation:
5- Previous exercises:
III- PROCEDURE IN CLASS:
1- Stabilization:( 2ms)
	-Greeting!
	- Checking attendance
	- Make a short talk with Ss about weather, absence. homework,..
2- Checking up previous knowledge: (5ms)
3- New lesson
TIME
TEACHER'S ACTIVITIES
STUDENTS' ACTIVITIES
5ms
8ms
17ms
6ms
5ms
Warm up( 5ms)
1- Lead-in
Introduces Ss to the new lesson by giving some objects. 
Shows them some objects ( or shows on the screen)
fax machine
- air conditioner
- electric cooker
- performance 
Asks : " What is the pen used for? / What is the cell phone used for? /What is the radio used for?
Says:" Today we'll talk about the use of some modern things in our house
2-Pre-Speaking
Asks students to look at the screen then present them some news word and names of things
Teaches them the structures 
Can you tell me what the . is used for?
It is used to 
3-While –Speaking
Asks them to work in pair to ask and answer about the uses of modern inventions.
Eg: - Can you tell me what the cell phone is used for?
 -It is used to make calls when you're away from home.
Asks students to work in groups ( task 2) then asks them to talk about the uses of information technology.
Asks them to work individually by reading again task 2 and do task 3.
II. Post- speaking
Asks students to look at the chart and then fill some devices using with the computer.
V. Homework: (2ms)
Asks students to learn the lesson and prepare for the next part.
Listen to the teacher and answer the questions.
Look at the pictures and name things.
Work in pairs.
Do as directed .
Key :CD ROMS, printer, floppy disks, mouse , keyboard, speakers
Can you tell me what the . is used for?
It is used to 
Can you tell me what the cell phone is used for?
 -It is used to make calls when you're away from home.
 VI. Self – evaluation: 
Unit 5 : Technology And You
	 Period 29: C. - Listening 
1. AIMS AND OBJECTIVES:
+ Language content :	- To teach Ss new words relating to the new technology & invention.
	- To develop Ss' listening skill.
+ Language function:- To enable Ss to use the knowledge to listen and do some exercises. 
+ Educational aim: 	- To help Ss be aware of the importance of latest technology.
1- Language:
+ Vocabulary : camcorder, memory, refused, vbu ( visual, display, unit)
+ Structures :	relative clause, reason clause
2- Skill: repetition, using the pictures, game crossword, listen and draw.
3- Education factor:
II- TEACHER AND STUDENTS' PREPARATION:
1- Method:	communicative approach
2- Techniques:	filing chart, True or false statement, filling gaps.
3- Materials needed:	Chart, hand out.
4- Students' preparation:
5- Previous exercises:
III- PROCEDURE IN CLASS:
1- Stabilization:( 2ms)
	-Greeting!
	- Checking attendance
	- Make a short talk with Ss about weather, absence. homework,..
2- Checking up previous knowledge: (5ms)
3- New lesson
TIME
TEACHER'S ACTIVITIES
STUDENTS' ACTIVITIES
CONTENT OF THE LESSON
5ms
8ms
17ms
6ms
5ms
1- lead- in
Introduces Ss to the new part by playing a game "Cross Words"
Divides the class into two groups then asks them to find the word thanks to the clues given below . The winners are the one finding the key word quickly 
1-Many songs can be kept in this device.
2-You can get the latest news from this.
3-It helps you to send documents .
4-You use it to communicate with friends remotely.
5-It can help you travel around the world without going out. 
2- Pre-listening:
Asks students to look at the chart in the book then tick the right column then compare with their friends.
Explains some new words .
Asks them to listen and repeat.
3-While –Listening
Asks them to listen to the tape and check the statement .
Asks them to compare the answer with their friends.
Asks them to do task 2.
4 -Post-listening
Asks them to take a survey
Asks students to work in groups to take a survey.
5- Consolidation
Asks students to play the game " Listen and draw"
Listen to the teacher and play a game.
Expected answer:
COMPUTER
Look at the chart and do as directed.
Pay attention and take notes.
Repeat after the teacher.
Listen to the tape.
Do as directed.
Work in groups
Play the game.
Unit 5 	: Technology And You Period 28: Listening 
New words:
camcorder (n)
memory (n)
refused (v)
excuse(n)
worried 
VDU ( visual display unit)
Headache
Question 
 Do you have ..?
What do you used the for?
What about the ..?
V. Homework: (2ms)
 	-Asks students to learn the lesson and prepare for the next part.
 VI. Self – evaluation: 
 Says some sentences then asks students to draw
Listening Guide
This is the living room. There is an old computer on the table. The computer screen is on the CPU. There is a mouse and a keyboard connected to the CPU. Mr David is not working with the computer now. There are two frogs working with it. One frog is typing the other is looking the mouse.
Unit 5 : Technology And You
	 Period 30: D - Writing
1. AIMS AND OBJECTIVES:
+ Language content :	- To teach Ss new words relating to the latest inventions.
	- To develop Ss 'writing skill.
+ Language function: - To give Ss some ways of asking and answering about the use of modern inventions.
- To enable Ss to express their ideas about the modern inventions.
+ Educational aim: 	- To help Ss be aware of importance of modern inventions.
1- Language:
+ Vocabulary :
+ Structures : be + used to , What for?
2- Skill: Writing	
3- Education factor:
II- TEACHER AND STUDENTS' PREPARATION:
1- Method: Communicative approach
2- Techniques: 	 
3- Materials needed:
4- Students' preparation:
5- Previous exercises:
III- PROCEDURE IN CLASS:
1- Stabilization:( 2ms)
	-Greeting!
	- Checking attendance
	- Make a short talk with Ss about weather, absence. homework,..
2- Checking up previous knowledge: (5ms)
3- New lesson
TIME
TEACHER'S ACTIVITIES
STUDENTS' ACTIVITIES
CONTENT OF THE LESSON
5ms
8ms
17ms
6ms
5ms
1-Lead-in:
Teacher asks some questions:
1. Have you ever used a public telephone?
2. Is it easy or difficult to use?
3. Can you show me how to use it?
From these questions teacher leads to the new lesson.
2- Writing instructions:
TASK 1
Asks Ss to read the following set of instructions on how to use a public telephone.
Uses picture or a real phone card and asks:
1. What is it?
2. What is it used for?
3. What are the steps in using a public telephone?
4. What should you do if you want to get help?
5. What should you do if you want to call fire Service/ the police or ambulant?
TASK 2
Asks Ss to find put the connectors and the imperative form of the verbs from the instructions.
Asks Ss to work in groups.
TASK 3
Asks Ss to look at the TV and the remote control to answer the questions:
Tell Ss to look at the remove control carefully when doing the task.
Call on some Ss from the groups to answer the questions in front of the class.
TASK4: Writing Instructions
Ask Ss to write a set of instructions on how to operate a TV with a remote control. Use the picture in the book and the answers above as suggestions.
Tell Ss to compare their writings with a friends.
3 After you writing:
Call on some Ss to read the writing aloud in front of the class.
Then ask some Ss to comment on presenters' performance.
 Make necessary corrections.
Listen to the teacher and answer the questions.
Read the following set of instructions on how to use a public telephone.
Listen to the teacher and answer the questions.
Work individually.
Find put the connectors and the imperative form of the verbs from the instructions.
Work in groups.
Look at the TV and the remote control to answer the questions in the textbook.
Work in pairs.
Write a set of instructions on how to operate a TV with a remote control.
Use the picture in the book and the answers above as suggestions.
Work in groups.
Read the writing aloud in front of the class.
Unit 5: TECHNOLOGY AND YOU
Period 29: Writting
1. Have you ever used a public telephone?
2. Is it easy or difficult to use?
3. Can you show me how to use it?
TASK 1
Suggested answers:
1. It is a phone car
2.It use to make a call.
3. They are first, list 
Next, insert 
Then, press 
Wait until 
4. To obtain help, dial 116
5. To call fire Service, dial 114. To call the Police dial 113. To call an ambulance, dial 115
TASK 2
Suggested answers:
+ Connectors: First, then, next. Until.
+ Imperative form of the verbs: Lift, insert, press, wait.
TASK 3
1.If you want to operate the TV with the remote control, you have to make sure that the cord is plugged in and the main is turn on.
2. To turn on the TV , press the POWER button.
3. To select a programme, press the PROGRAMME button.
To watchVTV1, press button1
To watchVTV2, press button2
To watchVTV3, press button3
To watchVTV4, press button4.
To adjust the volume, press the VOLUME button up or down.
6. if you don't want to hear the sound, press the MUTE button.
V. Homework: (2ms)
 	-Asks students to learn the lesson and prepare for the next part.
 VI. Self – evaluation: 
Unit 5 : Technology And You
	 Period 31: E - language focus
1. AIMS AND OBJECTIVES:
+ Language content	:-To help the Ss to distinguish the sounds / u / and / u: /.
-To enable Ss to use the present perfect and the present perfect passive appropriately.
+ Language function:	-To help Ss to pronounce the sounds / u / and / u: / clearly and correctly.
-To help Ss to use the present perfect and the present perfect passive appropriately.
+ Educational aim:	-To be aware of the importance of using the prefect tenses correctly.
1.Language: 
a.Vocabulary : review.
b.Structure: The present perfect and the present perfect passive.
2.Skill: Integrated skill.
3.Education factor: -Knowing to use the perfect tenses correctly.
II.TEACHER AND STUDENTS' PREPARATION:
1.Method: Communicative approach.
2.Techniques: repetition, substitution, explanation, gap-filling, pairwork.
3.Materials needed: textbook, charts.
4.Students' preparation: preparing the lesson at home.
5.Previous exercises: Write a passage about how to operate a TV with a remote control.
III.PROCEDURE IN CLASS:
1.Stabilization: (2ms)
Warm-up: Greeting.
Checking absence: Who's absent today?
2.Checking up previous knowledge: (4ms)
-Asks Ss to talk about how to operate a TV with a remote control.
3- New lesson
TIME
TEACHER'S ACTIVITIES
STUDENTS' ACTIVITIES
CONTENT OF THE LESSON
5ms
8ms
17ms
6ms
5ms
1.Lead –in:
-Asks Ss some questions to lead into the lesson:
-Holds a book and asks Ss:What's it ? 
-Asks Ss to look at the picture of a school & asks them: What is it ?
-Repeats the words "book" & "school" to lead into the lesson.
2.Pronunciation:
-Demonstrates the sound / u / & / u: / by pronouncing them clearly & slowly.
-Helps Ss to distinguish these two sounds by instructing the way to pronounce :
+/ u / : first pronounce the sound / a / then put the back of your tongue forward & up a little. / u / is a short sound.
+/ u: / : first pronounce the sound / u / then put your tongue up & back./ u: / is a long sound.
-Asks Ss to listen & repeat.
3. Grammar and vocabulary :
-Review the form and use of the present perfect.
-Notice : "for" and "since".
-We use "for" with a period of time, and "since" with a point of time.
*Exercise 1
-Asks Ss to do exercise 1: Study the situation and put the verbs in the present perfect tense.
-Asks Ss to work in pairs.
-Calls on some Ss to read their answers 
-Feedback and gives the correct answers.
*Exercise 2:
-Reviews the rule of changing active into passive voice.
-Explains the form the present perfect passive.
-Asks Ss to work in pairs and do exercise 2: Build the sentences after the model. Use the present perfect passive.
-Calls on some Ss to write their answers on the bb
-Checks and gives feedback .
*Exercise 3:
-Overview of who, which, and that.
-Who,Which ( that ) can be used in place of noun subjects and objects.
-When they refer to the subject,they can't normally be omitted.
-Asks Ss to do exercise 3.Fill in the blanks with who, which or that.
-Calls on some Ss to read their answers in front of the class.
-Feedback and gives the correct answers.
4.Consolidation:
-Remind the main points of the lesson.
-Listen to the teacher.
-It's a book.
-It's a school.
-Listen.
-Listen.
-Pronounce.
Listen and repeat.
-Listen.
Asks Ss to do exercise 1: Study the situation and put the verbs in the present perfect tense.
-Work in pairs.
- Read their answers.
-Listen and review.
-Work in pairs and do exercise 2: Build the sentences after the model. Use the present perfect passive.
-Write their answers on the bb.
*Exercise 3:
-Listen.
-Do exercise 3.
- Read their answers in front of the class.
-Listen.
Unit 5:
TECHNOLOGY AND YOU
Period 30: Language focus
1.PRONUNCIATION:
-Demonstrates the sound / u / & / u: / by pronouncing them clearly & slowly.
-Helps Ss to distinguish these two sounds by instructing the way to pronounce :
+/ u / : first pronounce the
sound / a / then put the back of your tongue forward & up a little. / u / is a short sound.
+/ u: / : first pronounce the sound / u / then put your tongue up & back./ u: / is a long sound.
2. Grammar and vocabulary :
+Review the form and use of the present perfect.
+Form:
(+) S+have/has+PP
(-)S+haven't/hasn't +PP.
(?) Have/ Has +S+PP ?
+Use:It expresses an action which began in the past and still continues.
Eg: I have learnt English for 4 years.
*Exercise 1: Study the situation and put the verbs in the present perfect tense.
+The correct answers:
1.Tan has open the door.
2.He has turned / switched on the TV
3.He has tidied the house.
*Exercise 2:
-Review the rule of changing active into passive voice.
- The form the present perfect passive.
 S + have / has + been + PP + O.
+The correct answers :
1.A new hospital for children has been built in our city.
2.Another man-made satellite has been sent up into space.
3.More and more trees have been cut down for woods by farmers.
*Exercise 3:
-Overview of who, which, and that.
-Who,Which ( that ) can be used in place of noun subjects and objects.
-When they refer to the subject,they can't normally be omitted.
+The correct answers :
1.A clock is a machine which tells you the time.
2. which
3. which
4. who
5. who
 V. Homework: (2ms)
 	-Asks students to learn the lesson and prepare for the next part.
 VI. Self – evaluation: 

Tài liệu đính kèm:
giao_an_tieng_anh_lop_11_unit_5_technology_and_you.doc