Giáo án Tiếng Anh 11 - Unit 01: The generation gap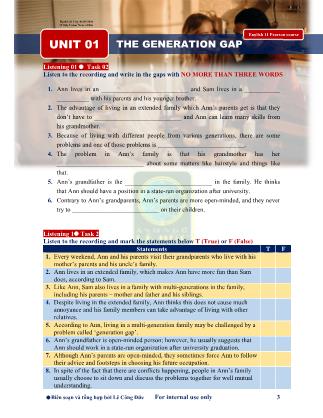 Listen to the recording and write in the gaps with NO MORE THAN THREE WORDS
1. Ann lives in an ___________________________ and Sam lives in a ___________
__________ with his parents and his younger brother.
2. The advantage of living in an extended family which Ann's parents get is that they
don't have to ___________________________ and Ann can learn many skills from
his grandmother.
3. Because of living with different people from various generations, there are some
problems and one of those problems is ___________________________.
4. The problem in Ann's family is that his grandmother has her
___________________________ about some matters like hairstyle and things like
that.
5. Ann's grandfather is the ___________________________ in the family. He thinks
that Ann should have a position in a state-run organization after university.
6. Contrary to Ann's grandparents, Ann's parents are more open-minded, and they never
try to ___________________________ on their children.
Listening 1 Task 2
Listen to the recording and mark the statements below T (True) or F (False)
Statements T F
1. Every weekend, Ann and his parents visit their grandparents who live with his
mother's parents and his uncle's family.
2. Ann lives in an extended family, which makes Ann have more fun than Sam
does, according to Sam.
3. Like Ann, Sam also lives in a family with multi-generations in the family,
including his parents – mother and father and his siblings.
4. Despite living in the extended family, Ann thinks this does not cause much
annoyance and his family members can take advantage of living with other
relatives.
5. According to Ann, living in a multi-generation family may be challenged by a
problem called 'generation gap'.
6. Ann's grandfather is open-minded person; however, he usually suggests that
Ann should work in a state-run organization after university graduation.
7. Although Ann's parents are open-minded, they sometimes force Ann to follow
their advice and footsteps in choosing his future occupation.
8. In spite of the fact that there are conflicts happening, people in Ann's family
usually choose to sit down and discuss the problems together for well mutual
understanding.
Bạn đang xem tài liệu "Giáo án Tiếng Anh 11 - Unit 01: The generation gap", để tải tài liệu gốc về máy bạn click vào nút DOWNLOAD ở trên
 Biên soạn và tổng hợp bởi Lê Công Đức For internal use only 3 
Listening 01  Task 02 
Listen to the recording and write in the gaps with NO MORE THAN THREE WORDS 
1. Ann lives in an ___________________________ and Sam lives in a ___________ 
__________ with his parents and his younger brother. 
2. The advantage of living in an extended family which Ann's parents get is that they 
don't have to ___________________________ and Ann can learn many skills from 
his grandmother. 
3. Because of living with different people from various generations, there are some 
problems and one of those problems is ___________________________. 
4. The problem in Ann's family is that his grandmother has her 
___________________________ about some matters like hairstyle and things like 
that. 
5. Ann's grandfather is the ___________________________ in the family. He thinks 
that Ann should have a position in a state-run organization after university. 
6. Contrary to Ann's grandparents, Ann's parents are more open-minded, and they never 
try to ___________________________ on their children. 
Listening 1 Task 2 
Listen to the recording and mark the statements below T (True) or F (False) 
Statements T F 
1. Every weekend, Ann and his parents visit their grandparents who live with his 
mother's parents and his uncle's family. 
2. Ann lives in an extended family, which makes Ann have more fun than Sam 
does, according to Sam. 
3. Like Ann, Sam also lives in a family with multi-generations in the family, 
including his parents – mother and father and his siblings. 
4. Despite living in the extended family, Ann thinks this does not cause much 
annoyance and his family members can take advantage of living with other 
relatives. 
5. According to Ann, living in a multi-generation family may be challenged by a 
problem called 'generation gap'. 
6. Ann's grandfather is open-minded person; however, he usually suggests that 
Ann should work in a state-run organization after university graduation. 
7. Although Ann's parents are open-minded, they sometimes force Ann to follow 
their advice and footsteps in choosing his future occupation. 
8. In spite of the fact that there are conflicts happening, people in Ann's family 
usually choose to sit down and discuss the problems together for well mutual 
understanding. 
English 11 Pearson course 
Rạch Giá City, 06.09.2020 
19 July Lunar Year of Rat 
UNIT 01 THE GENERATION GAP 
 4 TRAINING YOUR LISTENING SKILLS 11!Anh ngữ Lê Đức Đức Lê ELT 
Listening 01  Task 03 
Listen to the recording and write in the gaps with NO MORE THAN THREE WORDS 
Sam: Do you visit your grandparents every weekend? 
Ann: Well, just my mom's parents, but I don't need to visit my other grandparents. 
You see, I live in ___________________________ (1) with my dad's parents 
and my uncle's family. 
Sam: I see. You're part of an extended family then. You certainly have more fun 
than me. I live in a nuclear family with just my parents and my younger 
brother. 
Ann: That's right. I think my parents are ___________________________ (2) 
because they don't have to worry about childcare. My sister and I also learn a 
lot of skills from my grandmother. 
Sam: So, are there any problems ___________________________ (3) in your 
family? 
Ann: You mean a generation gap? Well, there are. My grandma has 
___________________________ (4) about things like hairstyles, appearance 
and ___________________________ (5). She thinks women must do all the 
housework while my parents believe family members should share the chores. 
Sam: What about your grandpa? 
Ann: He's the most conservative person in my family. He thinks that I ought to get a 
job in a ___________________________ (6) after university. He says I should 
follow in his footsteps. 
Sam: Oh, really? Do your parents ___________________________ (7)? 
Ann: No, they don't. My parents are more open-minded. They just give us advice, 
but they never try to impose their ___________________________ (8). 
Sam: You mean there's no generation gap between you and your parents? 
Ann: Well, sometimes ___________________________ (9), but we sit together and 
discuss. We all think we need to understand each other better. 
Sam: Lucky you! You must be so happy to have such 
___________________________ (10) with your parents! 
Ann: Thank you! 
 Write the correct spelling of the given phonetic symbols in the chart. 
1. /ˌdʒenəˈreɪʃn/ 
2. /ˈkɑːnflɪkts/ 
3. /ɪmˈpəʊz/ 4. /dɪˈsɪʒnz/ 
5. /kənˈsɜːrvətɪv/ 6. /bɪˈliːf/ 
7. /ˈheəstaɪl/ 8. /ɪkˈstendɪd/ 
9. /ˈtʃaɪldkeə(r)/ 
10. /steɪt əʊnd 
ˌɔːrɡənəˈzeɪʃn/ 
Extra-pronunciation challenging Task 
 Biên soạn và tổng hợp bởi Lê Công Đức For internal use only 11 
Listening 1  Task 1 
Listen to the recording and mark the statements below T (True) or F (False) 
Statements T F 
1. Mai is talking on the phone with her friend, Granny, about their grammar 
homework and Mai's grandmother seems to be happy about that. 
2. According to the recording, the grandmother forbids Mai talking to Granny 
completely. 
3. Mai's grandmother thinks that Mai is too young to start a relationship with a 
boy. 
4. Although Mai has explained clearly about her friendship with Granny, her 
grandma's still worried about her involvement in a romantic relationship with 
a boy. 
5. Mai is in a single-sex school and this is the reason she thinks that her 
grandmother shouldn't worry. 
6. In Mai's schools, her friends are good and they are helpful, kind, caring, and 
sympathetic. 
7. After hearing what Mai has explained, Mai's grandmother thinks she should 
stop worrying about Mai's relationship with her friends and her focus on her 
study. 
Listening 01  Task 02 
Listen to the recording and write in the gaps with NO MORE THAN THREE WORDS 
1. The grandmother doesn't want ___________________________ with Mai because the 
grandmother doesn't want her to start a relationship so soon. 
2. The grandmother does not believe that there is ___________________________ 
between a boy and a girl. 
3. The grandmother also thinks that Mai will get involved in a romantic relationship 
___________________________. 
4. In the past, the grandmother went to a ___________________________ because boys 
and girls were not allowed to study in the same school. 
5. Her friend Nam and the other friends in her class are good students and they just talk 
about schoolwork and ___________________________. 
6. Mai's grandmother thinks that she should ___________________________ her 
studies. 
7. All of Mai's classmates are very kind, ___________________________. 
English 11 Pearson course 
UNIT 02 RELATIONSHIPS 
 12 TRAINING YOUR LISTENING SKILLS 11!Anh ngữ Lê Đức Đức Lê ELT 
Listening 01  Task 03 
Listen to the recording and write in the gaps with NO MORE THAN THREE WORDS 
Mai: (on the phone) OK, bye-bye. See you tomorrow. 
Mai's grandma: Who was that? 
Mai: Oh, one of my classmates, Granny. 
Mai's grandma: It was Nam that called you again, right? 
Mai: Yes, he called about ___________________________ (1). 
Mai's grandma: You shouldn't talk to him all the time. I don't want to 
___________________________ (2) with you, but I think you're 
too young to start a relationship with a boy. 
Mai: Granny, we're just friends, and he's not my boyfriend. 
Mai's grandma: Well, I'm afraid there's no real friendship between a boy and a girl. 
You know, Mai, I'm worried you'll ___________________________ 
(3) a romantic relationship sooner or later. 
Mai: Don't worry, Granny. Nam and my other friends are good students. We 
just ___________________________ (4) talk about schoolwork and 
things like that. 
Mai's grandma: I don't know why boys and girls are allowed to be in the same school 
nowadays. When I was ___________________________ (5), we went 
to single-sex schools. 
Mai: Didn't you feel bored? 
Mai's grandma: Of course not. We were like ___________________________ (6). I 
had some very close friends. 
Mai: It's the same in my school. In my class, we're all good friends and help 
each other. ___________________________ (7) are very kind, caring 
and sympathetic. 
Mai's grandma: Sounds good. But listen, Mai, I hope you're just friends with the 
boys. It's your studies that you should 
___________________________ (8). 
Mai: I know that, Granny. 
 Write the correct spelling of the given phonetic symbols in the chart. 
1. /ˈkɒnsntreɪt ɒn/ 
2. /ˌsɪmpəˈθetɪk/ 
3. /rəʊˈmæntɪk 
rɪˈleɪʃnʃɪp/ 
 4. /ˈsɪŋɡl seks/ 
5. /jɔːr eɪdʒ/ 6. /tuː strɪkt/ 
7. /ˈfrendʃɪp/ 8. /bɔːrd/ 
9. /ˈɡræmər 
ˈhəʊmwɜːk/ 
 10. /iːtʃ ˈʌðər/ 
Extra-pronunciation challenging Task 
 Biên soạn và tổng hợp bởi Lê Công Đức For internal use only 21 
Listening 01  Task 1 
Listen to the recording and mark the statements below T (True) or F (False) 
Statements T F 
1. Lan and Hoang Minh have become close friends of each other because Lan 
thinks that Nam is influenced by her and rely on her. 
2. Hoang Ming is a good friend to make with because he's very independent and 
responsible for his learning at school. 
3. However, he sometimes gives up his efforts when facing challenging and 
difficult tasks when working with his group. 
4. Determination is another great personality that Hoang Ming has. For example, 
he spent the whole night solving a very-hard-Maths problem when most of his 
friends gave up. 
5. Hoang Minh just focuses on his learning, he never takes part in doing the 
household chores or doing other activities. 
6. However, he's sometimes hesitant when making some important decisions 
and seems not to believe in himself. 
7. Thanks to his good habit of reading books, he's well informed about what's 
happening around the world. 
Listening 01  Task 02 
Listen to the recording and write in the gaps with NO MORE THAN THREE WORDS 
1. Hoang Minh is a good friend who does not rely on other people for help and is not 
influenced by ___________________________. 
2. He's very responsible for his learning and never needs to be _____________________ 
and other school work. 
3. Minh is also very reliable. Last week, when he ___________________________ the 
most difficult part of a project, he tried very hard and did it well. 
4. When having difficult tasks in Maths, he always tries to _______________________ 
to his problems and seldom needs help from others. 
5. Apart from his learning at school, Hoang Minh is very ________________________ 
what's happening around the world thanks to his reading habit in his free time, so Lan 
finds it interesting to talk to him. 
6. In addition, Minh is also very ___________________________. He always believes in 
himself and usually makes decisions very quickly. 
English 11 Pearson course 
UNIT 03 BECOMING INDEPENDENT 
 22 TRAINING YOUR LISTENING SKILLS 11!Anh ngữ Lê Đức Đức Lê ELT 
Listening 01  Task 03 
Listen to the recording and write in the gaps with NO MORE THAN THREE WORDS 
Mai: I can see that you and Hoang Minh have become close friends, Lan. 
Lan: We have. I really like him because he doesn't rely on other people for help 
and ___________________________ (1) other people's opinions. 
Mai: I see. So he's very independent. 
Lan: Yes. He's also a very responsible student. He always 
___________________________ (2) on time, and never needs to be 
reminded about assignments and other schoolwork. 
Mai: Right. 
Lan: He's also reliable. Last week, our group worked 
___________________________ (3) and he was assigned the most 
difficult part of it. He tried very hard and did it well. 
Mai: It's good to have a friend you can rely on. He 
___________________________ (4). 
Lan: He is. Last month, we were given a very hard Maths problem. While most 
of us gave up, he spent ___________________________ (5) on it and 
solved it in the end. 
Mai: That's amazing. 
Lan: Yeah. Even our Maths teacher was very surprised to read his answer. 
Another good thing about him is that he's 
___________________________ (6). He always tries to find solutions to 
his problems and ___________________________ (7) from others. 
Mai: His parents must be really pleased to have such a son. 
Lan: Of course. He also helps around the house a lot. But he still has time to 
read, so he's well-informed about what's happening around the world. It's 
interesting to talk to him. 
Mai: I'll talk to him sometime. 
Lan: Yes, you should. He's also very confident and decisive. He always believes 
in himself, and I really admire his ability to make decisions so quickly. 
He's a very ___________________________ (8)! 
Mai: That's great! You're lucky to have a close friend like him. 
 Write the correct spelling of the given phonetic symbols in the chart. 
1. /əˈsaɪnmənt/ 
2. /faɪnd səˈluːʃnz/ 
3. /dɪˈsaɪsɪv/ 4. /meɪk dɪˈsɪʒnz/ 
5. /ədˈmaɪər/ 6. /rɪˈlaɪəbl/ 
7. /rɪˈspɑːnsəbl/ 8. /rɪˈlaɪ ɒn/ 
9. /ˈɪnfluənst/ 10. /əˈpɪnjənz/ 
Extra-pronunciation challenging Task 
 Biên soạn và tổng hợp bởi Lê Công Đức For internal use only 29 
Listening 01  Task 1 
Listen to the recording and mark the statements below T (True) or F (False) 
Statements T F 
1. The room is full of boxes because Maria is preparing gifts for the coming 
Christmas in her local orphanage. 
2. The school Maria visited two months ago has students with different 
impairments such as visual, hearing, physical and cognitive impairments. 
3. Maria thinks that people shouldn't use some specific words like 'dumb, blind, 
or deaf' to refer to people with disabilities because those words are 
disrespectful. 
4. One of the two friends think that people are trying to make people with 
disabilities become more dependent and isolated from the community. 
5. The students in Maria's school has donated 1,000 gifts for the 'Special 
Christmas Gifts' campaign started by the Youth Union. 
6. In order to participate this campaign in Maria's school, donors have to be a 
students of the school to donate gifts. 
7. Kevin suggested giving a talking pen to students with disabilities in the 
campaign for their foreign language learning. 
Listening 01  Task 02 
Listen to the recording and write in the gaps with NO MORE THAN THREE WORDS 
1. Maria is preparing Christmas gifts for students with visual, hearing, physical and 
___________________________ in a secondary school she visited two months ago. 
2. Kevin also has a neighbor who is blind, ___________________________, and need a 
lot of help to get around. 
3. There are many students with disabilities that have ___________________________. 
4. With the aim of helping students with disabilities to become independent, 
_____________________(4.1) the community and __________________ (4.2)at 
school, the Youth Union started a 'Special Gifts campaign' to collect gifts for them. 
5. Students ___________________________ can also take part in this 'campaign' to 
contribute gifts for the programme. 
6. A few students have donated textbooks, dictionaries, ________________________... 
English 11 Pearson course 
UNIT 04 CARE FOR THOSE IN NEED 
 30 TRAINING YOUR LISTENING SKILLS 11!Anh ngữ Lê Đức Đức Lê ELT 
Listening 01  Task 03 
Listen to the recording and write in the gaps with NO MORE THAN THREE WORDS 
Mai: Hi, what's up? Why are there so many boxes in the library? 
Maria: I'm preparing ___________________________ (1) for secondary students 
with disabilities in the school we visited two months ago. These are students 
with ___________________________ (2), physical and cognitive 
impairments. 
Mai: Cognitive impairments? 
Maria: That's ___________________________ (3). 
Kevin: I have a neighbor who is blind, deaf and dumb, and need a lot of help to get 
around. 
Maria: Well, you shouldn't use words like 'dumb' or 'deaf'. 
___________________________ (4). 
Mai: I agree. There are so many students with a disability who have talents and 
skills. 
Maria: That's right. And we need to help them to become independent, integrate 
___________________________ (5) and achieve success at school. 
Mai: So what are these Christmas gifts? 
Maria: Last month, the Youth Union in our school had a meeting, and decided to start 
a 'Special Christmas Gifts' campaign to collect gifts 
___________________________ (6). So far, the students in our school have 
donated more than 100 gifts. 
Mai: That's great! Can students from other schools 
___________________________ (7)? 
Maria: Sure! A few other schools have already joined us. They have sent us textbooks, 
dictionaries, CD players, batteries 
Kevin: I have an idea for a gift! A talking pen for learning foreign languages. 
Maria: Great idea! What ___________________________ (8)! 
Mai: Thanks, Maria. I'll talk to my classmates and see what we can do. 
 Write the correct spelling of the given phonetic symbols in the chart. 
1. /əˈtʃiːv səkˈses/ 
2. /ˈkɑːɡnətɪv 
ɪmˈpermənt/ 
3. /ˈɪntɪɡreɪt/ 4. /kæmˈpeɪn/ 
5. /ˈfɔːrən 
ˈlæŋɡwɪdʒ/ 
 6. /ˈləʊkl ˈtʃærətiz/ 
7. /ˈvɪʒuəl/ 8. /dɪsəˈbɪləti/ 
9. /ˌdɪsrɪˈspektfəl/ 10. /ˈmi:nɪŋfəl/ 
Photo: Anas Adyas 
Extra-pronunciation challenging Task 
 Biên soạn và tổng hợp bởi Lê Công Đức For internal use only 37 
Listening 01  Task 1 
Listen to the recording and mark the statements below T (True) or F (False) 
Statements T F 
1. From the recording, we know that Bao Thy's school is organizing a 
competition of ASEAN and the ASEAN Charter; however, she is not 
interested in it very much. 
2. ASEAN is the initial letters of the Association of Southeast Asian Nations 
and it was formed August 18th, 1977. 
3. The association focuses on enhancing its member states' economies and 
maintaining regional peace and stability among nations in the bloc. 
4. The member states help each other by providing scholarships and for students 
in the region as well as holding sports activities among the nations in the 
association. 
5. The key principle that all member nations have when participating in the bloc 
is that member states are able to interfere internal affairs of the rest members. 
6. Through the conversation, we can infer that Bao Thy knows all about the 
Association and her father is really satisfied with that. 
7. Tonight after work, Bao Thy's father will help her by continuing some more 
quizzes to make sure she knows as much as possible about the bloc. 
Listening 01  Task 02 
Listen to the recording and write in the gaps with NO MORE THAN THREE WORDS 
1. Bao Thy is thinking of taking part in a competition of ASEAN and 
___________________________. 
2. Thy finds that her friends know a lot and more and ___________________________ 
her because through practicing answering the questions about the ASEAN. 
3. ___________________________, it consists of 10 member states; however, it may be 
bigger because other nations have applied to join the bloc. 
4. The ASEAN focuses on improving member states' economies and maintaining 
regional ___________________________. 
5. Apart from helping other Asian nations's students to get scholarship for their further 
education, ASEAN also ___________________________ like the Southeast Asian 
Games, the ASEAN Para Games for ___________________________ and ASEAN 
School Games. 
6. The main principle agreed by all of the member nations is that 'Right to live without 
___________________________'. 
English 11 Pearson course 
UNIT 05 BEING PART OF ASEAN 
Note: The ASEAN Symbol represents a stable, peaceful, unitedand 
dynamic ASEAN. The four colors of the emblem (biểu tượng) – blue, 
red, white and yellow – are the main colors of all the ASEAN 
countries' flags. Blue represents peace and stability. Red depicts 
(biểu trưng cho) courage and dynamism. White shows purity and 
yellow symbolisez prosperity. The ten stalks of padi represent the 
hope for an ASEAN comprising all the ten countries in Southeast Asia 
bound together in friendship and solidarity. The circle represents the 
unity of ASEAN. 
 38 TRAINING YOUR LISTENING SKILLS 11!Anh ngữ Lê Đức Đức Lê ELT 
Listening 04  Task 03 
Listen to the recording and write in the gaps with NO MORE THAN THREE WORDS 
Bao thy: Dad, I'm thinking of participating ___________________________ (1) of 
ASEAN and the ASEAN Charter. I can see that my classmates have 
practised answering the questions. They know a lot and are more and more 
confident than me. 
Mr. Lam: Oh, is that why you look worried? I can help you. First, what is ASEAN? 
Bao thy: Well, I know that ASEAN stands for the Association of Southeast Asian 
Nations and it was formed on ___________________________ (2). 
Mr. Lam: Correct. How many members does it have? 
Bao thy: As of 2010, it consists of ten members states, but may get bigger because 
other countries have applied to ___________________________ (3). 
Mr. Lam: Well done! Do you know its aims and purposes? 
Bao thy: I know that it ___________________________ (4) member states' 
economies and maintaining regional peace and stablity. But dad, how do 
ASEAN members help each other? 
Mr. Lam: Well, they do what they can. Singapore, for example, offers the Singapore 
Scholarship and the ASEAN ___________________________ (5) from 
other ASEAN countries. 
Bao thy: thanks, Dad. I'll try to remember that. I think the ASEAN also holds sports 
activities like the Southeast Asian Games, the ASEAN Para Games for 
athletes with disabilities and the ASEAN School Games. 
Mr. Lam: Good job. How about the ASEAN Charter? Do you remember 
___________________________ (6)? 
Bao thy: Hold a minute. Mmm is that the 'Right to live without 
___________________________ (7)'? 
Mr. Lam: Yes, but there are still other principles. I suggest reading through the 
Charter again. I'll continue quizzing you tonight after work. 
Bao thy: Great! Thanks, Dad. I'm now hoping to _________________________ (8)! 
 Write the correct spelling of the given phonetic symbols in the chart. 
1. /meɪn ˈprɪnsəplz/ 
2. /ˈriːdʒənl 
stəˈbɪləti/ 
3. /ˈskɑːlərʃɪp/ 
4. /ɪkˈstɜːnl 
ˌɪntərˈfɪrəns/ 
5. /ˈtʃɑːrtər/ 6. /ˈpɜːpəsɪz/ 
7. /blɒk/ 8. /ɪˈkɒnəmiz/ 
9. /ˈeɪʒən ˈneɪʃənz/ 10. /ˈmeɪntənɪŋ/ 
Extra-pronunciation challenging Task 

Tài liệu đính kèm:
giao_an_tieng_anh_11_unit_01_the_generation_gap.pdf